This week was an interesting in coming up with new strategies to follow in my gameplay. So this post should be short given I didn't play much and the change of what my goals are.
Games played: @splinterlands, @drugwars, and @roadofrich.
Road of Rich
Link to game: Road Of Rich
Just like last week and the week before that. This past week I just focused on getting the resources to make gear for my people. Nothing has changed in my strategy in this game.
Drug Wars
Link to game: Drugwars
My gang leader in the game has been pushing really hard lately. So I have Just been upgrading my bases with the resources I get just trying to catch up to the leader. I sold off the DWD I was holding in order to buy more gold foil cards in Splinterlands.
Splinterlands
Link to game: Splinterlands
I have completely changed up my strategy. I am no longer saving DEC and no longer keeping the normal version of a card if I already own the gold foil version. All normal versions of the card will be sold or burned whichever pays more. All DEC and STEEM will be used to buy more cards.
I started on new years selling off cards and buying gold foils. So I have mainly been trying to max out the cheapest gold foils I own and if I use a card and the gold foil version is cheap. I buy it and sell off the normal version.
I believe this strategy will help me focus on a few cards at a time and not trying to max out tons of different cards at once. For you guys that prefer playing with a gold foil deck. What do you think of this strategy? Also, I got my first gold foil reward of 2020 already.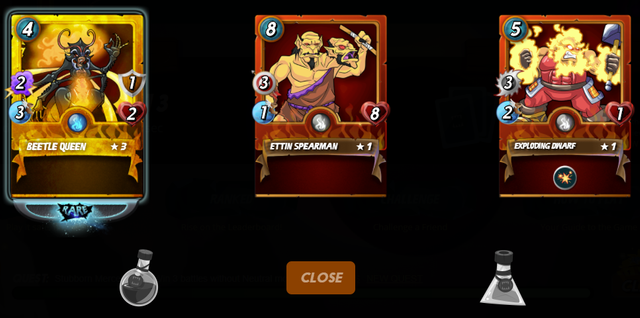 Reward Cards This Week
| Day Earned | Cards | Quest Potion |
| --- | --- | --- |
| Sunday | Sea Monster (2), Undead Minotaur (2), Boogeyman, Serpentine Mystic | No |
| Monday | Serpentine Mystic, Wood Nymph, Creeping Ooze | No |
| Tuesday | Wood Nymph, Undead Minotaur, Baby Unicorn | No |
| Wednesday | Beetle Queen (gf), Ettin Spearman, Exploding Dwarf | No |
| Thursday | Exploding Dwarf, Wood Nymph, Screeching Vulture | No |
| Friday | Didn't Play | No |
| Saturday | Battle Orca, Beetle Queen, Furious Chicken, Undead Minotaur, Creeping Ooze, Silvershield Archers, Screenching Vulture, Phantom Soldier | No |
Click here if you want to see what cards I got the end of the season rewards.
Crypto Income
| Day | DEC Earned | DWD Earned | ROR Earned |
| --- | --- | --- | --- |
| Sunday | 149.468 | 5.246 | 0 |
| Monday | 938.703 | 5.13 | 0 |
| Tuesday | 181.077 | 7.975 | 0 |
| Wednesday | 89.787 | 4.084 | 0 |
| Thursday | 121.587 | 4.748 | 0 |
| Friday | 0 | 5.205 | 0 |
| Saturday | 354.2‬ | 9.572 | 0 |
| Total | 1,834.822 | 41.96 | 0 |
Final Thoughts
Due to new years holiday and focusing on what my new career will be. I didn't have much time to play and I think when I did play. I spent that time wisely. I struggle in the first 3 days of a new season in splinterlands. So I think just going for completing the quest and getting off was the smart thing to do. I'm sure it will be easy for me to climb to gold this week now that most good players are already gold or higher.