HIVESTATS: Monthly SPORTS Curation Reward nearing $200
---
I was so excited when a friend called yesterday that he's met my #sportstalk blog inactive for the last two days. At least, it showed that my absence in the community was felt. I had some off-chain activities to attend to and good, I have some more time to be here. Soon, I'll be doing curation and engagement as a full time job in the Hive tribes. Glad that the second layer is going decentralized and maybe I'll someday run a witness node here. I think it's a good place to start. Things are not so costly at the moment.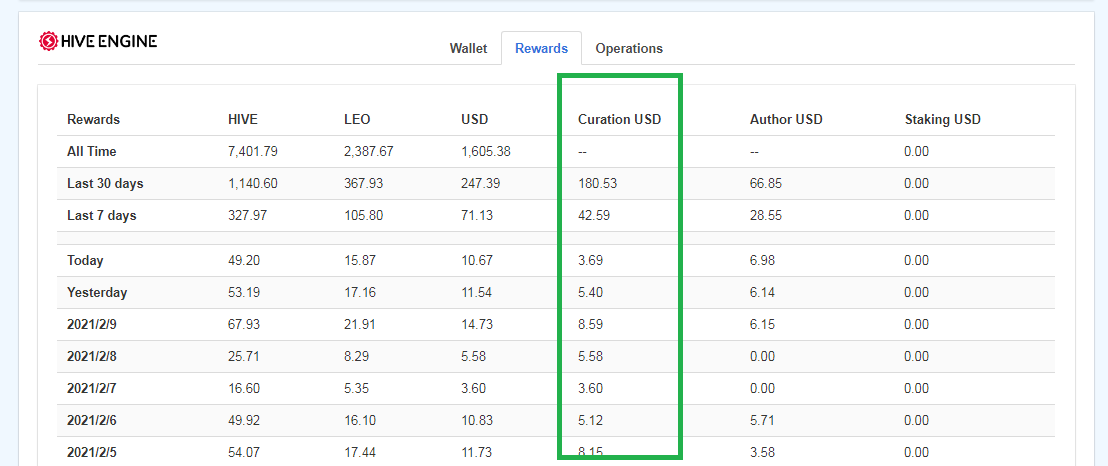 As usual, each time I want to start blogging on Hive, my first port of call is hivestats where I check my curation and contenting earnings to show if I'm growing or not. Doing that today, it was fun to see that my monthly curation earnings as marked in the screenshot above is gradually going near $200. The grand goal is $500 monthly and maybe we'll shift it to $1k when HIVE approaches $1.
Earning that from "liking" posts is quite decent and I'm glad this much value is coming from SPORTS token that was once rejected by many. Soon, the 0.00035 price we're seeing would be cleared off and we'll be seeing SPORTS trading at above 0.001 HIVE irrespective of HIVE price. My heartbeat for SPORTS is to see it back at $0.001 or high. One cent would even be more decent. It doesnt happen by magic. I have staked a whopping 60million + SPORTS tokens and I'm still powering up at least twice or thrice daily.
I dug into one my SPORTS curation posts I did 3 months ago and I'm happy to see by how much my curation earnings have grown over the last few months.
Presently, the stake of near 50 m SPORTS gives $0.42 in a full single upvote. I am aiming for 100 million SPORTS and hopefully by then, I'll be able to give out as much as $10 in a single upvote. Save this on your journal. I'll refer to it.
I was giving put $0.42 per 100% upvote but now, my full SPORTS upvote should be valued at around $1.3. Soon, we'll see a $10 value per SPORTS upvote and then, we'll see many come for this SPORTS token. How well are you taking advantage of the curation returns of Hive second layer tokens? If you're so busy, below is how you can make the most of your stakes.
You may join my SPORTS Curation Trail to maximize your SPORTS stake. With the trail, your stake of SPORTS would yield profits without your active involvement.
We are still in the beginning of things and the future is looking brighter than ever for crypto. More wealthy dudes are emerging soon.
---