🎁 N 211° Rising Star Giveaway 500 - 500 STARBITS DAILY ~ [Ends 11/26] ~ [ESP/ENG]🌷
---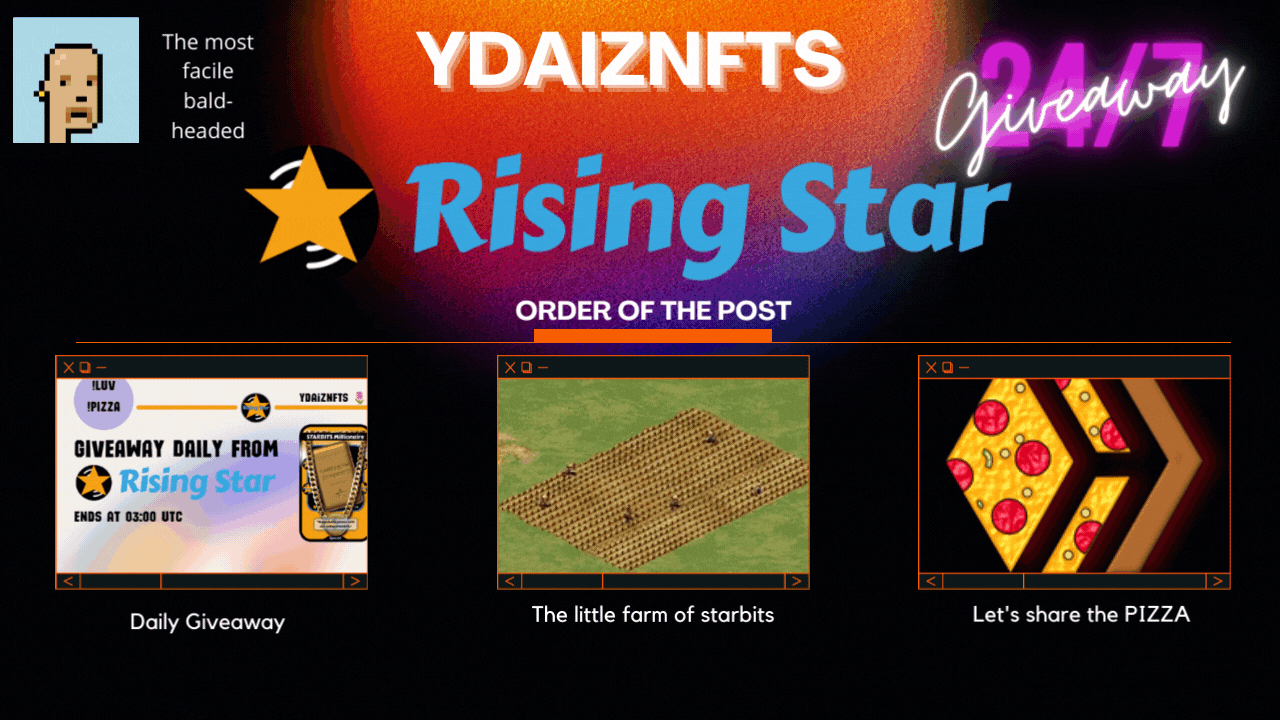 Welcome to my rising star giveaway by ydaiznfts 🌷.
Instructions for participating ❗❕
✔️Write a comment accompanied by your Rising Star username if different from your account name.
It is not necessary to vote ❤️ or give 🍕, but they are greatly appreciated and will be returned.
All users who have participated in the previous raffle will be tagged to invite them to participate again
Winners will be chosen at random by:.
https://hivetools.herokuapp.com/picker/ Draw ends at 03:00 UTC, thank you for participating.
Bienvenidos a mi sorteo de Rising Star por ydaiznfts 🌷.
ㅤㅤ

Instrucciones para participar ❗❕

✔️Escribe un comentario acompañado de tu nombre de usuario de Rising Star si es diferente al nombre de tu cuenta.
No es necesario votar ❤️ ni dar 🍕, pero se agradecen mucho y se devolverán.
Todos los usuarios que hayan participado en el sorteo anterior serán etiquetados para invitarles a participar de nuevo
Los ganadores serán elegidos al azar por:
https://hivetools.herokuapp.com/picker/ El sorteo termina a las 03:00 UTC, gracias por participar.

Unirse a la comunidad NFTGameLatino

The winners is...🎁🎁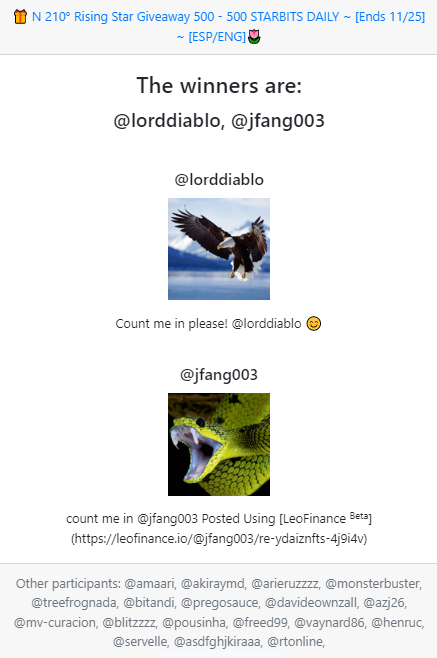 Participants⭐
@amaari, @akiraymd, @arieruzzzz, @monsterbuster, @treefrognada, @bitandi, @pregosauce, @davideownzall, @azj26, @mv-curacion, @blitzzzz, @pousinha, @freed99, @vaynard86, @henruc, @servelle, @asdfghjkiraaa, @rtonline
Winners⭐
Transactions⭐

Newspaper
Hello buskerians🌷
Today we got 48182 starbits, I made my first mission "Breakout Stage" when I reached level 270, at this good pace we will reach level 300 before the end of the year? we'll see!
Hola buskerianos🌷

Hoy conseguimos 48182 starbits, realice mi primer mision "Breakout Stage" al llegar al nivel 270, a este buen ritmo llegamos al nivel 300 antes de fin de año? ya lo veremos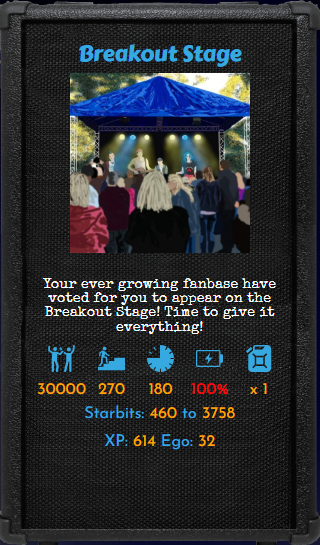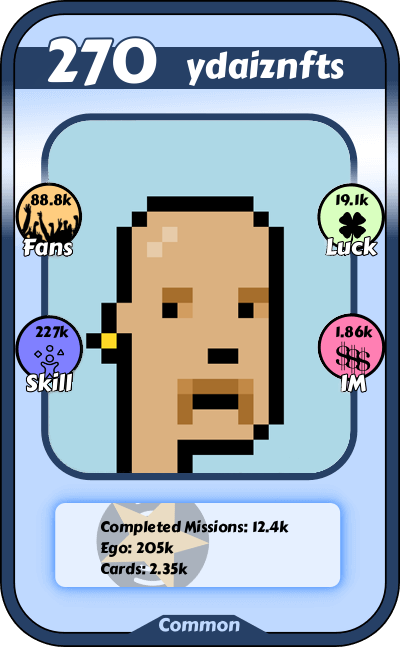 ---
---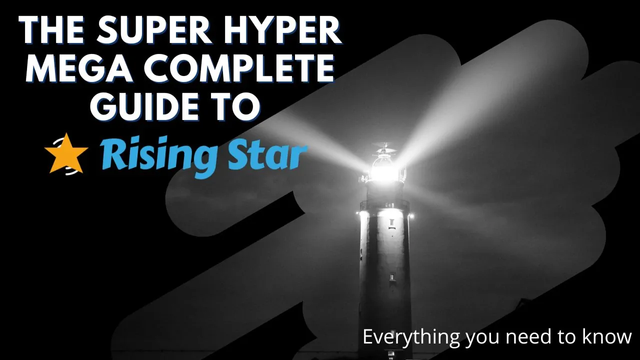 ---
---
Now to wait for those new packs with anxiety, in the meantime to gain level, see you tomorrow buskerianos and thank you very much to all who support me ❤️.
Ahora a esperar esos nuevos packs con ansias, mientras tanto a ganar nivel, nos vemos mañana buskerianos y muchas gracias a todos los que me apoyan ❤️.

TO TRY RISINGSTAR OUT FOR FREE SIGN UP #HERE!

Check out the #1UP #ONEUP
Community for great Gaming related content!

I will be distributing !PIZZA🍕

PIZZA 🍕

!LUV ❤️ & !LOLZ 😂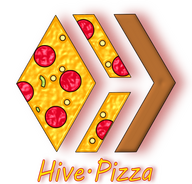 What is !PIZZA? Read more about it HERE!
JOIN THE PIZZA DISCORD
If you have the following stakeados tokens you can collaborate with me by tipping me with the following commands, using first [ ! ], thank you very much 💛They also count with !HBIT and others.



ydaiznfts#1000 El club de Rising Star

El club de Rising Star

Twitter

Reddit
Thanks for reading, huge hug from ydaiz⭐

---