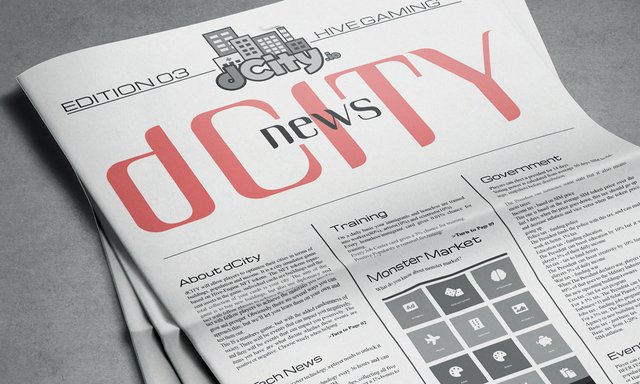 Last night were discovered 18 tech cards
Sun, 12 Jul 2020 18:07:23, themightyvolcano discovered ECO Energy
Sun, 12 Jul 2020 18:07:24, russia-btc discovered Free Internet Connection
Sun, 12 Jul 2020 18:07:24, kaeserotor discovered Basic Automation
Sun, 12 Jul 2020 18:07:30, abrockman discovered Drone Technology
Sun, 12 Jul 2020 18:07:30, pouchon discovered Free Internet Connection
Sun, 12 Jul 2020 18:07:30, chittysity discovered RoboCop
Sun, 12 Jul 2020 18:07:31, starfighter discovered GMO Farming
Sun, 12 Jul 2020 18:07:31, bearbear613 discovered ECO Energy
Sun, 12 Jul 2020 18:07:31, fantasycrypto discovered Fully Automated Brewery
Sun, 12 Jul 2020 18:07:37, drew0 discovered Basic Automation
Sun, 12 Jul 2020 18:07:37, foxon discovered Police Equipment
Sun, 12 Jul 2020 18:07:38, chronocrypto discovered Basic Automation
Sun, 12 Jul 2020 18:07:38, velourex discovered Basic Automation
Sun, 12 Jul 2020 18:07:38, monsterjamgold discovered RoboCop
Sun, 12 Jul 2020 18:07:42, xxxxxxxxxx discovered Fully Automated Brewery
Sun, 12 Jul 2020 18:07:42, desyfit discovered Basic Automation
Sun, 12 Jul 2020 18:07:44, oddbot discovered Basic Automation
Sun, 12 Jul 2020 18:07:44, sockpuppet discovered ECO Energy

Wow did you saw that? @xxxxxxxxxx took the lead with 83.81% from cityhelper that was on top for a few days. Anything can change, one powerful vote can change anything, I just hope the new president will lower the taxes a little 🙂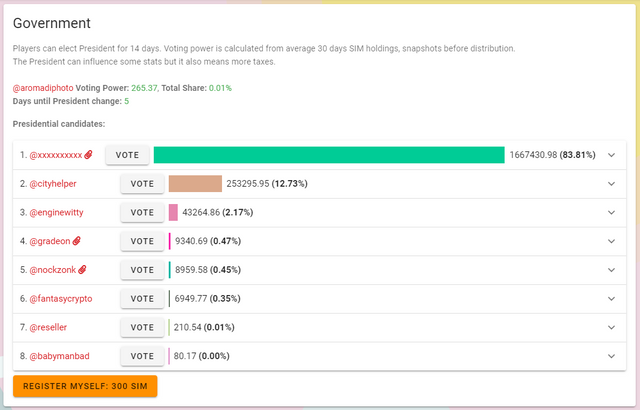 By the way the vote is not secret, if you click on the candidate name you can see who voted and with what power



Do you know what is worse than 50% taxes?
Is 51% taxes 😂
We are waiting for days for the taxes to be reduced and instead of that is growing...
Do you use Monster Market?
Check that button on the bottom left of your screen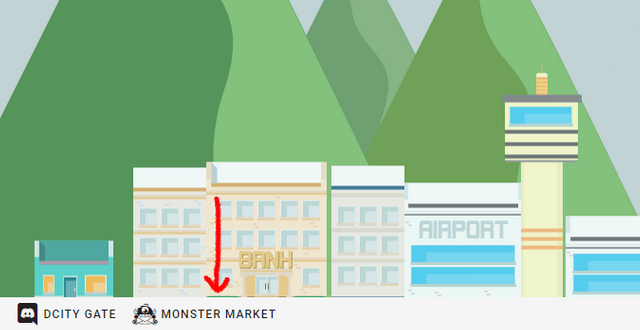 It has some nice features like sorting by sim or swap.hive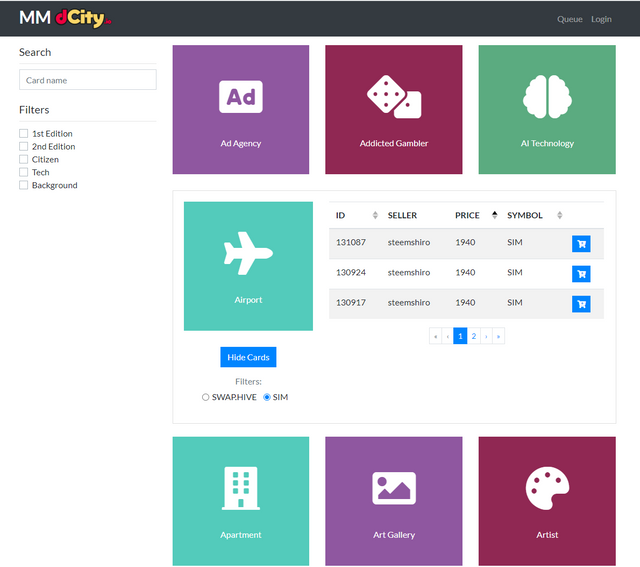 you can read more about it in this post by @monstermarket called Announcing MonsterMarket dCity Marketplace

Tech cards just got cheaper and in time will got even cheaper, but at this price you might consider getting some to boost your income




You can bid for an apartment that now is at 1150 SIM, I suggest to not bid more than 1750 SIM because you can get one in the market with 1800 SIM and it might be cheaper to get 5 Basic Homes instead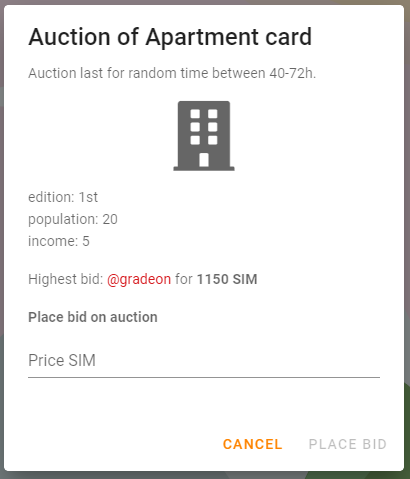 My rank is 137
Population: 1574
Income: 248
Popularity: 825
Unemployment: 0 - Perfectly Balanced 😊
Social Support: 0
Education: 965 (24%)
Creativity: 45 (0.6%)
Training Chance: 24.0% - One extra percent and I will have full education
Approximate City Value: 258,514 SIM

Did you join dcity discord server?
In the game on the bottom left of you screen there is a button called
dcity gate, you can click on that to join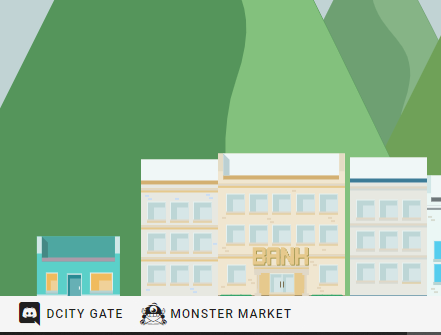 Why you should join and what you can find?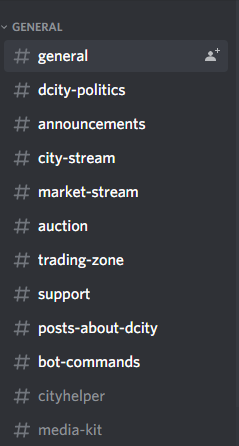 general - is for discussions and even questions you have about game
dcity-politics - you can use it if you are interested about who will be the next president in dcity game, what they promise to give, etc
announcements - you can find latest news about the game
city-stream - here you can check the city stream, usefully to see what everyone got, for example if you buy some cards you can see there what cards you got, you can see also when tech is discovered at who got it, training, etc.
market-stream - if you are curious what other people buy from market and what price then this the place to check
auction - latest bids in the action, who placed a bid and how much was it
trading-zone - here you can trade your cards, change the cards that you don't need for cards that you actually need, is quicker than waiting for your cards to be sold in the market and then buy the cards you want, plus you get to know other players and learn something new
support - if you have any problem with the game, if you believe something din't work right here you can ask for help
post-about-city - here you can find links to posts about dcity and you can post your own links if you talk about dcity on hive
bot-commands - you can use it to find statistics about game use commands like:
--stats tech
--stats e1
--stats e2
--stats bg
--stats citizens
cityhelper - is great to find out information about your rank, city, or even buy and sell or cancel sells in the market
you can use !help to find the list of commands:
average average price of a card
averages average trade prices of all cards
balances view Hive-Engine token balances
bulkreturn return up to 1000 cards at once
bulksend send up to 1000 cards at once
buy buy cards from the market
cancel cancel all your market sales
change change the price of your market sales
city check out someone's city
dm directly message the bot
events check your events and start a new one
help Shows this message
history market history for a card
market view cards on the market
myrank check your current ranking
power view top dCity voting power
rank check the current ranking
register register your hive username with the discord bot
return return cards from alt to main
sell sell cards on the market
send send NFTs to another account
unregister unregister your hive username
votes view dCity candidates and votes
Most of the time I use !city to find info about my city and !myrank to find my rank
media-kit - has some logos and images with d-city if you want to use it in your posts
---
Did you know that now you can check your city cost and income?
Check this post called Check your Dcity Income and costs - BETA test of Dcity Stats
by @rafalski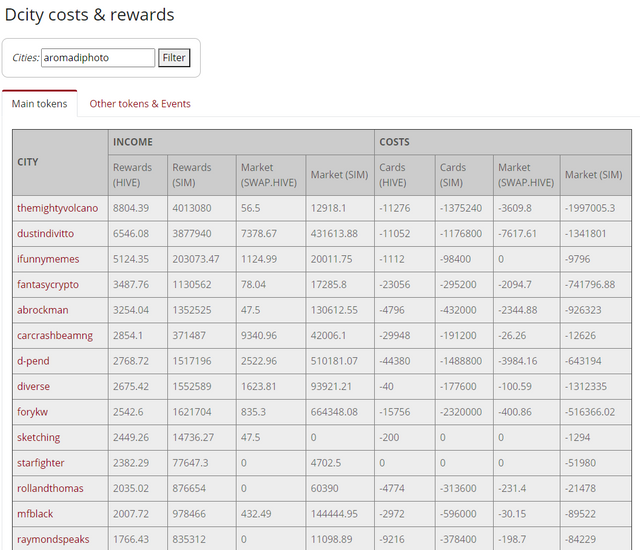 ---
Most of the people knows me on the dcity server after the other account name @pixaroma 😊
I want to thank you some users that are active and that traded with me some cards and made from dcity a fun place. Thank you @looftee @d-pend @webdeals @sidwrites @steemshiro @forykw @foxon @ecoinstant @libert