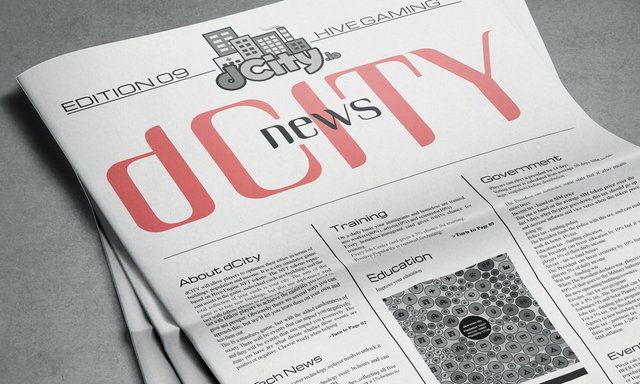 The winner from Edition 08 is @manoldonchev
Congratulations you won a background 😊 called Everest (ID: 187029)
For the next edition I will giveaway a Worker 😊
I will choose a random winner from comments using randoms.org

Last night were discovered 23 tech cards
Sun, 26 Jul 2020 18:02:36, drugwar discovered Police Equipment
Sun, 26 Jul 2020 18:02:37, brofund discovered Drone Technology
Sun, 26 Jul 2020 18:02:37, russia-btc discovered Basic Automation
Sun, 26 Jul 2020 18:02:42, kaeserotor discovered RoboCop
Sun, 26 Jul 2020 18:02:42, pouchon discovered Fully Automated Brewery
Sun, 26 Jul 2020 18:02:42, steemshiro discovered Basic Automation
Sun, 26 Jul 2020 18:02:43, starfighter discovered Fully Automated Brewery
Sun, 26 Jul 2020 18:02:43, sketching discovered Basic Automation
Sun, 26 Jul 2020 18:02:43, inri discovered Open Source
Sun, 26 Jul 2020 18:02:45, drew0 discovered Police Equipment
Sun, 26 Jul 2020 18:02:45, magascon discovered Free Internet Connection
Sun, 26 Jul 2020 18:02:52, nrg discovered Fully Automated Brewery
Sun, 26 Jul 2020 18:02:52, kromtar discovered Neural Network
Sun, 26 Jul 2020 18:02:52, chronopolis discovered Drone Technology
Sun, 26 Jul 2020 18:02:53, soteyapanbot discovered RoboCop
Sun, 26 Jul 2020 18:02:53, chaoabunga discovered Fully Automated Brewery
Sun, 26 Jul 2020 18:02:58, gradeon discovered Free Internet Connection
Sun, 26 Jul 2020 18:02:59, xxxxxxxxxx discovered Fully Automated Brewery
Sun, 26 Jul 2020 18:02:59, the01crow discovered Basic Automation
Sun, 26 Jul 2020 18:03:00, imperij discovered Free Internet Connection
Sun, 26 Jul 2020 18:03:00, moon32walker discovered Free Internet Connection
Sun, 26 Jul 2020 18:03:01, scrooger discovered ECO Energy
Sun, 26 Jul 2020 18:03:01, ubeautiful discovered Basic Automation

Do you believe we will ever get a good president? 🤣
Rafalski is leading with 73.90% and there are 5 days left until the president will change.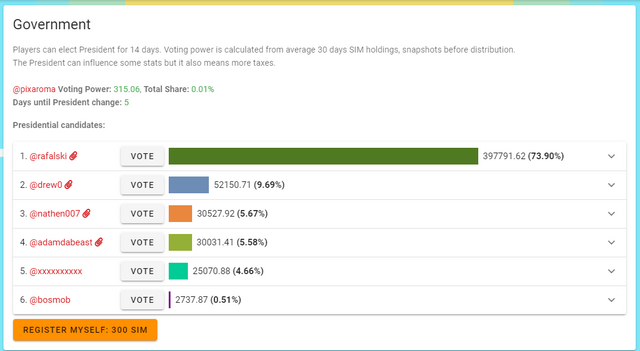 After a few days of high taxes today is more relaxes but for me is kind of useless, I ask each president to put the police tax but they don't listen to the people 🤣


Tier 1 technology got really cheap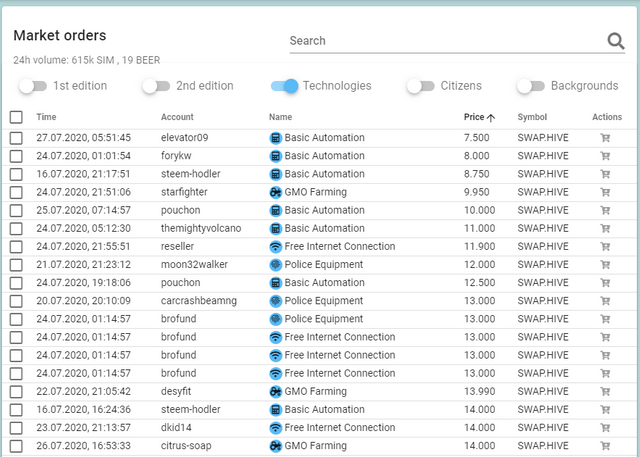 You can get a background for your city with 300 sim


Restaurants are also cheap



There is a Bank at the auction for 442 SIM - make sure you don't bid more than 2500 sim, you can get it at that price in the market.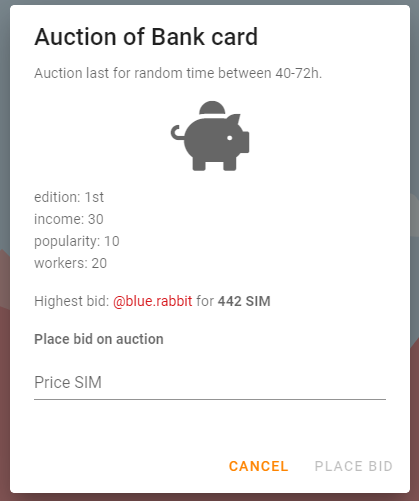 Is really hard to keep the rank in top 25 so I might stay on top 26-30 for a while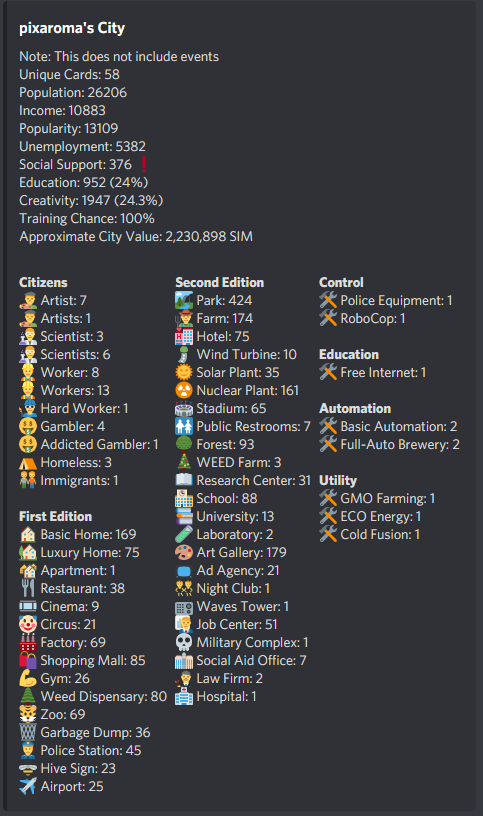 If you have a big city you probably noticed that you have big gaps between your cards and the center
Something like this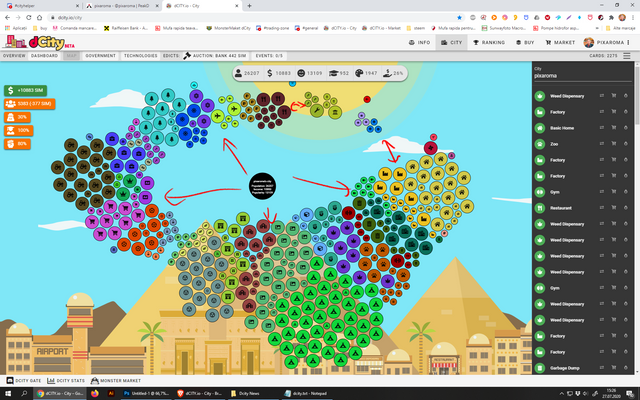 here is a tip for temporary fixing your city preview to be able to take a nice screenshot
Deactivate any card from the right just click on it then activate it back and you will see how the cards will go to the centers like the bee in a hive that follow the queen 🤣
And will look like this now (you can use the mouse wheel to zoom in and out)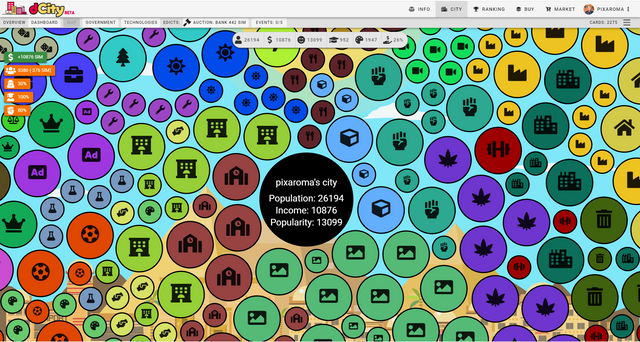 That is all for today. Have fun 😊