Comparison Of Haaland And Mbappe- Do They Look Like Next Generation Of Messi And Ronaldo?
---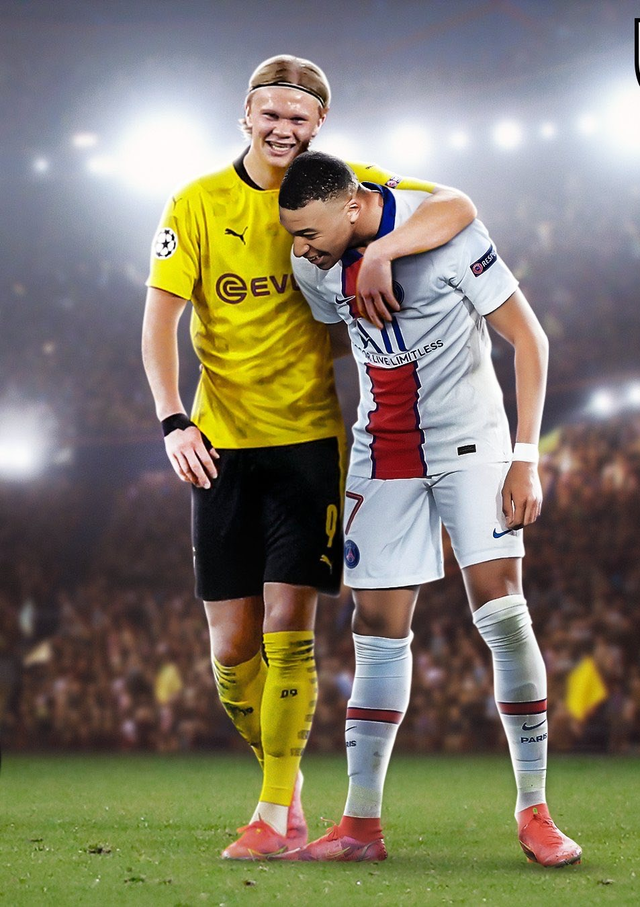 source
Hello friends, how are you feeling today? Football will continue getting players that will inspire and motivate. I believe the young players will surely take the legacy; we have seen stars in football that are coming and going just like Ronaldinho, Kaka, Samuel Etoo, Ronaldo Delima, Zinedine Zidane and so forth. But one thing I know for sure is that, we have never see a long rivalry players like Messi and Ronaldo in football. Lionel Messi and Christiano Ronaldo is the greatest rivalry ever in the history of football. but now their rivalry has reached it ends because of their age. We can not have them for ever, as one generation goes another generation comes. I can't remember several times Ronaldo rescued Real Madrid and likewise Messi also rescued Barcelona. They have the capabilities of changing the game on their own. I called one of them Genius and the other talented. Football is very easy for Messi. therefore, I called him genius. Ronaldo is very dedicated, charismatic and serious player; he does not like defeat.
They have accolades of awards, trophies and have earned recognition locally and internationally. Over the period of time fans had hoped of Neymar, Hazard to take up the rivalry shoe, but both failed drastically as they could not even do quarter of what Messi and Ronaldo did.
COMPARISON OF HAALAND AND MBAPPE: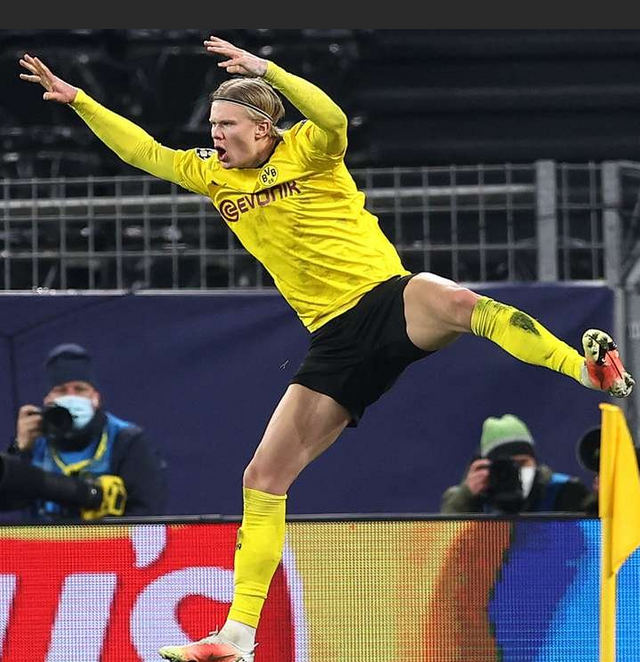 source
• Haaland: this is a player that always hungry for goal, he's one of the top goal scorer in the world now. Haaland Is the type of player that rarely mis chance. He has goal instinct, very strong and agile. He can score with leg and head, he has finishing touch, very pacy but not like Mbappe, and he have goal scoring sense. He's a beast when coming to goalscoring. This is the reason, it is very difficult for Borussia Dortmund to release him despite Real Madrid and Chelsea interest in Norwigan player. Both clubs are making effort to sign him. Real Madrid is looking for Benzema replacement while Chelsea has been looking for goalscoring machine since the departure of Didier Drogba. None of the strikers Chelsea have signed could leave up to the expectation. Now that age is not in the sight of benzema, Real Madrid is looking for perfect replacement and Haaland is one of the player that could leave up to the standard of benzema. Haaland had 27 goals and 5 assist in the previous
Season which is incredible for 20 years old Borussia Dortmund striker. Therefore he has a better shot-conversion rate of 29% which is higher than Mbappe. He's a natural striker.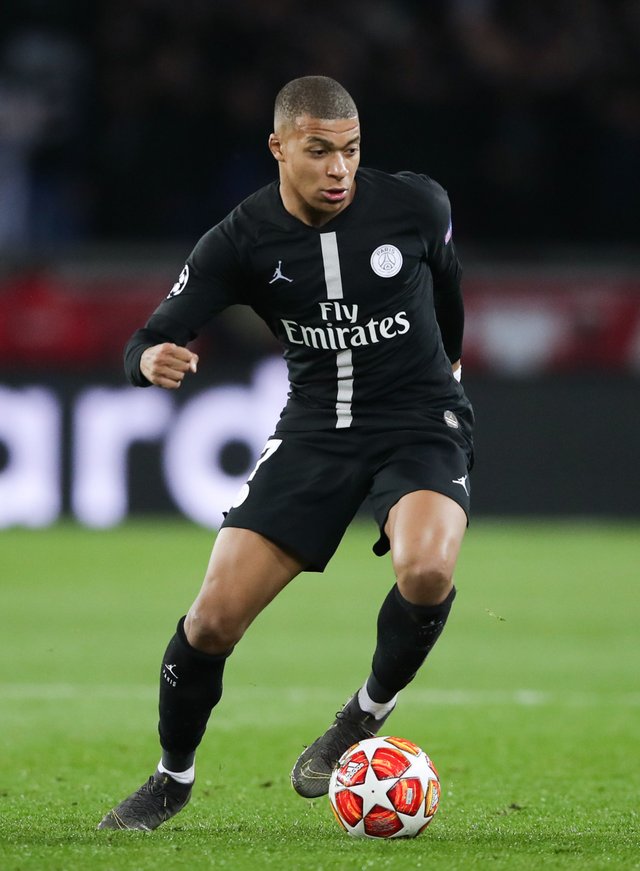 source
• Mbappe: one of the fastest players in the world. This pacy ability gives him edge over some defenders in league 1. Mbappe is not natural striker, he can dribble but not among the best dribblers in the world. When it comes to dribble Mbappe is far behind Neymar. Mbappe shot-conversion rate is 22%. He has goalscoring ability but not like Haaland, very strong and skillful. The 22 years old have 27 goals and 9 assist for Paris Saint German. PSG is looking for every possible way to keep their star on the team as Madrid is hunting for him. One thing I know is that, the French international is very good because playing in the team full of stars and outshined them both in the club and the country. In France national team, he had shirt and can not be benched despites of stars in the team. In PSG, what will make Mbappe not to play is injury.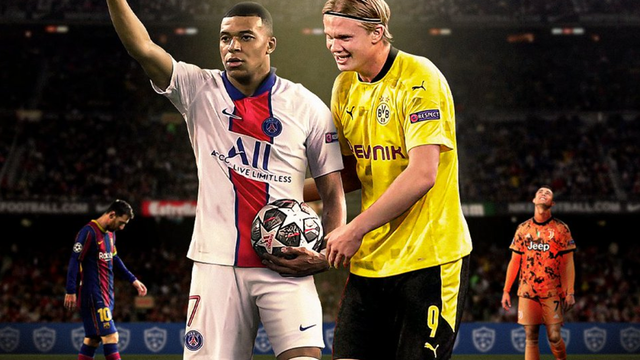 source
DO THEY LOOK LIKE NEXT GENERATION OF MESSI AND RONALDO?
If you look at Messi and Ronaldo, both played In the same league for so long. Therefore, it is very easy to compare them together. If you look at Gerrard and Lampard, Henry and Van Nistelrooy, pique and Ramos, rivalries happened because they play in the same league and position, when I said position, I am simply saying defense, Midfield and forward. Though we can compare them but rivalry often happen and sweet when both players are in the same league. In football I never see where they compare goalkeeper and striker together.
Both Mbappe and Haaland has potential to become future GOAT. They still have long way to go, it is very early to start judging or linking them to next generation of Messi and Ronaldo. Since Madrid is looking for both of them, if the fortunately be in the same club, there's nothing like rivalry between them again. If both of them continue in-form, winning champions league, league and have goals record like Messi and Ronaldo, breaking and set up new records, then we can say 'they are on the way' and might end up of becoming greatest players like the two GOATS. Both players need to leave their present clubs as both clubs don't have champions league holder record. In fact, Bayern Munich dominated Bundesliga for the past 10 years which simply means Haaland will not have record of trophies if he stays in Borrusia Dortmund and he may never tested champions league glory.
For the past 2 seasons now, PSG is coming closer to champions league but difficult for them to win it. Though, they dominated league 1 but the previous season was not easy. Therefore, they lost it, but they are always the potential holder of league 1.
Do you think they can be like Lionel Messi and Christiano Ronaldo in the future?
---