Help get HIVE listed on the Quidax Exchange in Africa
The Quidax Exchange in Africa recently put out a Twitter poll asking the community which coins they would like to see added to the exchange.
Which can be seen here: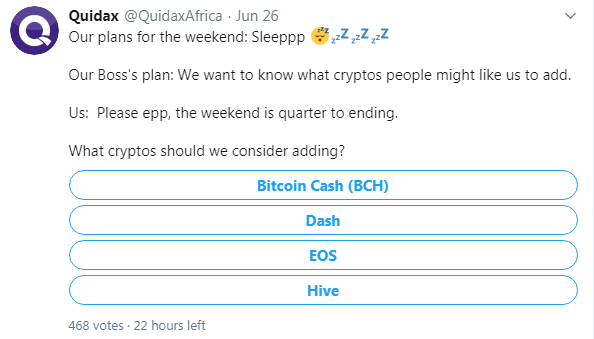 (Source: https://mobile.twitter.com/QuidaxAfrica/status/1276586709795459073?s=19)
Check out the company that HIVE is currently being included with...
All coins with market caps roughly 10x (or more) the current market cap of HIVE.
Not too shabby to see HIVE included with those others!
But, not only was HIVE included, it's doing very well in the polls thus far as well.
Check this out: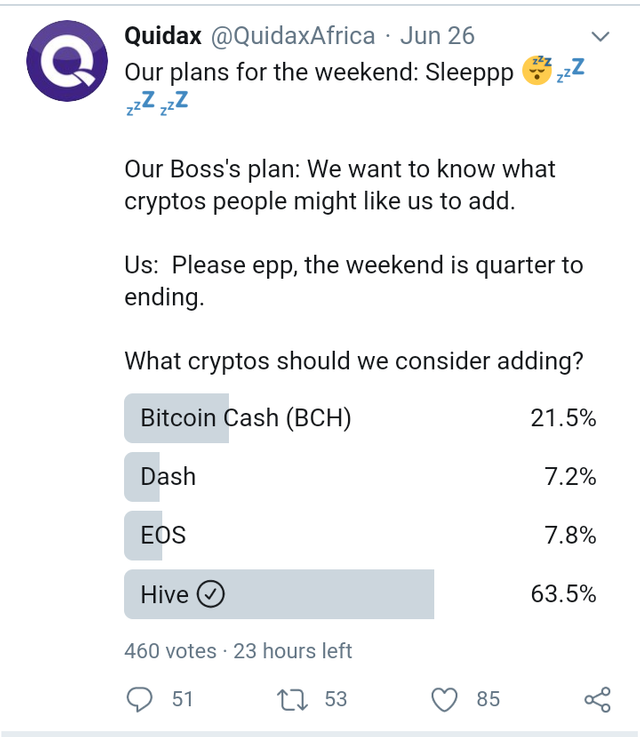 (Source: https://leofinance.io/hive/@hivebootcamphub/let-s-vote-for-hive-to-get-listed-on-quidax-exchange)
With less than a day until the poll closes, HIVE is in the lead, and it's really not even close!
Now, get out there and vote and lets ensure HIVE wins this thing and secures yet another exchange listing!
These are the kinds of things a community like ours should excel at.
For more information on the Quidax Exchange there website can be seen here:
Stay informed my friends.
-Doc