Leo Finance Oct 15th AMA & Timestamps w/clickable links
---
It's the weekend! I hope everybody is having an awesome time.
As everyone knows, weekend = Leo Finance weekly AMA :)
aside from updates on all the development going on in the Leo Finance ecosystem, today we also got some investment strategies that might be useful to you AND @khaleelkazi revealed some fresh new info on upcoming kingdoms.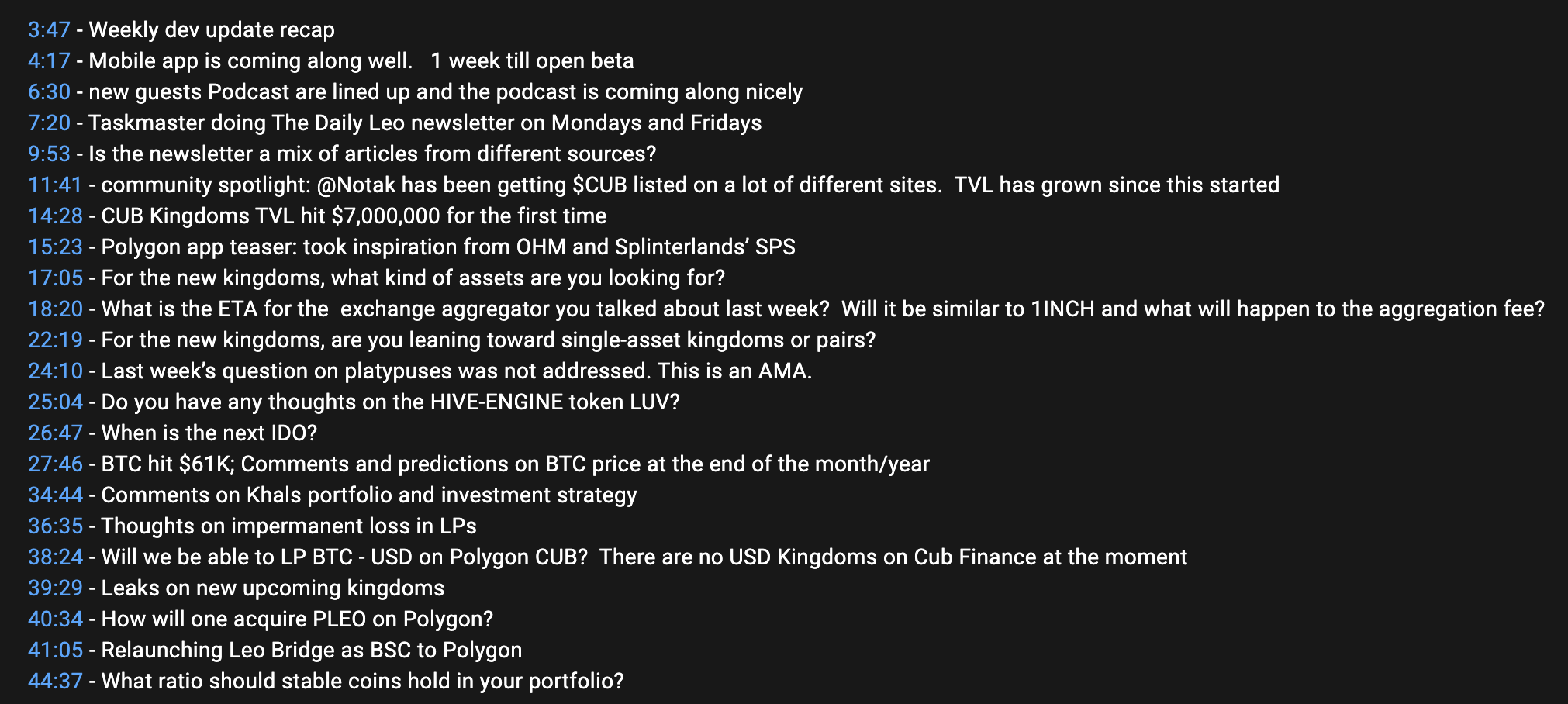 Leo Finance Oct 15th AMA timestamps:
You can go ahead and click on the topic that interests you, and the link will take you straight to that part of the AMA.
3:47 - Weekly dev update recap
4:17 - Mobile app is coming along well. 1 week till open beta
6:30 - new guests Podcast are lined up and the podcast is coming along nicely
7:20 - Taskmaster doing The Daily Leo newsletter on Mondays and Fridays
9:53 - Is the newsletter a mix of articles from different sources?
11:41 - community spotlight: @notak has been getting $CUB listed on a lot of different sites. TVL has grown since this started
14:28 - CUB Kingdoms TVL hit $7,000,000 for the first time
15:23 - Polygon app teaser: took inspiration from OHM and Splinterlands' SPS
17:05 - For the new kingdoms, what kind of assets are you looking for?
18:20 - What is the ETA for the exchange aggregator you talked about last week? Will it be similar to 1INCH and what will happen to the aggregation fee?
22:19 - For the new kingdoms, are you leaning toward single-asset kingdoms or pairs?
24:10 - Last week's question on platypuses was not addressed. This is an AMA.
25:04 - Do you have any thoughts on the HIVE-ENGINE token LUV?
26:47 - When is the next IDO?
27:46 - BTC hit $61K; Comments and predictions on BTC price at the end of the month/year
34:44 - Comments on Khals portfolio and investment strategy
36:35 - Thoughts on impermanent loss in LPs
38:24 - Will we be able to LP BTC - USD on Polygon CUB? There are no USD Kingdoms on Cub Finance at the moment
39:29 - Leaks on new upcoming kingdoms
40:34 - How will one acquire PLEO on Polygon?
41:05 - Relaunching Leo Bridge as BSC to Polygon
44:37 - What ratio should stable coins hold in your portfolio?
For last week's AMA timestamps: click here
Thanks @khaleelkazi and @scaredycatguide for doing this every week. @nealmcspadden we missed you today; saw you on Discord.
Posted Using LeoFinance Beta
---