Tribes and engagement . Which tribe pays the most for engaging ? 4 Tribe comparison .
---
Good morning to everyone , I have been running engagement project for over a month now and I am happy with how it is going so far .
Many of you might already know that engagement is important for any tribe here on Hive .
Today we shall look at 4 tribes - LEO , CTP , SPORTS and STEM to see how many users are getting rewards and how many comments are getting upvoted and how much you can earn on an average engaging with others .
Engagement = Earnings
Note: The data below is for the period - 9th March to 15th March - so the earnings will be from 16th March to 22nd March
Note 2: All the author rewards for comments are considered and posts are removed
Number of comments made vs Number of comments upvoted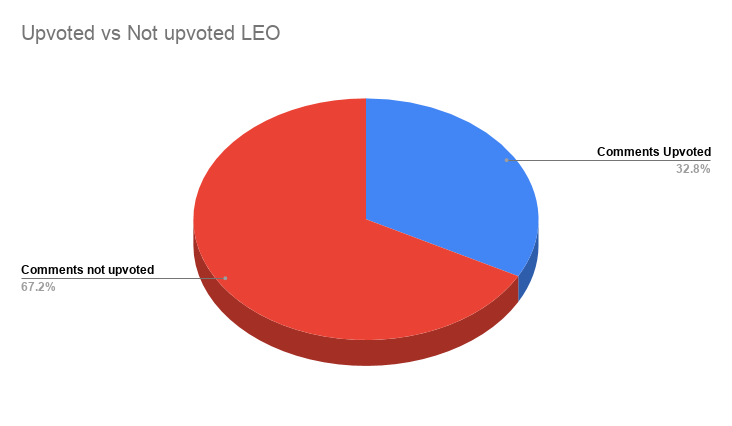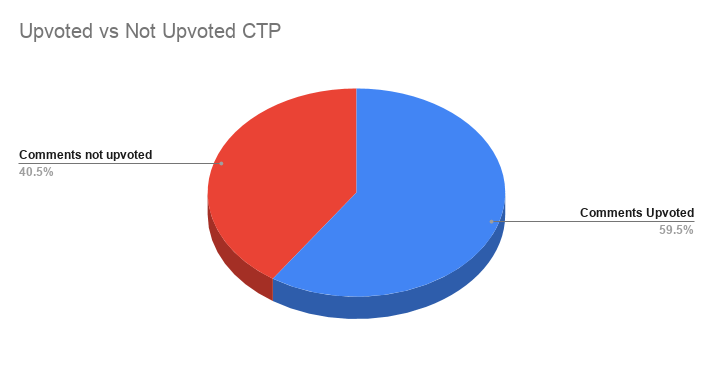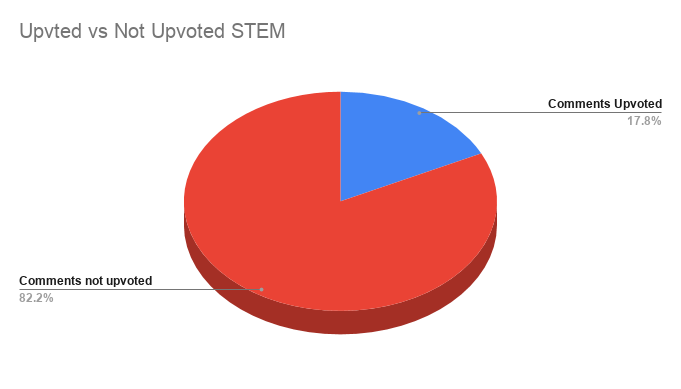 Well in the above 4 CTP and SPORTS tends to do well because 1 in 2 comments gets upvoted in SPORTS and CTP . But if we just consider that it won't be enough , we need to focus on earnings too .
Author rewards comparison
| Tokens | LEO | CTP | STEM | SPORTS |
| --- | --- | --- | --- | --- |
| Total author rewards in 7 days | 790.12 | 839.263 | 336.943833 | 641369.8 |
| Per Comment Average | 0.140 | 0.64 | 1.892942882 | 862.0561828 |
| Per User Average | 0.886 | 4.03 | 6.738 | 3664.9 |
What does this tell us ?
Total author rewards in 7 days - This is only for comments . So the comments made from 9th March to 15th March got author rewards of 790 LEO , 839 CTP and so on .
Per Comment Average - This tells us what is the average earnings per comment ( which has been upvoted ) , non upvoted comments aren't considered here . It is 0.14 LEO means an average upvote is 0.14 LEO on a comment.
Per User Average - This tells us how much is the average author rewards for comments per User. I might have posted 3 comments , I got upvoted only on 2 so my earnings will be for 2 comments only , so it is better to take Per User Average too .
Author rewards comparison in Hive
Well although the above gives us a picture , to better understand and compare we need to convert those rewards to Hive . I won't bore you with numbers so here are the charts -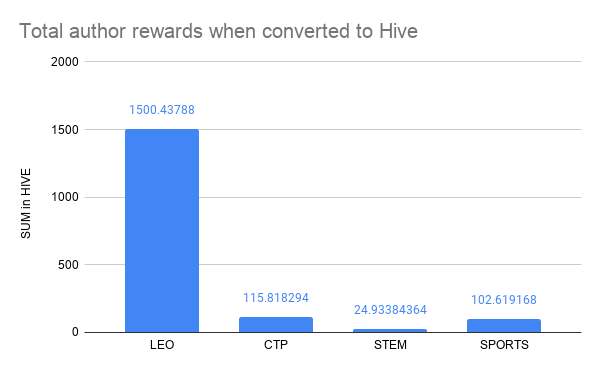 LEO is just in another league here
CTP and SPORTS are almost equal
STEM might seem low but it is not since the number of comments is less in STEM .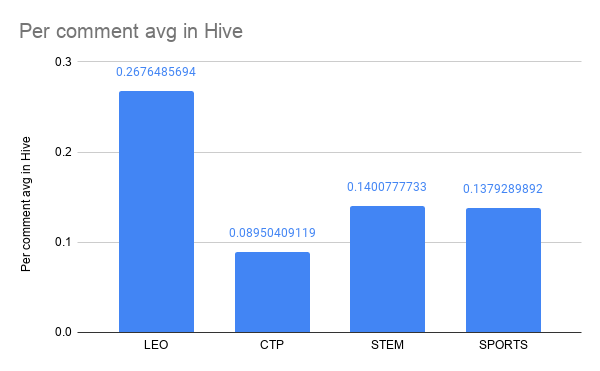 Now this is interesting , total author rewards ( 1st Bar chart ) showed LEO 10x higher than others but here it is 2x higher why ? Because the amount of comments made on LEO is just too much when compared to others so it brings down the average comment earnings a bit but still it is 2x more .

In the 1st chart we saw STEM as just 24 Hive total author rewards but if you see here , it is next to LEO , that means there is a big opportunity for you to earn more Hive ( actually STEM ) if you post from STEM .

STEM and SPORTS are almost equal , CTP is less when compared to other 3 .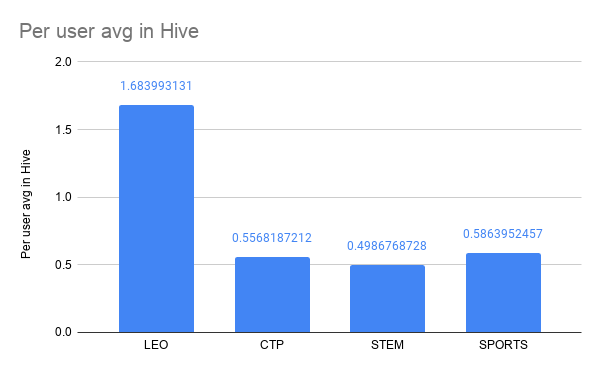 If we come to per user earnings , CTP , STEM and SPORTS are almost equal and LEO is 3x more .
---
Basically if you want to earn rewards , you can hop on to any tribe and engage but the important point is you have to have interest in that tribe , otherwise you won't be able to comment a lot . If you are interested and if you are willing to engage then you can earn a lot by just commenting.
Just keep engaging and put lots of efforts , you will earn the rewards . Be consistent .
---
Regards,

MR.
Posted Using LeoFinance Beta
---