A few days back we saw a huge pump in the price of Steem. Nobody knew what was the reason. Today it is very unfortunate to see a huge fall in the price of the Hive. I'm not sure what is happening today either. Huge selling is happening in the market. The price fell from 2700 Satoshi to 1500 Satoshi now. It is a huge fall. More than dumping, organized dumping is the right word because if I'm not wrong it is a perfect plan to reduce the price of the token in the market.
If this was from the biggest stake holders and rich people out there, the resistance can be a little difficult because there won't be enough people to purchase all the dumped tokens and balance the price. Many people have already started thinking about selling their Steem now for a good price and purchasing Hive tokens for the same. It can be a good deal right now.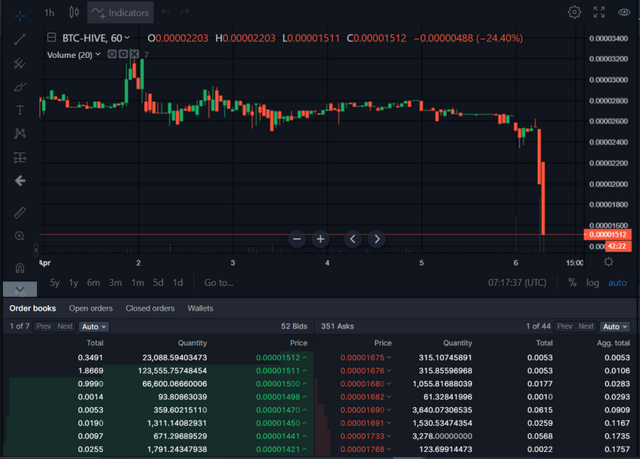 This can be considered as a huge buying opportunity for people who believe in Hive. I had a little BTC in my account and with that I bought around 260 Hive today at the price of 1550 Satoshi. I'm not sure if this is a good investment or not but something made me feel that I should be making use of this opportunity to purchase some Hive.
For now, I'm not in the idea of sending these tokens to my wallet and power up. I will instead hold them in the wallet itself for now. As I keep writing this article the price is dropping even further. I was thinking that this could happen some day for Steem but it is quite unfortunate to see this happening for Hive. I don't know who is behind this heavy dumping but the price is just dropping further down.

On the other side people also consider this as a good opportunity and try to purchase more Hive tokens. I'm able to see lots of Buy orders happening as well. Some people say that it is heavy and organized dumping happening to reduce the price of the Hive. But I'm also able to see the market cap of Hive is looking good.
We may not know if this is going to stop now or this is just a start. There is even a possibility for the price to drop even further. But if that happens, I'm sure there are people who would be willing to purchase Hive for that low price. Let's see how long it takes for everything to get settled.