Now Validating For JUNO! Let's Plant Trees Through Delegation!
---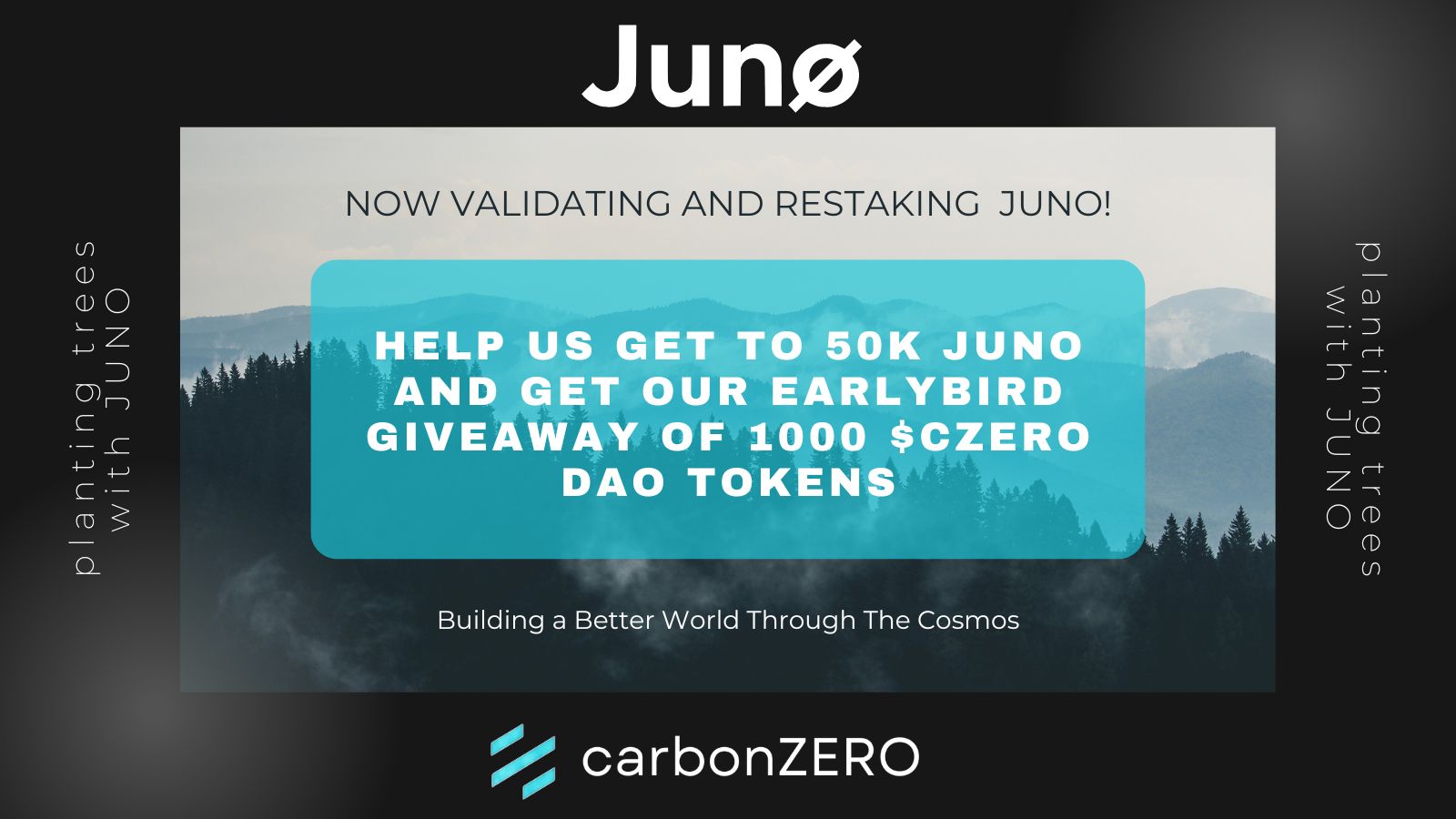 We at carbonZERO are happy to announce that we are giving it another go as a validator for JUNO! Our node is up and running and we are also set up to auto-compound your JUNO if you delegate to us on our Restake app!
Since we started our carbonZERO DAO on JUNO using the DAODAO.zone platform, we only felt it fitting to make JUNO our next chain to try and validate for!
We are excited to be able to plant more trees with 20% of our validator rewards and share an additional 10% JUNO rebate monthly to our awesome delegators!
Those awesome delegators will have a chance at also getting a voting position in our eco friendly, tree planting DAO! Those that stake our $cZERO token will be able to help direct us in how we donate our 20% commissions every month! Our default is Ecologi, where we donate and they plant trees and fund other eco projects on our behalf! This is one way we stay carbon neutral!
50K JUNO Early Bird Giveaway
First up is the push to the active set and we have a goal of not just hitting active, but pushing to a safe place so that we can ensure we will be safe and able to start getting trees planted!
So to those JUNO delegators that help us get to 50K JUNO with a minimum of 10 JUNO delegated, you will get 1000 BONUS cZERO tokens on top of the regular airdrop that we will discuss in a minute! This is our way of saying thank you for helping us get a solid boost into the active set so we can do something good for the planet with our crypto!
The snapshot for this giveaway will be taken as soon as we hit 50K JUNO delegated to carbonZERO.
These BONUS tokens will be airdropped along with the main airdrop so we can just do it all at one time.
Main $cZERO Token Airdrop for $JUNO Delegators
The snapshot for the main airdrop for JUNO delegators will happen one month after we enter the active set. So once we are in the JUNO active set, the clock starts. If we drop out of the active set during this time, the clock resets.
Airdrop Levels
Ratio is shown as cZERO:JUNO for every JUNO Staked. So to break it down, if you stake the minimum of 50 JUNO tokens with carbonZERO, as we are able to get into the active set and stay there during the snapshot and airdrop, then you will receive 0.5 cZERO for every 1 JUNO you have delegated to us. The ratio increases the higher up the levels you go.
Level 1 - 50+ = 0.5:1
Level 2- 250+ = 0.75:1
Level 3- 500+ = 1:1
Level 4- 1k = 1.5:1
Level 5- 2.5k = 2:1
Level 6- 5k = 3:1
Level 7- 10k = 4:1
Level 8- 25k+ = 5:1
After the main snapshot, your delegations will be calculated and we will begin the airdrop process. The airdropped total will include your BONUS tokens if you were one of the ones that helped us get to the first 50K JUNO!
Please NOTE
These tokens DO NOT have a monetary value. They are a way for us to get our delegators involved in what we are trying to do with our eco-friendly causes like Ecologi. we love Ecologi, because we are able to easily track our results and share them with our community.
$cZERO token stakers will have a governance vote in the DAO and can help us direct our donation funds for the month. Members will even be able to submit proposals for a good, verifiable, eco-charity or cause. If you don't have enough cZERO to pay for the proposal, you can present it to us directly, and if we like it, we can help support by paying the DAO proposal fee. Hint, we even have to pay this, haha.
We are doing what we can to try and bring a good face to the crypto industry by using our validator donations for good causes. We hope you see our vision and support us through JUNO delegations!
We Are carbonZERO
carbonZERO is a full service, eco-conscious validator node operator for the Cosmos ecosystem, providing infrastructure for several blockchain in the Cosmos ecosystem. We run top of the line bare metal servers, utilizing 64GB RAM, 1TB NVMe SSDs, and 8-core / 16-thread CPUs. Our node architecture consists of frontline sentry nodes for ultimate security. Future plans for additional security & performance include implementing threshold signer nodes, as well as additional sentry and RPC nodes.
Stake your $EVMOS, $JUNO, $CMDX, $ROWAN, $HUAHUA, and $NOM with carbonZERO using our Restake app and if Authz is available, you will be able to auto-compound your tokens!
Follow us on Twitter!
Follow us on LeoFinance on Hive!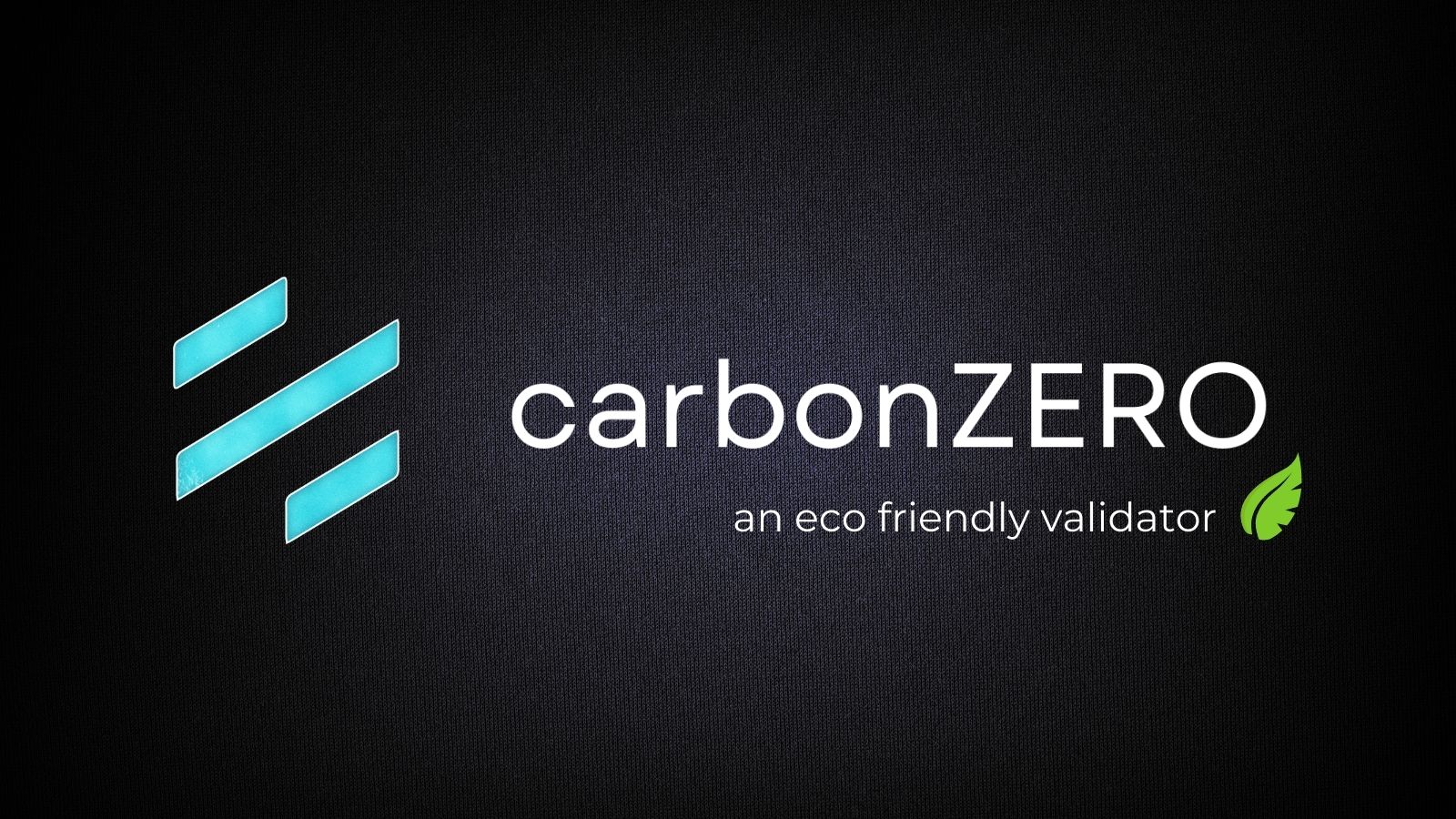 Posted Using LeoFinance Beta
---