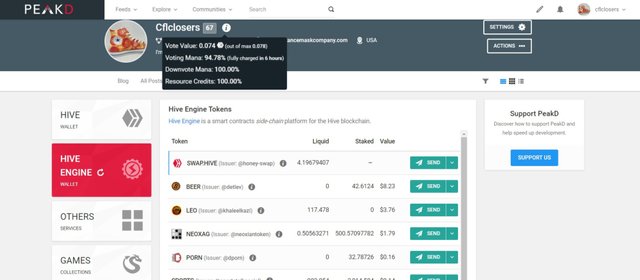 I'm really happy to see the new tools and utilities today when I logged into
PeakDPeakD
I have had a hard time since the fork trying to figure things out on Hive. It's nobody's fault really. I just got used to they way I did things on steem.
I was in my comfort zone and knew what I liked and how they worked. I'm sure I'm not the only one but when I got onto hive I felt kind of lost.
But now today when I logged into PeakD I saw some new things and they were the things I've been looking for but had yet to find.
First as you can see in the image (probably not new but I didn't know about it) is that if you hover over the i next to your user name and reputation score at the top of the page, you will see your voting mana.
I've been flying blind for awhile on hive. It's very important to me to know exactly how much voting power I have because I like to vote on people enough to matter but I don't like going below 80%.
So now that I know where I can easily check my power it will help me curate better.
Next is the new left sidebar with easy access to your
Wallet
Hive Engine
Services
Games
I'm so thrilled to see this. Heck, I couldn't even figure out if Hive Engine was a thing or that had stayed with steemit. And, like everyone else, I love seeing my wallet. It just feels good lol.
Now many of you might think I'm just an idiot and should have been on top of the Hive goings on but unless you were watching at the fork and read every hive tagged post on the blockchain your gonna miss something.
And, if you are a new member then forget about it. It's hard to find answers you seek. I know what you are gonna say. "head over to discord, it's all there"
But, I'm not a believer in building up discord. There is something nonsensical about leaving your platform, going to another platform to learn about your platform and then go back to your platform.
I'm a big believer that if Hive is going to make it into it's orbit and reach critical mass, then we must have all the answers on hive.
To me it would be nice to have a hive education community loaded with tutorials and hivians hanging out there curating questions and comments.
Or at the very least, until we have more technical development here, use the comment section to have and curate real and meaningful conversations.
I remember doing consulting at Facebook during the time when they were trying to keep people from leaving their platform. They spent millions working on it and their goal was to have anything that a facebook user could want or need be available on Facebook.
That stuck with me and that shaped my views on platform building