Daily Trends and Charts- Featuring Binance Coin BNB - Bitcoin's Drop To Dangerous Levels - Hive's Steady Hand
---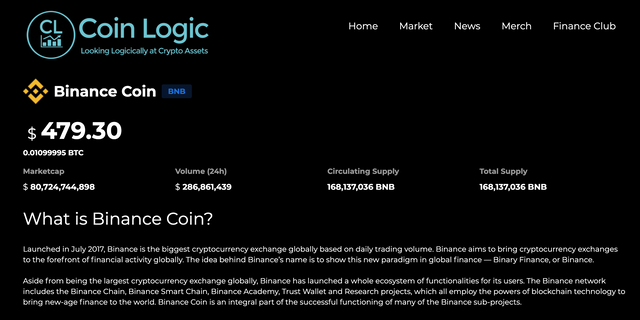 Hello everyone! Welcome back to another Daily trends, charts, and news here on Coin Logic! Everyday we feature Bitcoin and Hive charting analysis as well as a daily featured crypto asset! Today's token of the day is BNB.
Keep reading for the trending markets as in the top gainers and losers as well as the daily update on the Bitcoin Fear and Greed Index and the Bitcoin market dominance charts and our daily news flash!

Token of the Day- Binance Coin BNB
Binance is one of the biggest if not the biggest cryptocurrency exchange in the world. It's native token, BNB, used on the exchange to pay for lower exchange fees and such. Binance took it a step further when they created the Binance Chain and Binance Smart Chain.
Binance Smart Chain runs on the Ethereum Virtual Machine and makes it extremely easy for developers to port their projects over to BSC to utilize the extremely cheap gas fees for transactions compared to using the Ethereum Network.
BNB saw a surge earlier in the year to the number 3 spot and has stayed there for some time now due to the DEFI craze that is being built on BSC. This is allowing not so wealthy users take part in the DeFi ecosystem and earn some serious yields!
The BSC chain has not been a stranger to issues as well with many projects 'rug pulling' from their investors. But after a year or so of using the platform, you can clearly see the winners and the ones that were only in it for a money grab.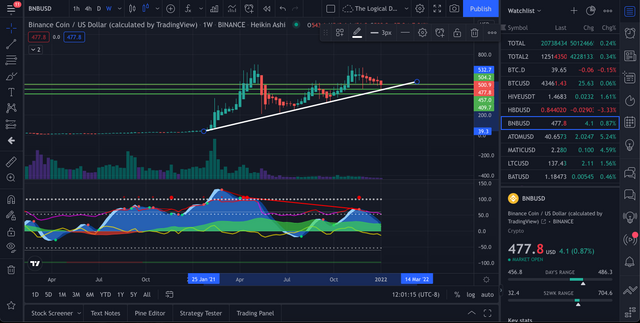 BNB's major rise started in January 2021, seeing BNB go from the $30's rising all the way to over $600 in just a couple of months! It has certainly seen it's corrections as well during it's run up but has stayed the course and respected a pretty major trend line.

You see on the weekly chart that BNB is forming a large ascending triangle which has about a 70% change of breaking to the upside. That $600 range seems to be some strong long term resistance for BNB so it will take way more volume than is happening now to make it bust through. If it does bust through this resistance, we could be looking at an upside target of around $1200-$1400. That is to say that the markets can stay in a bullish direction overall and this latest downturn is not the end of the run, just a large scale correction... IF...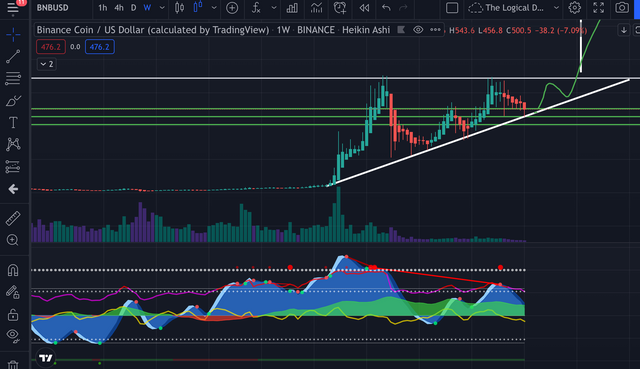 If you were to add the indicators back in... It's not looking as bullish as I would like to see with some bearish divergence in play on both the RSI and the momentum indicators. the VWAP, or volume weighted average price is on a downturn as well as the money flow is turning down, but still in the green, so money is still flowing into the asset. I think the overall markets are just pulling it down.
I know we are building DEFI DAOs and NFT marketplaces on Binance Smart Chain and it is still pretty solid in that number 3 spot. It has definitely earned a place in the Coin Logic Index.
Bitcoin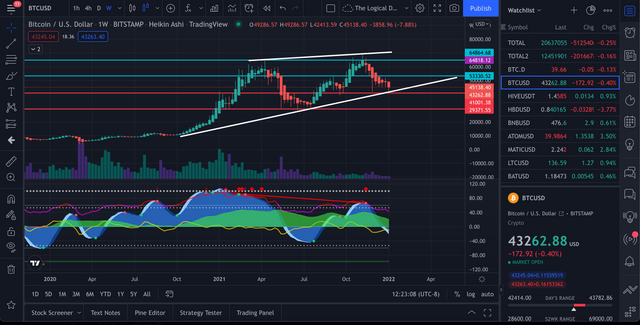 Poor poor Papa B. Bitcoin is struggling hard the last few weeks and really needs some help to continue this rally. You can see on the weekly time frame that we have officially started forming a large rising wedge, which unfortunately breaks to the downside like 68-70% of the time. Now it's not a dramatic rising wedge, but it's there.
The last drop has seen Bitcoin hit a dangerous level. It needs to respect this $41k-$43k range and get a rebound to keep moving in the right direction, at least extending the cycle.
If we can get a bounce, then we could see Bitcoin rise back to all time highs or there about before meeting any more major resistance, and then it will be interesting to see what happens there.
If we cannot get a rally, we could see bitcoin either continue to drop which the next big line in the sand would be the $30k levels. Below that... well we just don't want to talk about that do we...
The indicators are showing the big bearish divergence that is playing out on the RSI and momentum waves, but at the current time of this post, the momentum wave is looking like it wants to slow it's downward movement and start to level out a bit. Could we be looking at the reversal rally in the next week or so? Let me know in the comments what you think about that.
Hive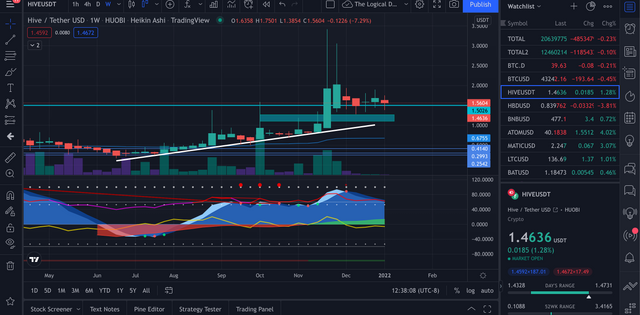 Hive had a little drop below 1.50 during the latest BTC downturn, but it is still holding steady! Today is the airdrops for both the LARYX miner, and the Ragnarok NFTs, so hopefully people won't be trying to sell their Hive after they get their airdrops.
Hive on a fundamental level couldn't be stronger! We are starting to see more and more engagement in the different communities and seeing a nice flow of newer people who we are trying to welcome with open arms!
What's Trending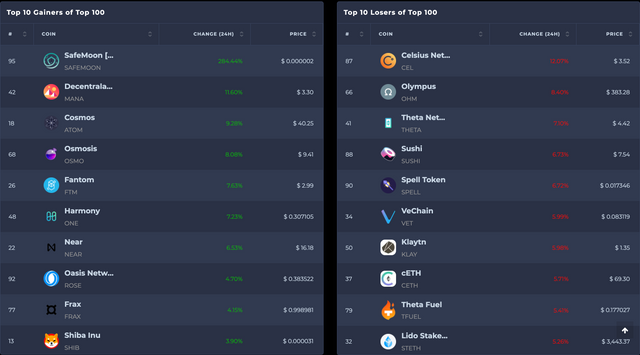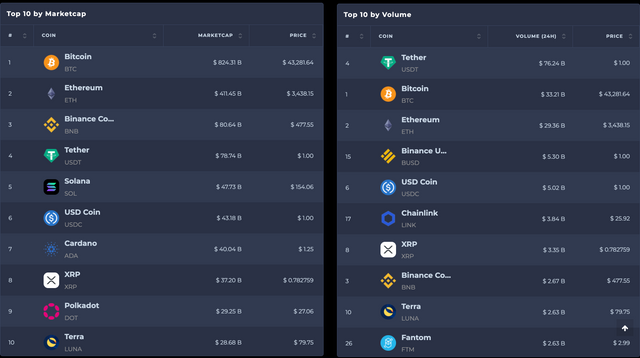 The Top gainers of the day are looking very beautiful for us because of Cosmos and Osmosis holding steady and still on the rise even when allot of the market is on a down turn.
Crazy ole Safemoon is on a moon mission with a 284% rise over the last 24 hours... I would be taking profits NOW, lol. I feel a dump a coming, lol.
And then you see the Top 10 by Marketcap and by volume to see what is moving and what is holding strong! Today's token of the day is number 3 on Marketcap and number 8 on Volume!
Bitcoin Fear and Greed Index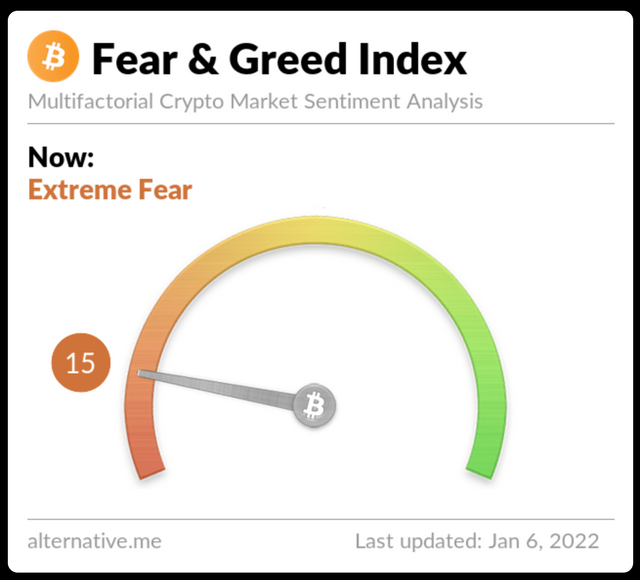 Danger Will Robinson! Danger! Bitcoin's market sentiment is struggling hard with people in extreme fear right now! This is one of those times that yes, you need to really pay attention before diving in. Many people say the fear is the time to buy, but you also don't want to catch a falling knife either... That hurts too... So keep a watch out at the charts and do your own research!
Bitcoin Dominance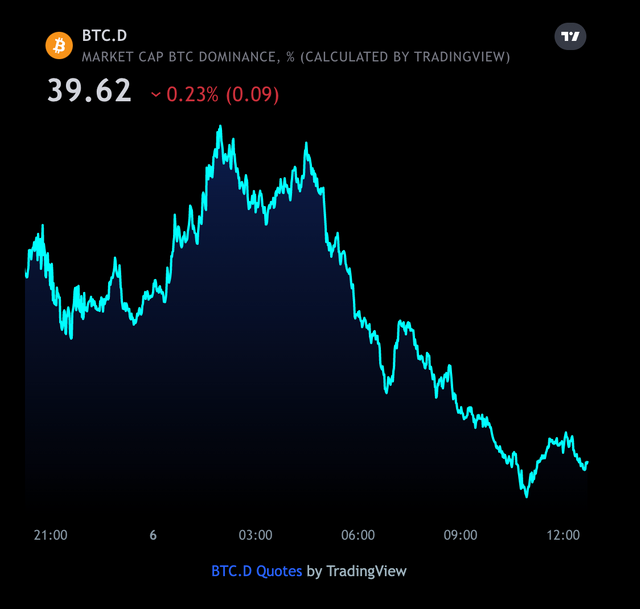 Really no change in the Bitcoin Dominance. Still bouncing between 39% and 40% of the marketshare is being taken. But that is widening the spectrum of other projects taking market cap! People are starting to see utility in other projects than just being a payment rail or store of value.
We aim to do this daily to help you gain a better understanding of the markets and how these crazy charts work!
No news today that was extremely interesting, celebrities are buying NFTs, blah blah... Will check it out again for tomorrow's Friday Weekly Wrap Up!

Nothing we say is financial advise. This is for educational and recreational purposes only! Stay safe in these volitile markets and don't get rekt!
Follow us on HiveHustlers and LeoFinance as well as check out the main site at https://coin-logic.com
Come join the Coin Logic Finance Club on Hive
https://coinlogic.finance

---