BTC update - Januar candle has to close bullish engulfing, or!?
---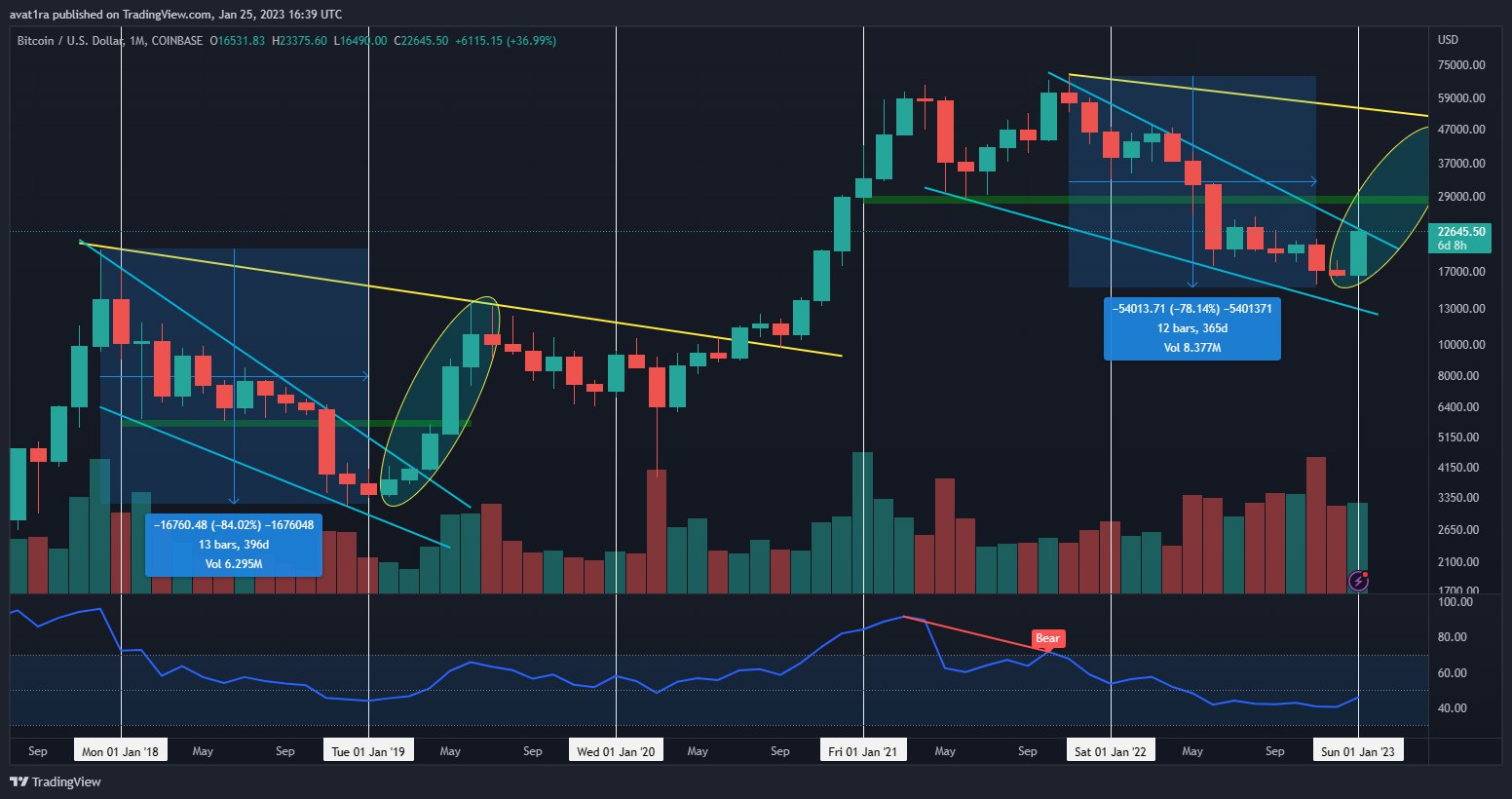 In my previous post, we also closed the month of October as a bullish engulfing candle, but it did not play out as hoped, so it was a fakout. It's a strong Januar candle, and now there are only a few days left in the month, but I think it's looking good. Then the odds are high that this time it will work out or what do you think?
What gave us a bounce? Imo it was our weekly bullish divergence in combination with funding. In previous post I also argued for a relief rally as
Sentiment have been bearish for months, macroeconomic is crap and war. But funding favor bulls.
If we can manage and break out of the downtrend marked by blue lines, I expect we will at least see our 28k neckline as in 2019 when 6k was our biggest resistance. Time will tell if we will break it on the first try as in 2019 or not, I think we wont and return for a retest of our lows and set a double bottom before the new cycle starts. It will only be healthy to build a strong market structure for the next run imo.
Short term as we are printing bearish divergence and we have a CME gap at 20k we might see a retest of 20k before more upside. A daily close below daily 200 MA (19,5k) would be a bit concerning, want to see BTC hold it at any cost for my idea to play out.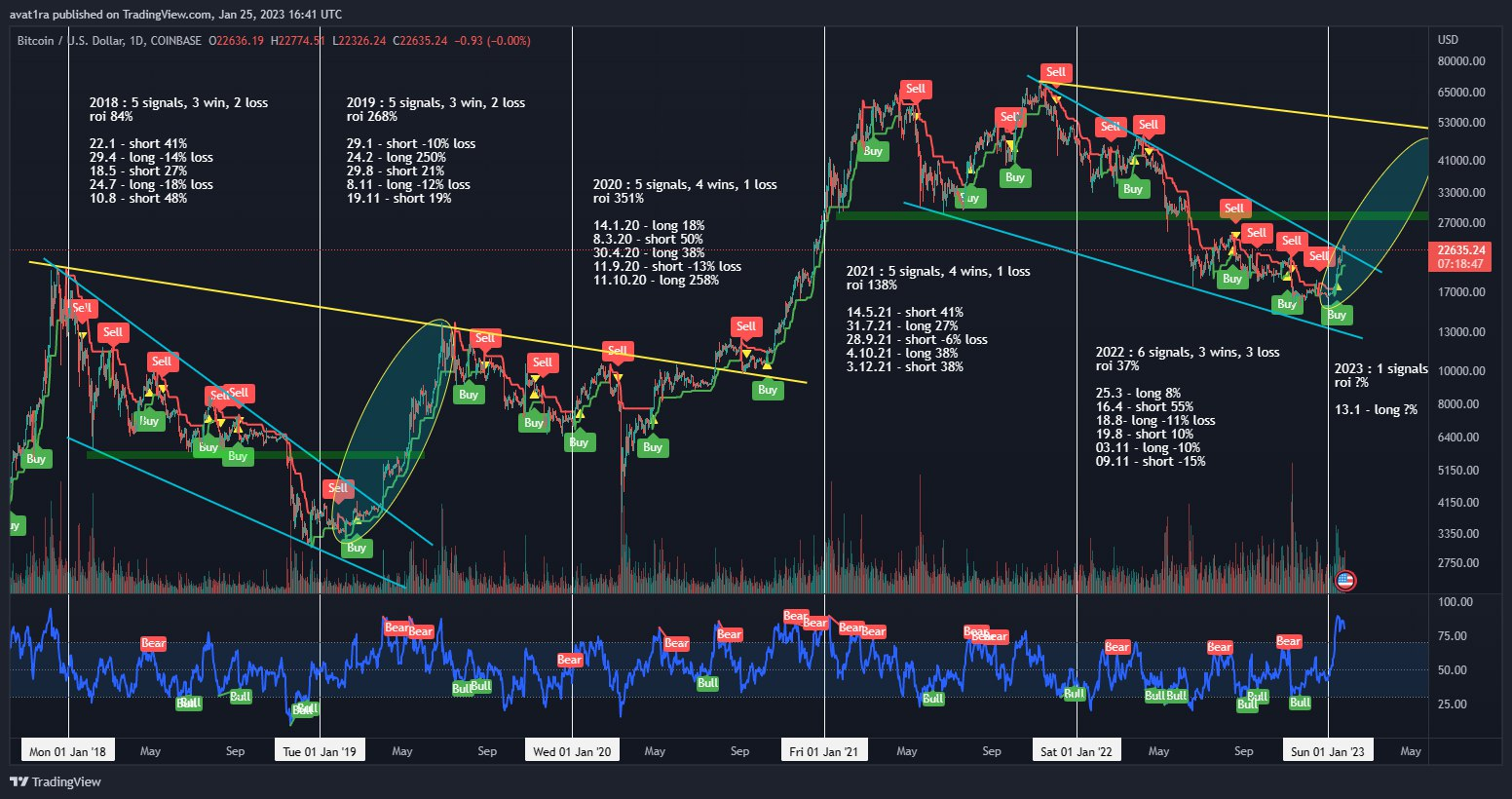 And my own made swing trade indicator have confirmed a buy on daily chart. 70% win ratio since 2018, lets see how many % it will be this time or will it be a loss. Its holding over 900% ROI on both BTC and ETH.
Well as it diddent play out the buy signal from 3.11 was a loss, same for the short signal right after. So the year closed with 37% ROI on BTC and 89% for ETH. Worst year for now hehe, but atleast it started year 2023 with a win! 😊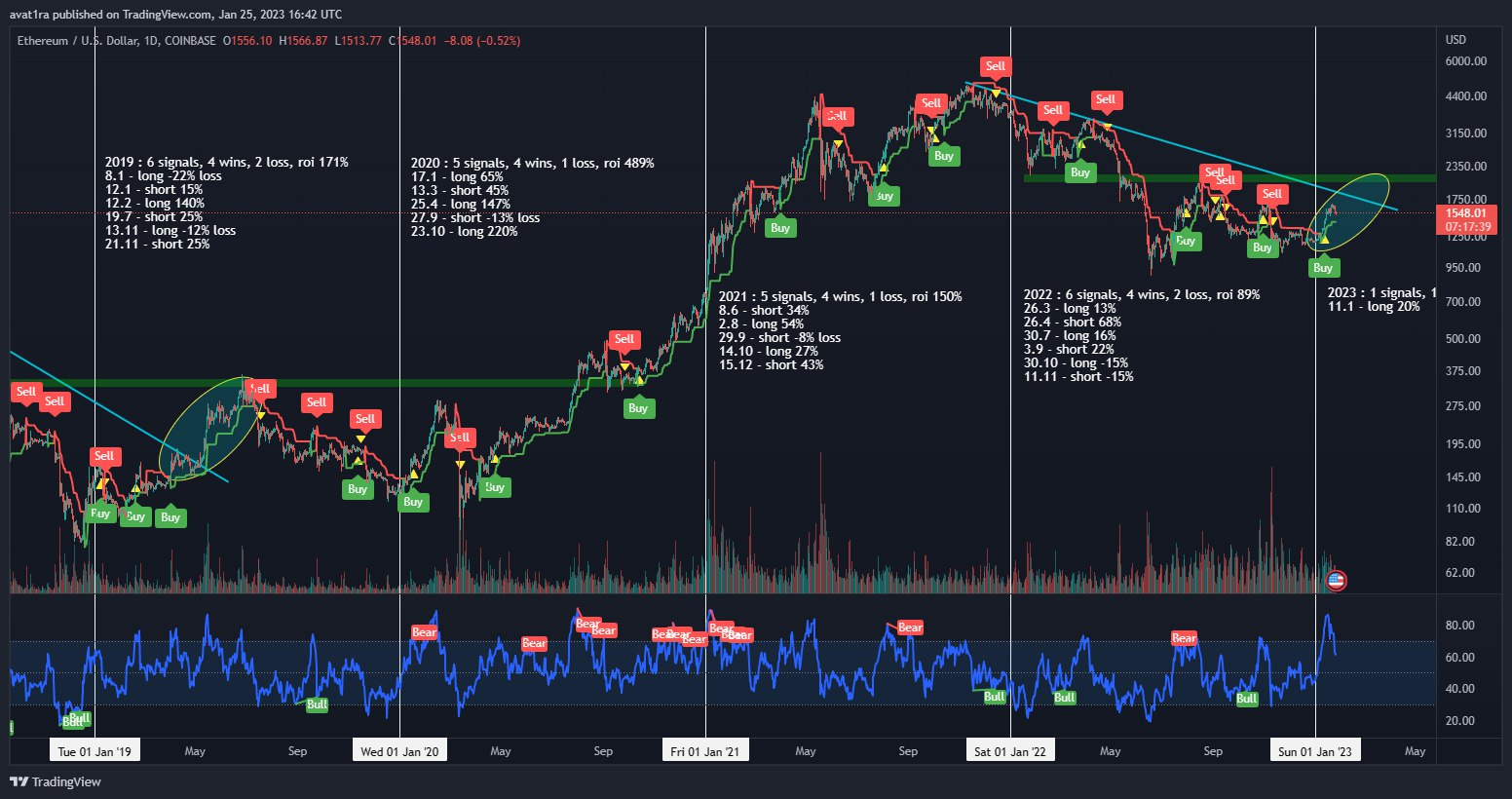 I hope you enjoyed the read and leave a comment, are we bullish or not?
Please do follow if you want to keep up with my next crypto post. Any upvotes or reblogs are hugely appreciated!
Latest crypto post, check out :
BTC update - Printed buy! - Oktober candle closed bullish engulfing. CRYPTO RALLY?
Christopher
Kristiansand, Norway
Source: Photos chart-screenshots by me from Tradingview.com
Legal Disclaimer : Never invest more than what you can afford to lose. I am not a financial advisor and I am sharing my opinion based on speculation. This post is for informational purposes only and provides only my personal opinion. If you make any trades after reading this post, it is completely in your responsibility. I am not responsible for any of your losses. By reading this post you acknowledge and accept that.
Read about us? // Main page!
Latest content: Travel, Art, Article, Photo


Posted Using LeoFinance Beta
---