Direct from the desk of Dane Williams.
---
One pair that we haven't looked at for a while is the Aussie.
I had wanted to see AUD/USD move a little higher, but the pair is on struggle street, trying to get any higher than here.
AUD/USD Daily: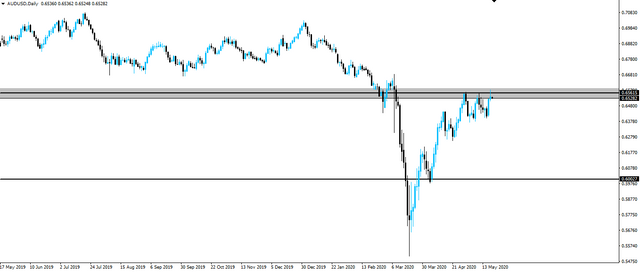 It's the same resistance zone that we've seen capping NZD/USD, so as I've said in my Kiwi blogs previously, we have a choice between the two setups.
As long as price is below higher time frame resistance, we're looking to play from the short side.
So zoom into an intraday chart and look for an area of short term support that we can use to short off when it's retested as resistance.
This gives us two clear zones to manage our risk around, depending on if we're aggressive or conservative traders.
Best of probabilities to you,
Dane.
---
FOREX BROKR | Hive Blog
Higher time frame market analysis.

Posted Using LeoFinance