Direct from the desk of Dane Williams.
---
Unless you've been living under a rock, you would be aware of yesterday's Bitcoin breakout.
If you missed it, click the link above and take a look at the daily chart there for a bigger picture view on how I've drawn my higher time frame resistance zone.
Anyway, the intraday price action since, has been... well, it's been underwhleming to say the least.
Just take a look at the updated Bitcoin hourly chart below.
BTC/USD Hourly: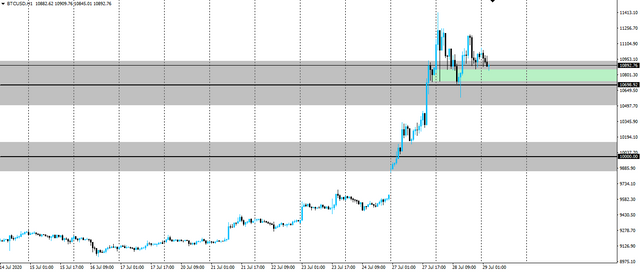 With price above the higher time frame zone, we zoomed in to look for a possible area to get long. In this case, we found the first area of short term resistance that was retested as support to manage our risk around and use as an entry.
You can see that the the zone we've used has been retested twice, certainly showing it's a level that others are watching. However on the last retest, price failed to make a higher high. Something that doesn't exactly inspire confidence in the momentum behind the breakout.
We really need to see some follow through soon to confirm the breakout, otherwise the weekly close is going to be mighty ugly.
Best of probabilities to you,
Dane.
---
FOREX BROKR | Hive Blog
Higher time frame market analysis.

Posted Using LeoFinance