Direct from the desk of Dane Williams.
---
Those of us in crypto-land waiting for a Bitcoin breakout, still have a little longer to wait yet.
The bears took control of the Bitcoin market as the so called safehaven asset took another fall alongside equities.
Take a look at the 4 hourly below.
BTC/USD 4 Hourly: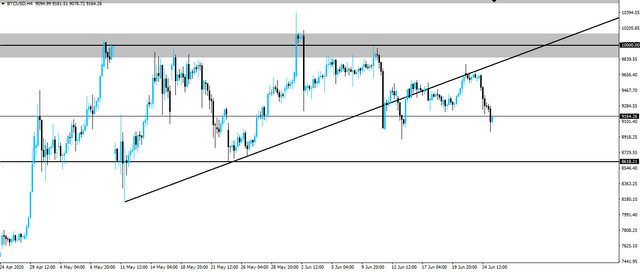 I normally share a daily chart for higher time frame zones, but in this case, I brought it into the 4 hourly because it shows the short term range that's formed in a much clearer fashion.
While the rejection off 10K resistance is something we've all been watching for a while, there is a definite range forming with support forming at $8600 or so.
See all of those long wicks where there's obviously buyers happy to step in? This could be important going forward.
We keep watching for now.
Best of probabilities to you,
Dane.
---
FOREX BROKR | Hive Blog
Higher time frame market analysis.

Posted Using LeoFinance