Bitcoin's Price Surge Propelled by Institutional Investors
---

Direct from the desk of Dane Williams.

Market Bites
What: Bitcoin is today trading at a 35 month high, at $18,300.
How: On-chain data shows bitcoin is rallying amid a strong holding sentiment in the investor community.
Why: Bitcoin's "rich list" hits an all-time high alongside the meteoric price rally. The data validates claims of increased institutional participation.
---
Crypto Crumbs
Bitcoin's ongoing price surge has seen its market cap reach nearly $335 billion, surpassing that of some of the world's largest companies - Including Mastercard!
According to blockchain analytics firm Chainalysis, institutional investors have propelled the price of Bitcoin upwards by causing a supply drought, a fact borne out by a number of surveys carried out in recent months.
In September, crypto insurance firm Evertas found that 90% of US and UK institutional investors surveyed planned to increase their focus on crypto assets in the next five years.
---
Chart of the Day
Bitcoin Weekly: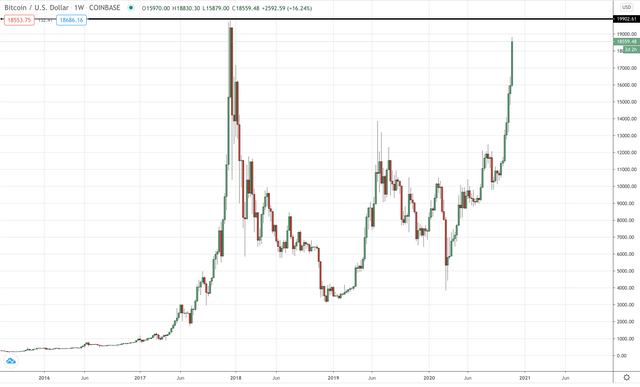 The only support/resistance zone that matters is the all time highs.
In 2018 when we had to back up our 2017 "buy Bitcoin" calls at a price 75% lower than Christmas the year before, who would have thought we'd be here today.
Enjoy telling that random great uncle that you told him so.
Best of probabilities to you,
Dane.

FOREX BROKR | LeoFinance Blog
Daily market news.

Posted Using LeoFinance Beta
---