Direct from the desk of Dane Williams.
---
I wanted to do a Friday night follow up to the EUR/JPY long trade idea we spoke about earlier in the week. Click the link and go back for a refresher, but remember price had broken daily resistance then retested the zone as support.
As always, this meant that we were looking only for possible long trades.
As you can find in our previous blog, to find an entry we had zoomed in to find a short term area of resistance turned support. Something you can see on the quoted extract below:
EUR/JPY Hourly:

Now take a look at the updated hourly chart and you can see that with price now pushing through to print new highs, as long as you got an entry close to the retest, there was an easy 1:3 risk:reward on offer.
Here's today's hourly chart below.
EUR/JPY Hourly: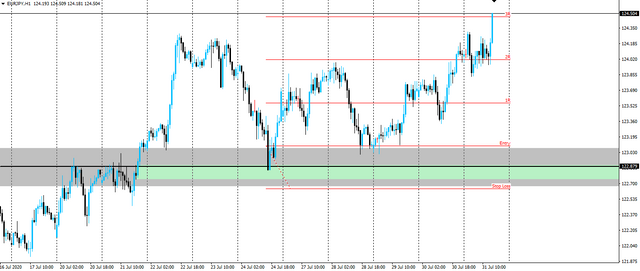 You can see that even if you missed an entry on the first retest, price even gave you a chance to enter again 2 days later. Proving once again, that to be successful trading my forex support and resistance strategy, you can afford to be patient.
As a retail forex trader, you're never going to be first. But you can ride on the coattails of smart money like we do here.
Best of probabilities to you,
Dane.
---
FOREX BROKR | Hive Blog
Higher time frame market analysis.

Posted Using LeoFinance