Direct from the desk of Dane Williams.
---
The chart that really caught my eye this morning, was no doubt Silver.
When daily resistance on Silver was broken and retested, we spoke about longing the precious metal.
Well just take a look at the daily chart today.
XAG/USD Hourly: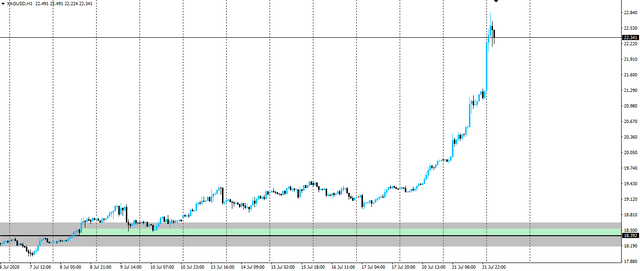 Wow.
You can see the daily resistance zone in silver that price broke out of, causing us to only be looking to long.
Price then pulled back to the first area of short term resistance turned support, giving us an entry with clearly defined risk parameters.
From there, you can see that price really never looked back and if you maintained your original long, you could have profited +24 units of risk.
Think that sounds wrong? Use the MT4 Fibonacci hack on your own charts and see for yourself.
These are the sorts of trades that can make your entire year if you put yourself in a position to take advantage of them when they present.
Best of probabilities to you,
Dane.
---
FOREX BROKR | Hive Blog
Higher time frame market analysis.

Posted Using LeoFinance