Direct from the desk of Dane Williams.
---
We've been looking to profit from the next SPX leg down for a few weeks now.
The real US economy is struggling with rampant unemployment starting to seep through, but the Fed's printing policy has continued to prop up the stunningly disconnected stock market.
IF a big drop comes, then we want to be in a position to take advantage of it so let's have a look at where price sits on the index today.
SPX Daily: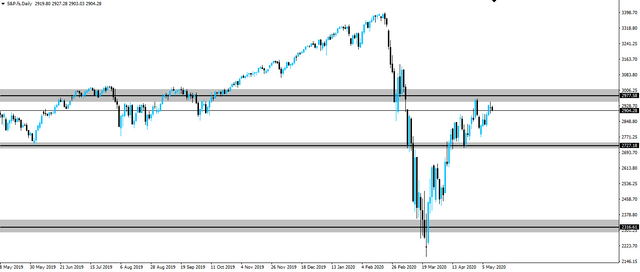 Comparing the above daily chart with the chart from a few weeks ago that's linked in the first paragraph of this blog, you can see that I've moved the higher time frame resistance zone a little higher.
The level we had was getting chopped through up and down, so we've moved it a little higher to correspond with the most recent swing high.
You can see that price started this week unable to print a new high, forming a sort of double top that is most definitely significant enough for us to pay attention to.
In terms of our trading strategy, with price capped by higher time frame resistance, we're looking to zoom into an intraday chart and play this one from the short side.
SPX Hourly: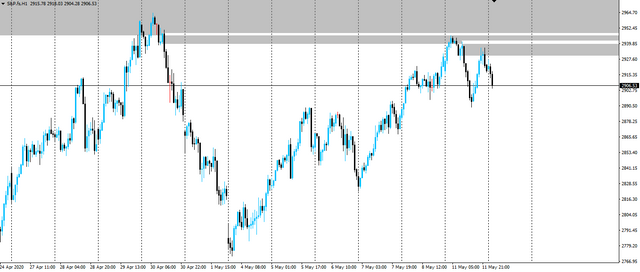 You can see on the hourly chart that price held higher time frame resistance when it was unable to make a new swing high and has since rejected.
With that in mind, I've marked 2 significant short term support levels that have both been retested as resistance and held.
These are the exact sort of zones that we look for as an entry confirmation.
Depending on how aggressive you are as a trader, you can use either the intraday or higher time frame zones to manage your risk around.
Best of probabilities to you,
Dane.
---
FOREX BROKR | Hive Blog
Higher time frame market analysis.

Posted Using LeoFinance