USD/JPY Second Chance to Long - Forex Support and Resistance Trading Walkthrough
---

Direct from the desk of Dane Williams.
---
I like to follow the narrative of the pairs I trade and boy it's nice when the setups I post play out as cleanly as this.
The last time I spoke about USD/JPY, we were looking to buy off support. We had multiple time frames all lining up and the setup looked to be as clean as we're ever going to get when trading forex using support/resistance.
Click the link above to go back and read that last USD/JPY analysis blog, and then I'll provide a full walkthrough of my thinking below.
---
USD/JPY Higher Time Frame View
As always, we start with the higher time frame charts.
My personal preference is always a daily just for clarity, but the higher time frame zones will show up on the daily/weekly/monthly pretty much all the same.
Check out the USD/JPY daily chart below.
USD/JPY Daily: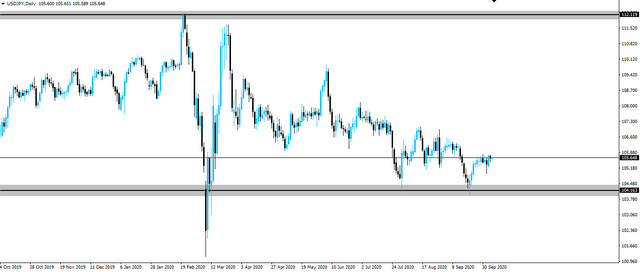 As you can see, price bounced again off that previous swing low support zone and pinged higher.
The fact that price ripped up off the zone in a V-shape says to me that the level is highly significant as the bulls immediately took control.
Being above a higher time frame support zone like this means we're looking to only trade USD/JPY from the long side.
---
USD/JPY Intraday View
We then zoom into an intraday chart.
I always choose the hourly once again for clarity, as it removes all broker weekly candle open time subjectivity, that we see in H4 candles.
As we are above higher time frame support, we look for short term areas of resistance that when retested as support, can be used to enter long off.
Before we check out the current hourly chart for a possible entry, I wanted to share this quoted chart from that last USD/JPY analysis blog that I also linked to above.

Two such intraday zones that you can see marked there, and both being retested already.
Now check out the updated USD/JPY hourly chart below and take a look at the price action.
USD/JPY Hourly: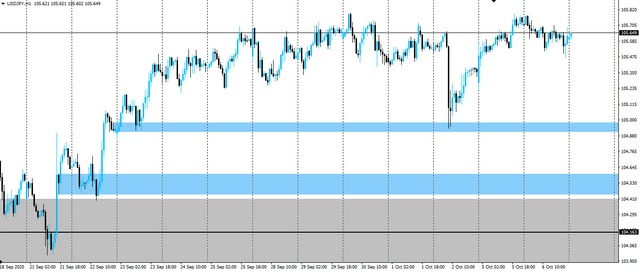 How about that retest!
You can see that price dipped right back into our tiny intraday resistance zone that we were using as support to buy off, giving us a second chance to buy.
Aggressive traders who purely use these intraday zones to manage their risk around, easily saw 1:3 gains on this trade.
Conservatively too.
---
Like I said at the top, this is one of the cleanest forex support and resistance trades we're going to see.
Keep all the timeframes in alignment and put yourself in a position to profit from high risk:reward setups like this one and you can't go wrong.
Best of probabilities to you,
Dane.
---
FOREX BROKR | LeoFinance Blog
Daily market analysis.

Posted Using LeoFinance Beta
---