Direct from the desk of Dane Williams.
---
The last time we were trading USD/JPY was a few months ago and with all the talk of USD weakness currently in the news cycle, it's time to have another look.
It just so happens that the pair bounced nicely off one of our higher time frame support/resistance zones on Friday, printing a juicy bullish candle that you can see on the USD/JPY daily below.
USD/JPY Daily: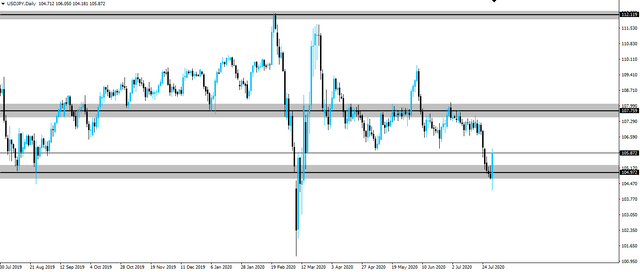 The exact placement of this zone is a little iffy because if you scroll to the left of the chart, you'll see that while it's obviously support/resistance, there's no exact price to use. This once again highlights why I use zones rather than single lines.
You can also see how the wick of yesterday's daily candle pushed through the zone we had marked, but buyers immediately flooded in and the candle never closed below.
What's happened here, is the smart money has pushed price down into the obvious sell orders just sitting below. A juicy source of liquidity that will allow them to get a larger position on.
So price goes lower, the big buyers accumulate the stops and price pings back above support.
Many retail traders view stop hunting as a negative by their broker, but this actually isn't the case. It's simply smart money, accululating dumb money like you see here.
Best of probabilities to you,
Dane.
---
FOREX BROKR | Hive Blog
Higher time frame market analysis.

Posted Using LeoFinance