These last 2 days Bitcoin has been very rare, first of all, yesterday it gives us a new maximum, breaking several important trend lines with very good volume, and then today it drops 15% in just 2 minutes.
Estos 2 últimos días Bitcoin ha estado muy raro, primero ayer nos da un nuevo máximo, rompiendo varias líneas de tendencia importantes con muy buen volumen, y luego hoy baja 15% en 2 minutos apenas.
It is unfortunate that these types of movements occur since it is precisely these that make people out of crypto flee to more stable investment assets, and it is understandable that you go to a share that can rise or fall 1 or 2% daily compared to another that can go up 10% today and tomorrow go down 15% in a matter of several minutes.
Es lamentable que este tipo de movimientos ocurran ya que son justamente estos los que hacen que las personas fuera el cripto huyan a activos de inversión más estables, y es comprensible que vayas a una acción que pueda subir o bajar un 1 o 2% diario en comparación con otro que puede subir hoy 10% y mañana bajar 15% en cuestión de varios minutos.
As a trader it is difficult to operate in these types of markets and in fact I recommend people to stay away from Bitcoin for a couple of days while we see what has happens.
Como trader es difícil operar en este tipo mercados y de hecho recomiendo a las personas mantenerse alejados de Bitcoin por un par de días mientras vemos que ha ocurrido.
Let's take a look at the graphs / Veamos las graficas
1m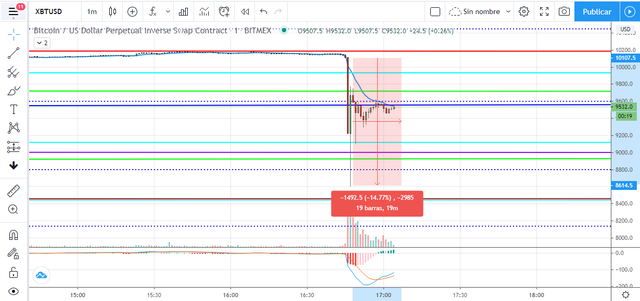 In the lower time frame we can see how the movement occurred in just 2 minutes, giving us a 15% drop and touching $ 8,600 to subsequently stabilize at $ 9,500.
En el marco temporal más bajo podemos ver como el movimiento ocurrió en apenas 2 minutos, dándonos un 15% de baja y tocando los 8.600$ para posteriormente estabilizarse en los 9500$.
4h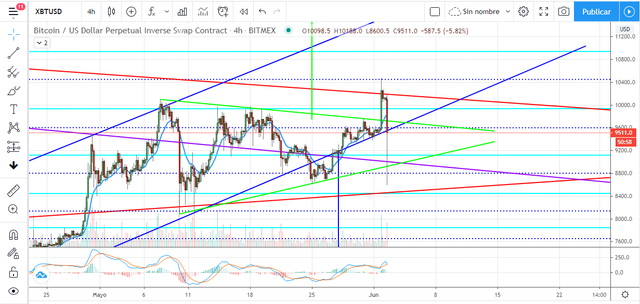 In a broader time frame, we can see how there are important and incongruous signals between them, on the one hand the breaking of a symmetric triangle with good upward volume and together with the breaking of a historical trend line, so that a few hours later we have a Bearish engulfing pattern with 15% drop.
En un marco temporal más amplio podemos ver como hay señales importantes e incongruentes entre ellas, por un lado la ruptura de un triángulo simétrico con buen volumen al alza y junto a la ruptura de una línea de tendencia historia, para que pocas horas después tengamos un patrón envolvente bajista con 15% de baja.
1w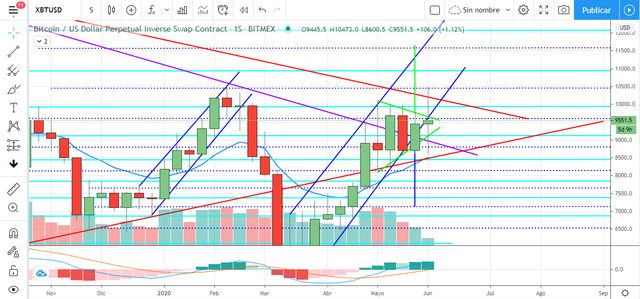 In the weekly candles we can see how a great candle and indecision is formed, we must be attentive to what happens in the coming days.
En las velas semanales podemos ver como se forma una gran vela e indecisión, debemos estar atentos a lo que ocurre en los próximos días.
I recommend not entering the market for a few hours or days while we see what will happen now, and we must sit down to reflect on these movements, at the end of the day it is difficult to know of an investor who wants to enter a market that makes these types of movements without prior notice, and just the lack of investors is what results in that we have little liquidity, so we can find ourselves in a cycle that can be difficult to get out of without taking some pertinent action.
Recomiendo no entrar al mercado por unas horas o días mientras vemos que ocurrirá ahora, y debemos sentarnos a reflexionar sobre estos movimientos, al final del día es difícil saber de un inversor que desee ingresar en un mercado que hace este tipo de movimientos sin previo aviso, y justo la falta de inversores es lo que resulta en que tengamos poca liquidez, por lo que nos podemos encontrar en un ciclo del que pueda ser difícil salir sin tomar alguna medida pertinente.
Happy Trading
Feliz Trading
Posted Using LeoFinance