When Bitcoin was volatile early this morning, Coinbase was down yet again...
This is becoming a common theme in crypto...
Any time things get volatile, Coinbase goes down.
The most recent one happening this morning as bitcoin was dropping by $1k in a matter of minutes...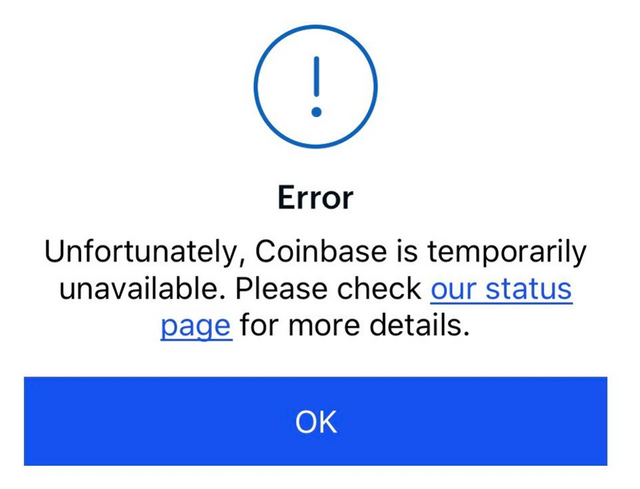 (Source: https://www.coinbase.com/price/bitcoin)
This might not seem like that big of a deal but it has been happening a lot lately.
In fact, it's happening pretty much any time Coinbase gets volatile...
This would be the 3rd time it's happened in less than a month...
https://www.forbes.com/sites/billybambrough/2020/05/10/sudden-bitcoin-crash-sparks-serious-coinbase-warning/#30fcfd24f840
What is going on?
Is it strange to anyone else that any time bitcoin moves by plus or minus 5% in a short period of time Coinbase crashes?
Coinbase isn't just another crypto exchange...
Coinbase is the largest US based exchange by a significant margin.
And the majority of its users are of the retail variety.
Which may have something to do with why this is happening...
There were some rumors put out that Coinbase has a circuit breaker for its users of sorts.
Meaning that any time bitcoin gets volatile it locks people out from trading so they don't do something stupid.
This hasn't been verified by Coinbase but with all the outages every time bitcoin gets volatile it would make a lot of sense.
What do you think, should Coinbase be 'protecting' their users every time bitcoin gets volatile or should they people decide for themselves?
It seems like a pretty clear answer to me...
Oh and btw the official word from Coinbase is that they basically have a system overload every time the price gets volatile, which I think is highly unlikely at this stage in their development.
Stay informed my friends.
-Doc