First open online course "Introduction to DeFi" offered by the University of Nicosia
---
Yes, you read the title right. FREE MOOC about DeFi offered by the academic pioneers in blockchain education, the University of Nicosia!
I can't help but share my excitement for this new course I just found out about.
3 years ago I discovered and attended the FREE MOOC "Introduction to digital currencies. I fully recommend it and in the above link you can see more info about if you are interested to enroll (still active for everybody who wishes to go deeper in the blockchain theory, from the best professors)
One of the fastest growing innovations of the blockchain technology is the DeFi (Decentralized Finance) sector that has come to challenge the economy as we know it.
Millions of users are transferring billion of dollars in value using the defi protocols.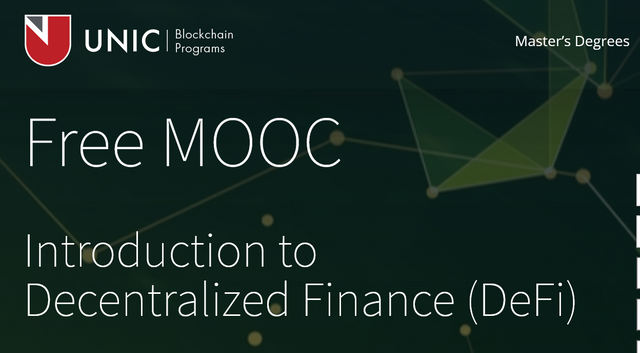 The renown University of Nicosia is now offering a Free MOOC about DeFi and everybody can simply register and attend!
Let's find out more!
What will I learn about DeFi?
According to the official website, the students will learn about the layer-1 protocols that make DeFi possible and see who these make defi exchanges different from the traditional ones. You/We will become familiar with innovations such as AMMs, DAOs, liquidity farming etc
You will demystify the layer-1 protocols that enable DeFi, such as Ethereum, Solana and the Binance Smart Chain, and learn how applications such as decentralised exchanges, stablecoins, and algorithmic loans differ from their traditional counterparts. By becoming familiar with innovations such as automated market makers (AMMs), decentralised autonomous organisations (DAOs), flash loans, liquidity mining, and yield farming, you will gain comprehensive insight into how DeFi paves the way for innovations in governance, credit, derivatives, and interest-bearing instruments
Why join?
The course if fully online, you will get to attend weekly live and interactive sessions with the instructors and co-students
You will receive weekly material posted in the e-learning platform
At the end you get the chance to take an online quiz that will earn you a Certificate of Accomplishment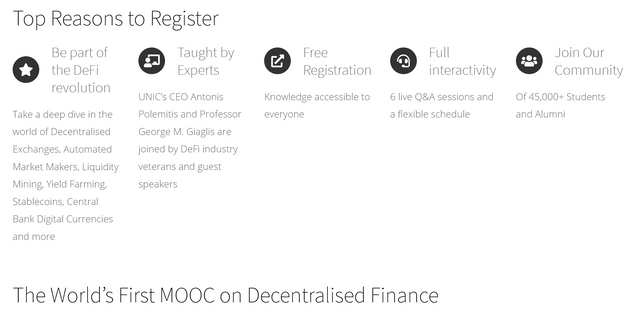 What about the program outline?
| Session | Session Theme | Instructor |
| --- | --- | --- |
| 1 | DeFi Fundamentals | Professor George Giaglis |
| 2 | DeFi infrastructure: Ethereum and other L1 protocols Professor | George Giaglis |
| 3 | DeFi Applications I: stablecoins, lending/borrowing | Antonis Polemitis |
| 4 | DeFi Applications II: automated market making, yield farming | Professor George Giaglis |
| 5 | DeFi Applications III: synthetic assets, oracles, insurance | Professor George Giaglis |
| 6 | Algorithmic Governance and DeFi tokenomics | Antonis Polemitis |
More information:
https://www.unic.ac.cy/blockchain/free-defi-mooc/#tab-courseoutline
Who will teach us?
Mr Polemities and Mr Giaglis will be the class instructors.
Mr. Polemitis is the CEO of the University of Nicosia also co-teaching UNIC's free MOOC "Introduction to Digital Currencies".
Professor Mr Giaglis Professor is an expert on blockchain technology and applications, working on digital currencies and blockchain since 2012. His main focus is on new forms of industrial organization and new forms of corporate financing (central bank digital currencies.
Read more at:
https://www.unic.ac.cy/blockchain/free-defi-mooc/#tab-courseinstructors
Wait, will it be free to attend?
Yes, it is free for everyone and you will get to join their global community of 45,000+ Students in 110+ Countries!
Bonus! - Blockchain verified certificate
If you decide to take the final multiple-choice quiz and succeed, then you will be issued a blockchain verifiable certification, issued by the University of Nicosia.
Ok, when do we start?
Lessons start October 11th - make sure you click and apply now! Let's do it together :)
Links and info to apply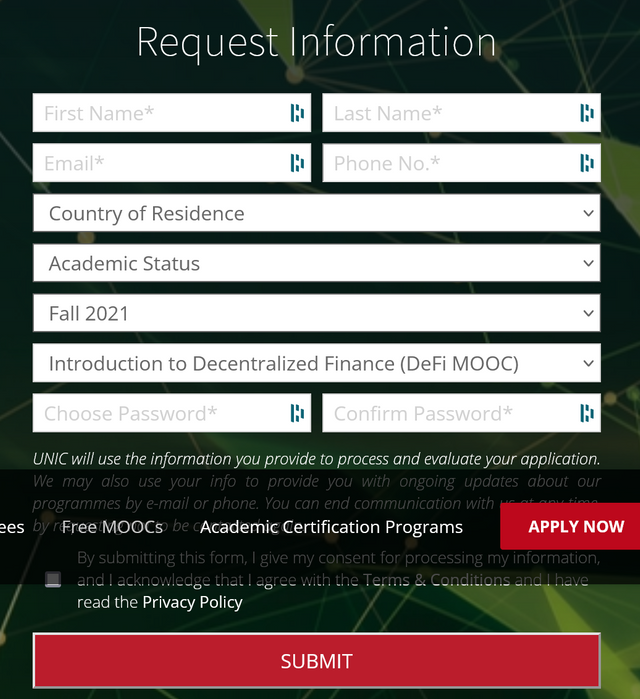 https://www.unic.ac.cy/blockchain/free-defi-mooc
---
Let me know if you will attend, it will be fun to gather many hive/leofinance users :))
Posted Using LeoFinance Beta
---