---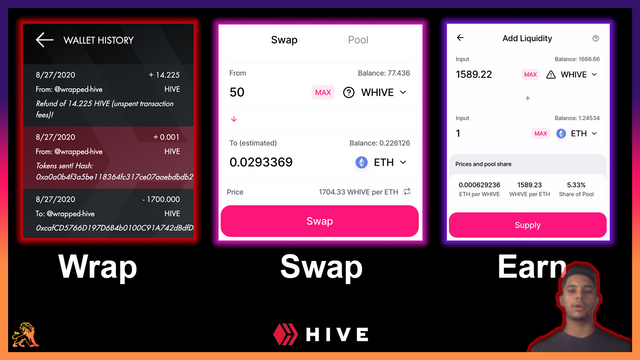 Hey everyone. wHIVE is one of the latest projects to come to the Hive blockchain. Developed by @fbslo, Wrapped Hive offers a bridge from Hive to the Ethereum blockchain.
I've been seeing tons of questions about wHIVE and @jk6276 recommended that I put together a video about it for LeoPedia. I recorded this one as I went and then chopped it up in post-editing to make it shorter. In this video, I run through the entire process of wrapping Hive on the Hive blockchain, receiving it on Ethereum. Swapping wHIVE for ETH on Uniswap and also adding liquidity to the pool on Uniswap.
Adding liquidity is a fascinating idea. It essentially gives you tokenized ownership in the swapping of Wrapped Hive. By adding liquidity, you're adding both wHIVE and ETH to the swapping pool and then you collect a fractionalized share of all the fees that are incurred by Uniswap users of wHIVE.
Right now, the pool is incredibly small which means that you can own a large share of the swapping fees. The fees are also quite small at the moment, so you shouldn't expect to get rich from this.
Using Hive on the Ethereum blockchain in the form of wHIVE has always been a dream of mine. This video focuses heavily on Uniswap and how we can now utilize HIVE on one of the largest DEXes in the world, but the real excitement comes with the addition of more protocols that adopt wHIVE in the future. This is the first step in an exciting journey of connecting Hive to other blockchains.
I also have a long-form written guide for wHIVE if you prefer written over video. That written guide will be released on LeoPedia tomorrow.
In This Episode:
What is Wrapped Hive? (0:00:51)
How Do Wrapped Tokens Work? (0:02:35)
Example: Wrapping HIVE to receive wHIVE (0:05:17)
Example: Swap wHIVE into ETH (0:07:00)
Example: How to Add Liquidity to Uniswap and Earn Fees on wHIVE Swaps (0:09:45)
Other Use Cases and the Future of wHIVE (0:14:54)
Resources:
---
Listen & Subscribe to the LeoFinance Podcast!

Join Our Hive Community & Earn LEO Rewards!
Earn LEO + HIVE rewards by creating crypto/finance-related content in our PeakD community or directly from our hive-based interface at https://leofinance.io.
---
▶️ 3Speak
Posted Using LeoFinance