---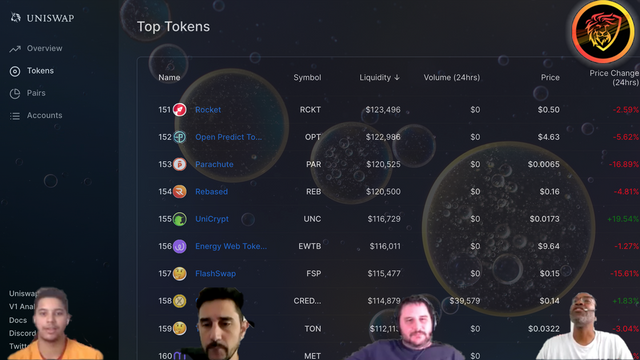 In this clip, we cover the importance of having deep liquidity reserves in the wLEO-ETH pool on Uniswap. In other words, how much LEO / ETH needs to be in the pool to make it worthwhile for both Hive-based investors and Ethereum/Uniswap-based investors to get involved?
After researching various projects on Uniswap and finding ones that were successful, we determined that you need at least $100,000 in liquidity reserves on Uniswap. This would mean $50k worth of wLEO and $50k worth of ETH in our case.
To pull this off, LeoFinance is donating $10,000 USD worth of LEO from our fund and matching it with $10,000 USD worth of ETH to create an initial liquidity of $20,000 on the wLEO-ETH pair.
Each of us on the roundtable have also talked about how much we're planning on contribute to the liquidity pool. Then there are the large whales on LEO who have also verbally committed to contributing to the pool. When you add this all up, it looks like $100,000 in the liquidity pool is extremely achievable.
But Why Does This Matter?
Glad you asked. As we illustrated in the clip when talking about wHIVE and why it's not getting any trading volume on Uniswap, the key is having deep liquidity reserves.
If you don't have deep liquidity, then you'll see an incredibly negative price impact when you try to swap between one token and another.
Here's a screenshot where we examined the price impact of swapping 0.0537096 ETH for 100 wHIVE. As you can see, the price impact is only 0.36% which means that it may be a worthwhile swap.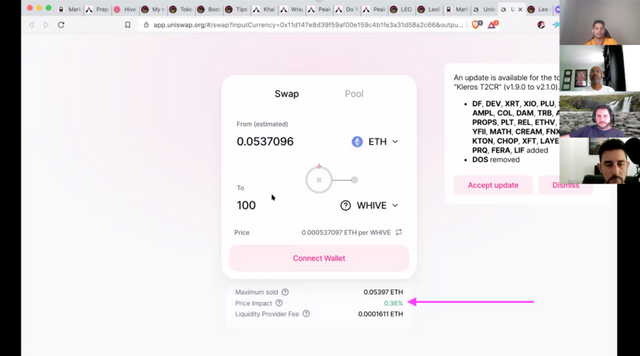 The main issue though is that this swap for 100 wHIVE and 0.0537096 ETH is only worth about ~$20. The gas fees on this swap will be around $15. This obviously makes no economic sense. Thus, if you want to trade ETH for wHIVE, you need to swap more than $20.
In this next screenshot, we examined a $2,500 trade (10,000 wHIVE for 8.37279 ETH). This may seem like a large trade, but it is not unusual to see trades much bigger than this on Uniswap. The negative price impact on this swap is 35.98% — you would pay about $0.29 USD per wHIVE for this trade. At the time, Hive was trading around $0.20, so this also makes no sense.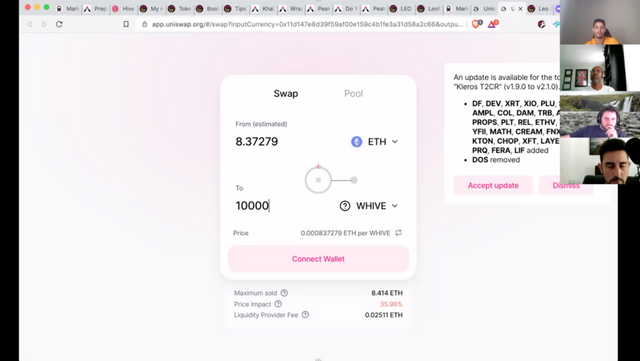 How Do You Lower the Price Impact on Larger Swaps?
The way to lower the price impact and thus, allow people to trade freely and with low slippage - is to have a deeper liquidity pool. The more $ in your liquidity pool, the less the slippage when people try to buy and sell your token on Uniswap.
Again, the magic number for Uniswap tokens seems to be around $100,000 USD. Especially for smaller cap tokens like LEO. With the LeoFinance official team commitment for $20,000 + the contributions from the individuals on the roundtable + the whales who have already verbally committed, $100k in liquidity seems to be achievable within a few days/weeks of the launch date.
This depth of liquidity will put us in a certain tier of Uniswap tokens that are easily tradable and will attract speculation/HODLers outside of Hive.. allowing us to achieve the long-term goal of getting wLEO listed on larger exchanges, aggregators like Coingecko and tracking apps like Blockfolio.
---
Listen & Subscribe to the LeoFinance Podcast!

Join Our Hive Community & Earn LEO Rewards!
Earn LEO + HIVE rewards by creating crypto/finance-related content in our PeakD community or directly from our hive-based interface at https://leofinance.io.
Follow @leofinance for official updates
---
▶️ 3Speak