---
When wLEO launches, providing liquidity to the Uniswap liquidity pool is an essential way to grow the usage and volume of Wrapped LEO on Ethereum. By having deep liquidity reserves on Uniswap, we open up the door to new wLEO investors and create a self-reinforcing cycle of having new wLEO buyers who then turn around and provide additional liquidity to the pool.
We saw a somewhat muted launch for wHIVE. The primary reason is that there weren't any liquidity pool (LP) incentives in place. Most successful Uniswap token listings include some sort of additional "bonus" in terms of LP incentives. LP incentives are vital to a successful launch on Uniswap because the initial volume is likely to be low until you get deep liquidity reserves.
As we mentioned in the announcement post of the wLEO token: this is a classic chicken and egg problem.
If you don't have a deep liquidity pool on Uniswap, then you won't get much trading volume. If you don't get much trading volume, then the rewards for being a liquidity provider are extremely low. If the rewards for being an LP are extremely low, then there is no reason to be a liquidity provider to that pool as you can turn to others where the rewards are better.
An LP incentive bonus is the solution to this problem. By having an initial bonus period — think of it like an early bird special — you give people an incentive to become an early liquidity provider to a pool that doesn't have a lot of liquidity/volume yet.
By getting these early birds into the pool, you kickstart the depth of your liquidity pool on Uniswap which will make your currency pair (wLEO - ETH) more viable to traders and new liquidity providers who want to join the pool.
In this clip from LEO Roundtable #18, we discussed the importance of LP incentives and talked about the structure of the wLEO-ETH liquidity pool incentives at launch where we'll be distributing a bounty of 300,000 LEO to early liquidity providers.
This 300k LEO will be split according to the LP's share of the total liquidity pool on any given day. On Uniswap, you receive LP tokens that represent your fractionalized share of the liquidity pool which is how we'll track your share of the pool and distribute your respective bounty to either your Hive account or your ETH address.
We also mention in the video that the 300,000 LEO bounty pool is already set in stone but the distribution plan will be released in more detail as we approach launch (subject to change as we research more efficient methods of distribution). In other words, the amount of LEO bounty rewards you'll receive will stay the same, but the distribution schedule may change.
This graphic may help you understand the LP incentives a bit better:
Users provide wLEO + ETH to the Automated Market Maker Contract (a.k.a. wLEO - ETH Liquidity Pool on Uniswap)
Users automatically receive Uniswap LP tokens to their ETH address which represent their tokenized ownership of the total pool
The standard maker fees on Uniswap (based on daily trade volume) are automatically paid out to these LP's
LP incentives (the 300,000 LEO bounty) is paid out to these LP token holders based on their fractionalized ownership of the total Uniswap pool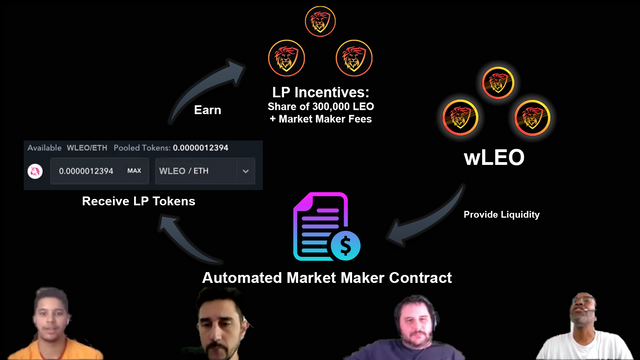 ---
Listen & Subscribe to the LeoFinance Podcast!

Join Our Hive Community & Earn LEO Rewards!
Earn LEO + HIVE rewards by creating crypto/finance-related content in our PeakD community or directly from our hive-based interface at https://leofinance.io.
---
▶️ 3Speak