---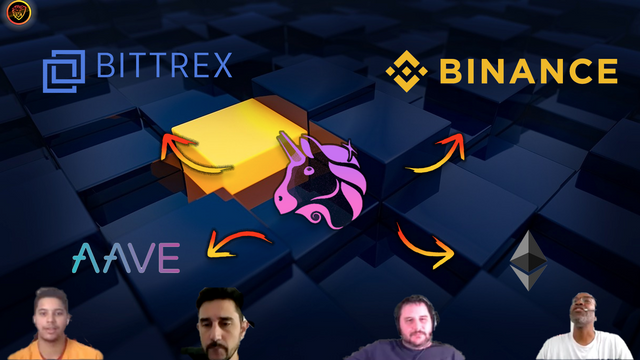 One of the long-term goals of the LeoFinance project has always been to get out into the broader crypto space and get listed on major exchanges and dApps. With an ERC20 token bridge (the Wrapped LEO token), we can now get listed on any exchange or application in crypto that accepts ERC20s - which happens to be pretty much every single exchange/application in crypto.
ERC20 is the most widely accepted and utilized token protocol in the industry. Having wLEO as a token bridge from Hive -> Ethereum allows us to earn rewards using the amazing qualities of the Hive blockchain — instant, fee-less transactions and social features — and then seamlessly "cross the bridge" by wrapping or unwrapping LEO -> wLEO and then interacting with the ERC20 equivalent.
As an ERC20, we can get listed on any major exchange and application. Now that the technology is in place (the wLEO smart contract and wrapping/unwrapping process), all we have to do is gain volume and liquidity on Uniswap.
In this clip, we talk about the importance of leveraging Uniswap as a gateway to getting listed on other apps and exchanges. With the right amount of liquidity and volume, we can use the wLEO-ETH Uniswap pair as a proof of concept to take to the Binance DEX, the Binance CEX and other players in the crypto space.
What's the Point of Getting Listed on Major Exchanges and dApps?
Getting listed is a great thing for any cryptocurrency but LEO is unique in that it is a social application. The more listings we gain, the more exposure we can tap into. Increased exposure means casting a wider net to onboard more users to LeoFinance and Hive.
Within days of wLEO's launch on Uniswap, we'll start by contacting coin aggregators (i.e. Coingecko/CMC), app tracking platforms (i.e. Blockfolio) and exchanges (i.e. Binance DEX) to get LEO's ERC20 equivalent (wLEO) listed in as many places as possible.
---
Listen & Subscribe to the LeoFinance Podcast!

Join Our Hive Community & Earn LEO Rewards!
Earn LEO + HIVE rewards by creating crypto/finance-related content in our PeakD community or directly from our hive-based interface at https://leofinance.io.
Follow @leofinance for official updates
---
▶️ 3Speak