#FinancialGoals2021 Initiative | Share your plan to grow in 2021 | HIVE and LEO Prizes
---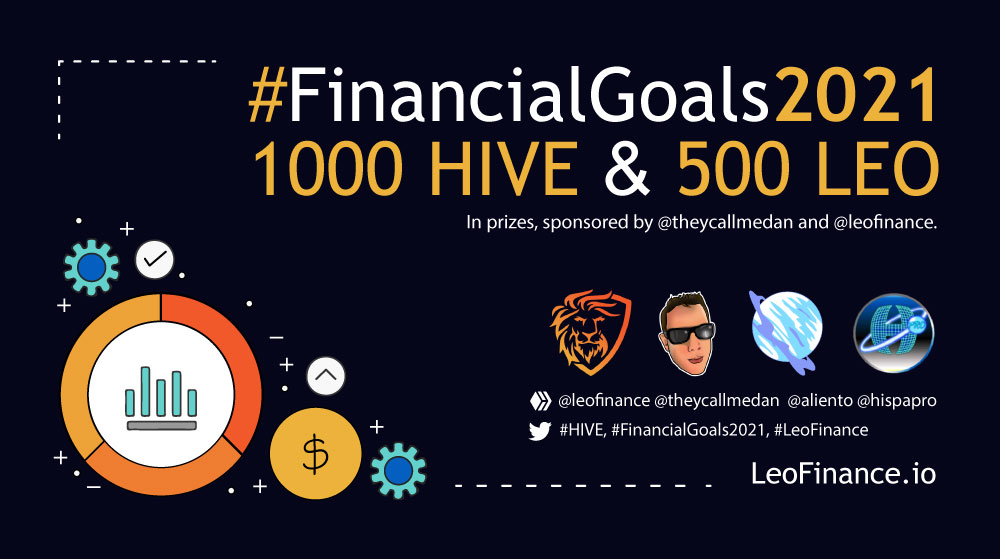 What better way to rein in the New Year than with an initiative. This initiative is sponsored by @theycallmedan and @leofinance. It is also organized and prometed by @aliento and @hispapro with the collaboration of @tripode.
2020 brought a great deal of struggle to many people across the world. Some of us are more fortunate than others. Some had to deal with life and death situations. We're lucky if we can say that financial struggle is all we had to deal with, but that is still quite a burden. This is especially true for our friends in the Hive community who come from countries that were already in financial turmoil.
2020 made one thing very clear: financial education can no longer be ignored. The combination of the pandemic, the shutting down of global economies, trade restrictions, travel restrictions, central bank actions, etc. brought to light the great issues of our society.
There is a divide between the haves and have nots. It has always existed, but wealth inequality is getting worse. Finance governs nearly all the things we do in the world. Whether it's putting food on the table or going out for a night of fun.
One of the most attractive aspects of the crypto industry is its ability to change the world. The wealth gap has been worsened by 2020, but we also have seen a massive rise in the advent of Bitcoin and crypto adoption.
HIVE and LEO offer a unique opportunity to everyone in the world. You can come to this platform, create content, engage with other content, etc. and not only gain a financial education but actually earn crypto rewards in the process.
The world is changing and crypto is positioned to have the largest financial impact on the global economy in our lifetimes.
With this initiative, we hope to see you create some amazing goals for 2021. Throughout the year, it would be awesome to also see continual updates as you work hard on achieving your goals.
The world values people who do. Set public goals, hold yourself accountable and take action to make your mark on the global economy. The fact that you're reading this post already means you're ahead of the curve.
The Initiative
You can read @theycallmedan's post for the full initiative details. Here, we'll cover the details as well:
Answer any of these questions in your post:
Which is going to be your investment strategy for 2021?
Do you have any specific assets that you want to invest in?
Preferred Investment? Crypto, Real State, Commodities, Stocks?
Do you have a plan or a set of goals on how to use and grow your stake?
To Participate:
Write a full post or make a video sharing your plans and financial goals for 2021.
Written posts must be posted from LeoFinance.io UI. Video posts can be uploaded to 3Speak.co and shared on the LeoFinance Community.
On your Hive post or video, include the tag #financialgoals2021 as one of the first four tags.
Comments and interactions are very important for this initiative and will be taken into account to be eligible for upvotes and prizes. - Comments made from the LeoFinance UI will have greater priority.
Share your post on Twitter and use the hashtags: #HIVE, #FinancialGoals2021, #LeoFinance, and any other hashtag related to your post; this can help my curators to visualize your post.
On Twitter, put your HIVE links into a comment. Twitter is shadowbanning some Hive links and all 3speak links, but if you put in your comment section, Twitter won't be able to shadowban your tweet.
When making a video, upload a short clip of it to Twitter as a teaser, and put the link in a comment under the Tweet. Videos get a lot more views if uploaded directly to Twitter, and to see the rest, they will need to go to your 3speak profile.
Rewards:
The best posts will be eligible for big votes from both @theycallmedan and @leo.voter. Combined, we have over 4.5 million HIVE POWER.
A number of LEO whales and curators have already joined the initiative and have committed to curating posts in the #financialgoals2021 tag with their LEO POWER upvotes.
There will also be a liquid prize pool totaling 1,000 HIVE and 500 LEO:
1st Place: 500 HIVE and 250 LEO
2nd Place: 300 HIVE and 150 LEO
3rd Place: 200 HIVE and 100 LEO
Calling All LEO Curators and LEO POWER Whales
Check the #financialgoals2021 feed on LeoFinance.io (https://leofinance.io/created/financialgoals2021) regularly.
We're going to have a lot of new faces posting from the https://leofinance.io UI. Let's make sure to give them a warm LEO welcome 🦁
A number of LEO curators have already committed to being active in curating this tag. We hope to see not only some great upvotes going toward these participants but also our signature high levels of engagement. Let's bring out the comments and go to work.

LeoFinance is a blockchain-based social media platform for Crypto & Finance content creators. Our tokenized app allows users and creators to engage and share content on the blockchain while earning cryptocurrency rewards.
Support LeoInfra's Onboarding Efforts by Delegating HP to @leo.voter (Currently at 2.4M HP). We Use this to Claim Accounts and Delegate RCs to Newly Onboarded Users
Posted Using LeoFinance Beta
---