Introducing LeoFinance V1 | Our New Hive Interface to Onboard the Masses
---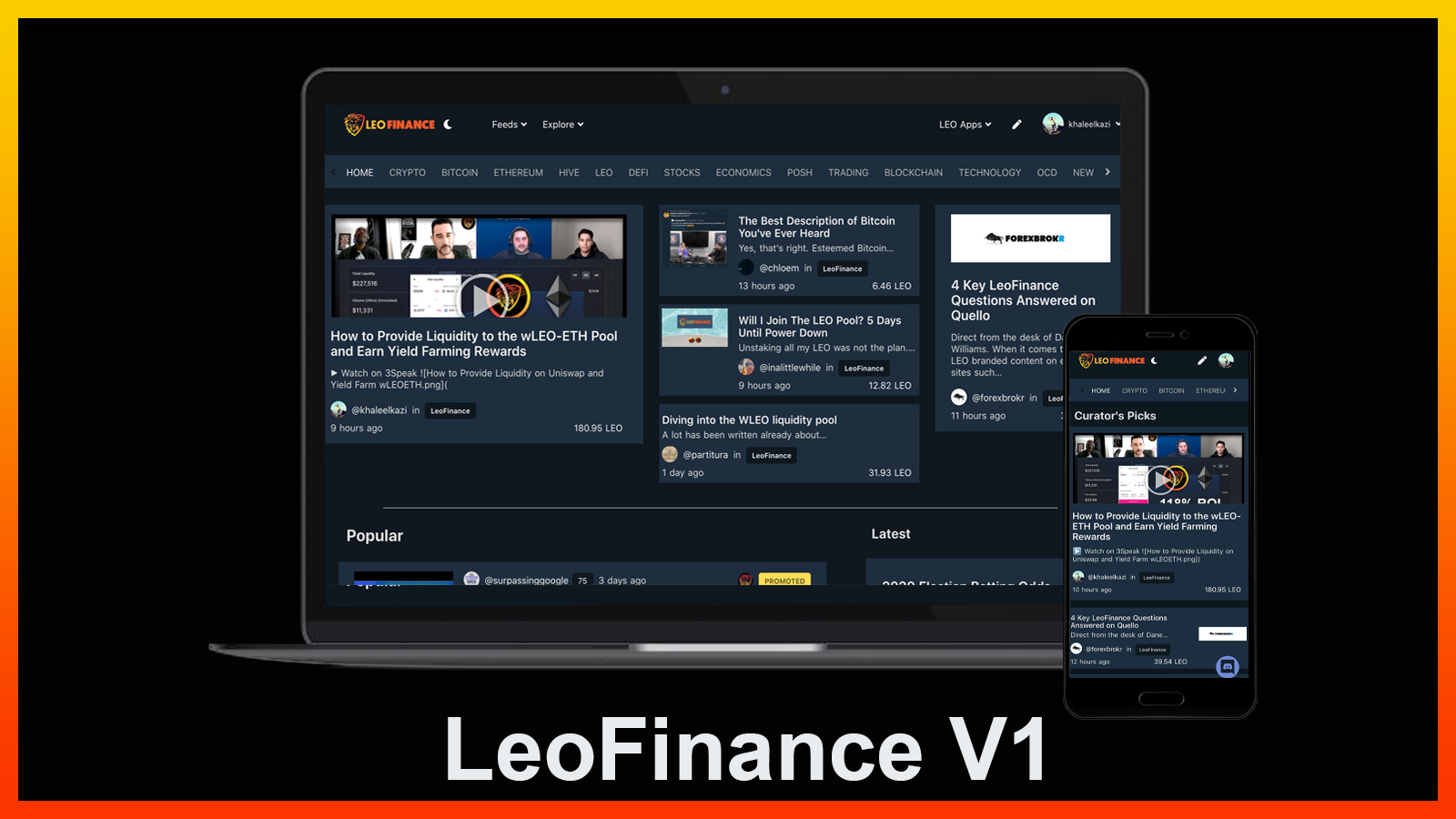 This has been in the works for a long time now. Earlier this year, we were looking at our old interface (the one built on condenser) and were trying to design a major overhaul. Through that process, we realized that building on Condenser was truly a horrible experience. The code is generally not great and the cost to develop new features was incredibly high.
Making our new ideas compatible with the old UI was simply too difficult and too costly. That's when we started seriously exploring the idea of building our own User Interface from the ground up.
Through the research process, we also realized that it would be incredibly costly to build a UI from the ground up. How to rationalize the deployment of those resources became a focus of our project for a period of time. After the split to Hive, we realized that it became more important than ever before.
The new UI has taken months to design and develop and has been the most resource-intensive development under the LeoFinance project. The rationale behind spending so much time and resources on our UI is that this is the home base of our project. We have a lot of ideas to onboard new users to LeoFinance/Hive and the only way to take our project to the future we envision is to have our own UI. From the ground up.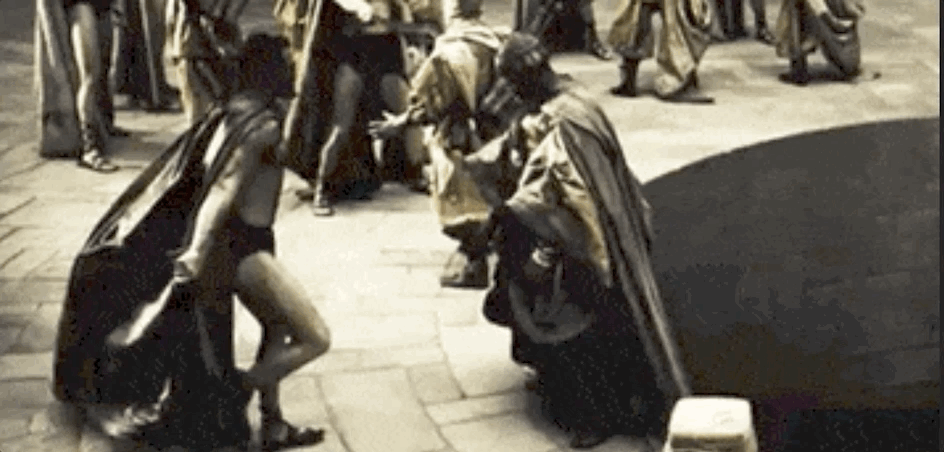 As of a few hours ago, our old UI (condenser) was replaced with LeoFinance V1. Once and for all.
LeoFinance Beta | LeoFinance Labs
You'll notice that publishing posts/comments from https://leofinance.io will still carry the LeoFinance Beta tag. Our UI is still officially in open beta, even though we've completed the scope of development (and actually have gone far beyond the original scope) for the original V1 roadmap.
The original roadmap included only about 50% of what the UI has now. Throughout the actual development process - and especially after pushing the site into Open Beta - we received a lot of feedback and decided to continually add new features based on user requests.
From here forward, we'll continue with a similar approach - having major versions slated in our roadmap but also adding features based on user demand.
New features will continue to be designed and tested on our new testing site: LeoFinance Labs
In the near future, we'll open up the Labs version of the LeoFinance UI and allow users to test and be a part of the development process as we design and implement new features.
As features are tested and approved from the Labs version of the UI, they will automatically deploy to the live production site at https://leofinance.io.
What's In V1?
We've been posting regular updates about new features as they're implemented to the UI. If you want to see each feature explained, I recommend going through some of the previous posts on @leofinance. @khaleelkazi will also publish a video later today (or tomorrow) explaining the features and doing a live demo of the new UI versus our old UI.
Seeing is believing - if you never used the Beta site, then I highly recommend going to https://leofinance.io and giving it a try. It's an amazing experience and I'm proud of what we've built in V1. The feature list has been far more extensive than we planned, but the end result is that much better for it.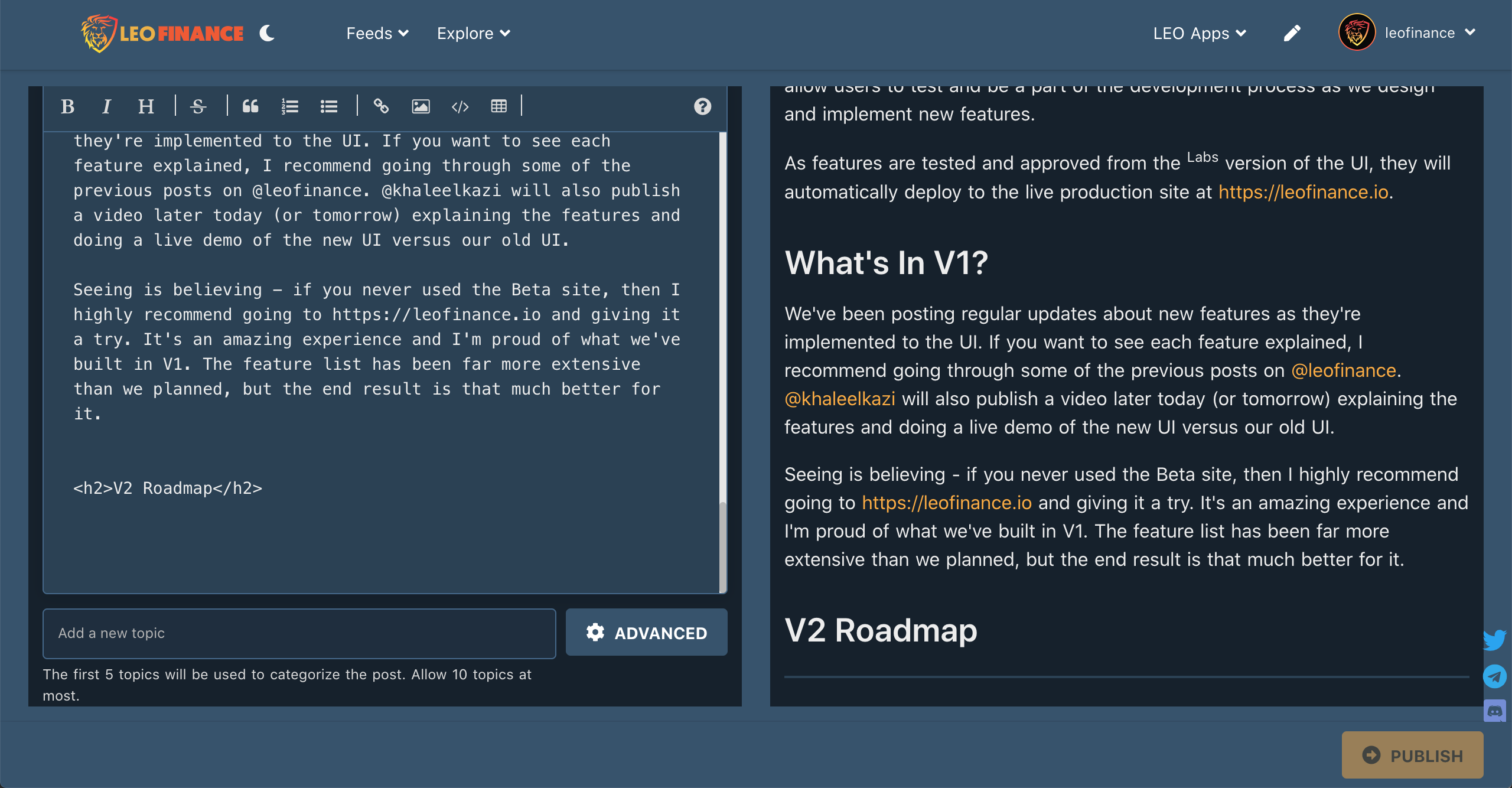 New Publishing Page in Dim Mode
New Hive Onboarding Sequence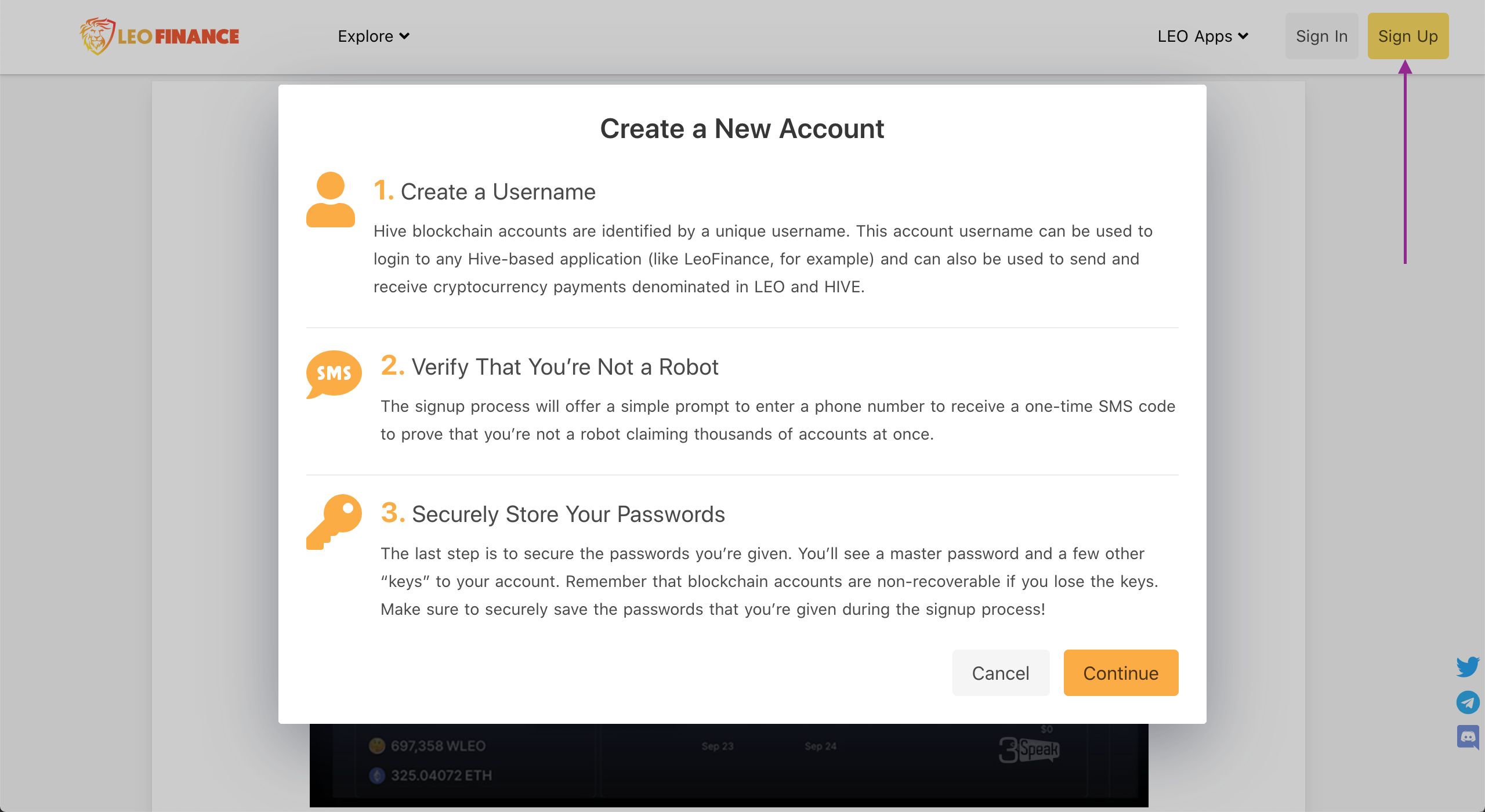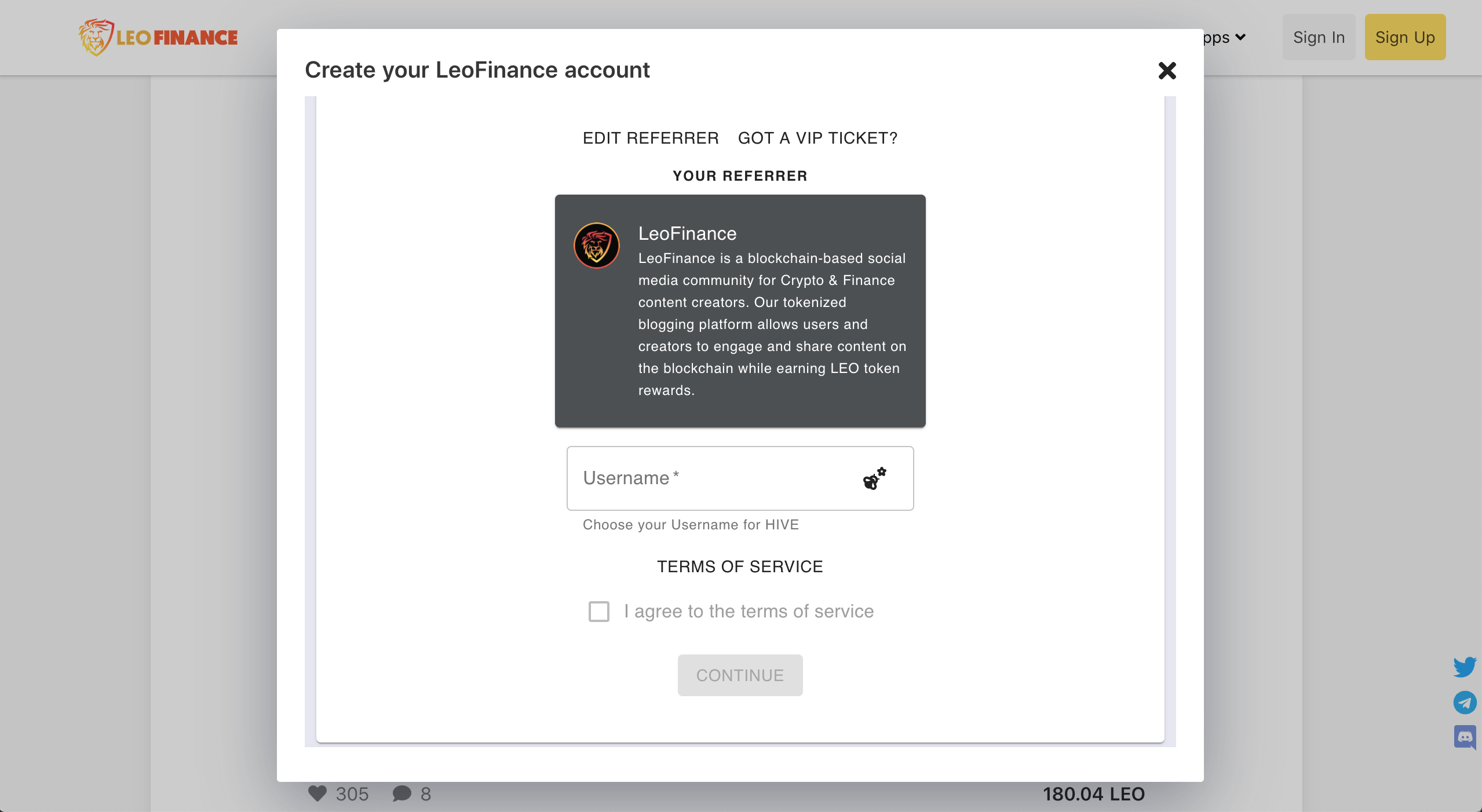 We've implemented a new onboarding sequence that allows new users to seamlessly create a new Hive account without leaving our site. The process starts when a user hits the Sign Up button in the top right. They're shown a popup that explains the 3 step process involved with creating a Hive account:
Username
Verify
Store Keys
Once they hit continue, they're shown a new popup window where we've integrated the Hiveonboard signup sequence. This allows the user to choose a username, verify their humanity with an SMS code and then signup automatically.
Once the user has signed up, they're shown a "Success!" dialogue and then they're immediately re-prompted to login to the LeoFinance site.
This signup process is incredible, but it's just the beginning of our developments aimed at user onboarding.
We're currently developing new onboarding capabilities on the backend of the site. This will allow us to do some very interesting things like integrate cross-blockchain accounts. This feature is already available on the LeoFinance Labs UI and once we complete the development and testing process, it will be moved to the production site.
The expected release date for cross-blockchain accounts is mid-late next week.
V2 Roadmap
As I mentioned previously, the new features for LeoFinance will continue to roll out on a very regular schedule. We're constantly developing new features based on our designs and on community feedback.
The full V2 roadmap will be released soon, but the features will continue to become available first on LeoFinance Labs and second on LeoFinance Beta
Again, the primary focus right now is on our new cross-blockchain account feature which has become more vital than ever after our successful launch with the wLEO token on Uniswap.
Speaking of Uniswap..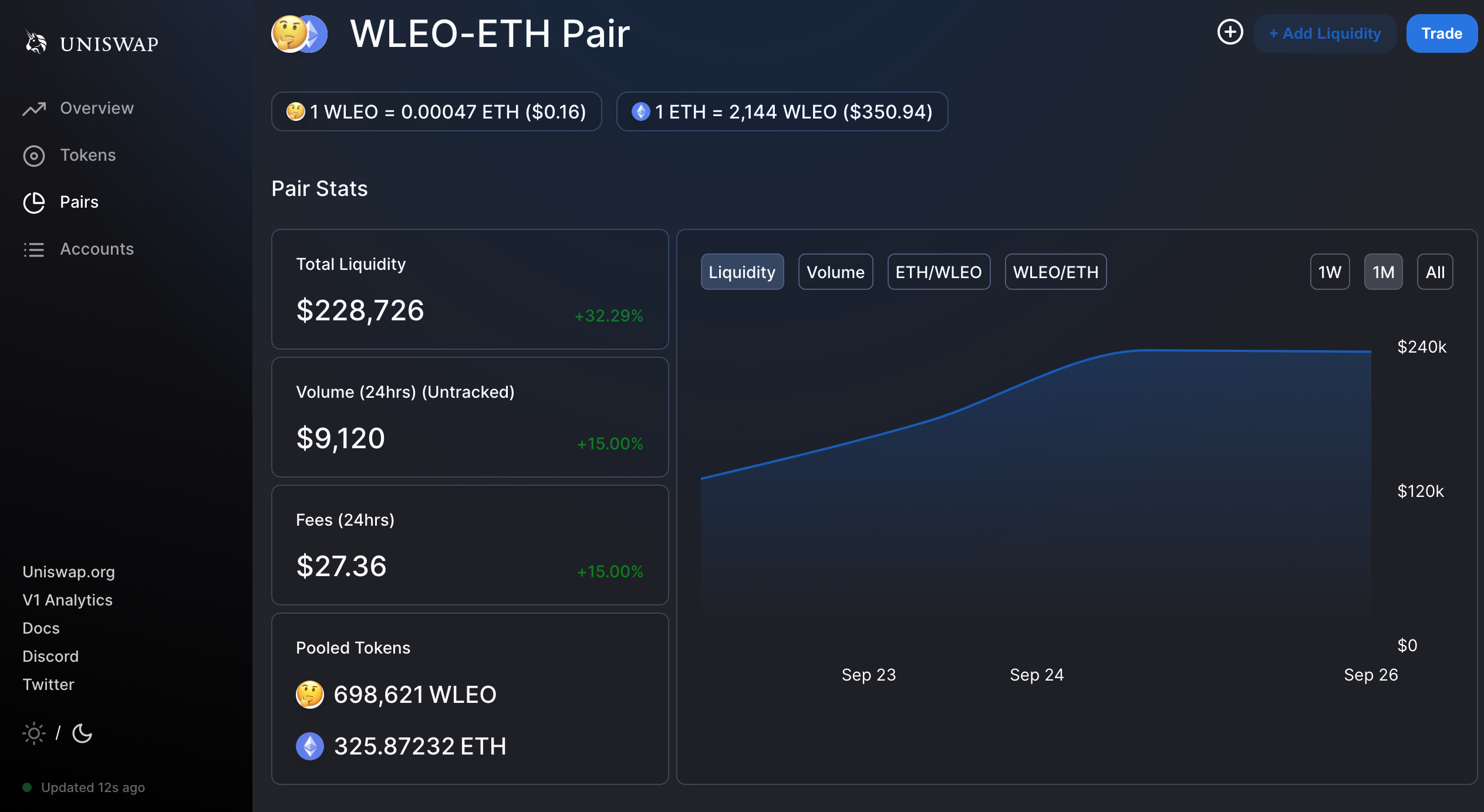 Uniswap wLEO-ETH Pair Page
Not to steal the thunder of our LeoFinance UI update - which is a major breakthrough on its own - but the WLEO - ETH pool broke $200,000 USD yesterday. WLEO was also recently listed on Blockfolio and currently has an application pending with several coin aggregators like Coingecko, CMC and Coinpaprika.
In the near future, we'll announce exchange partnerships and get our first major CEX (centralized exchange) listing for WLEO.
LeoFinance was founded 15 months ago with the idea that we could become a center point for onboarding users to Hive. Our mission is not to onboard users into Hive iteslef, but rather to utilize Hive as intended: as a backend to power our project. To our users, they're interacting with LeoFinance. On the backend, their content, interactions and rewards are being immutably stored on one of the most technologically advanced blockchains on the planet.
The price of LEO has been reflecting the latest developments. Many are asking if this will continue.. Nobody can perfectly predict market pricing, but one thing that has a 100% probability is the continuation of core developments for the LeoFinance project. 🥂 to a great 15 months and 🥂 to an even better 15 to come.

Join Our Hive Community & Earn LEO Rewards!
Earn LEO + HIVE rewards by creating crypto/finance-related content in our PeakD community or directly from our hive-based interface at leofinance.io or LeoFinance Beta
Follow @leofinance for official updates
Posted Using LeoFinance Beta
---