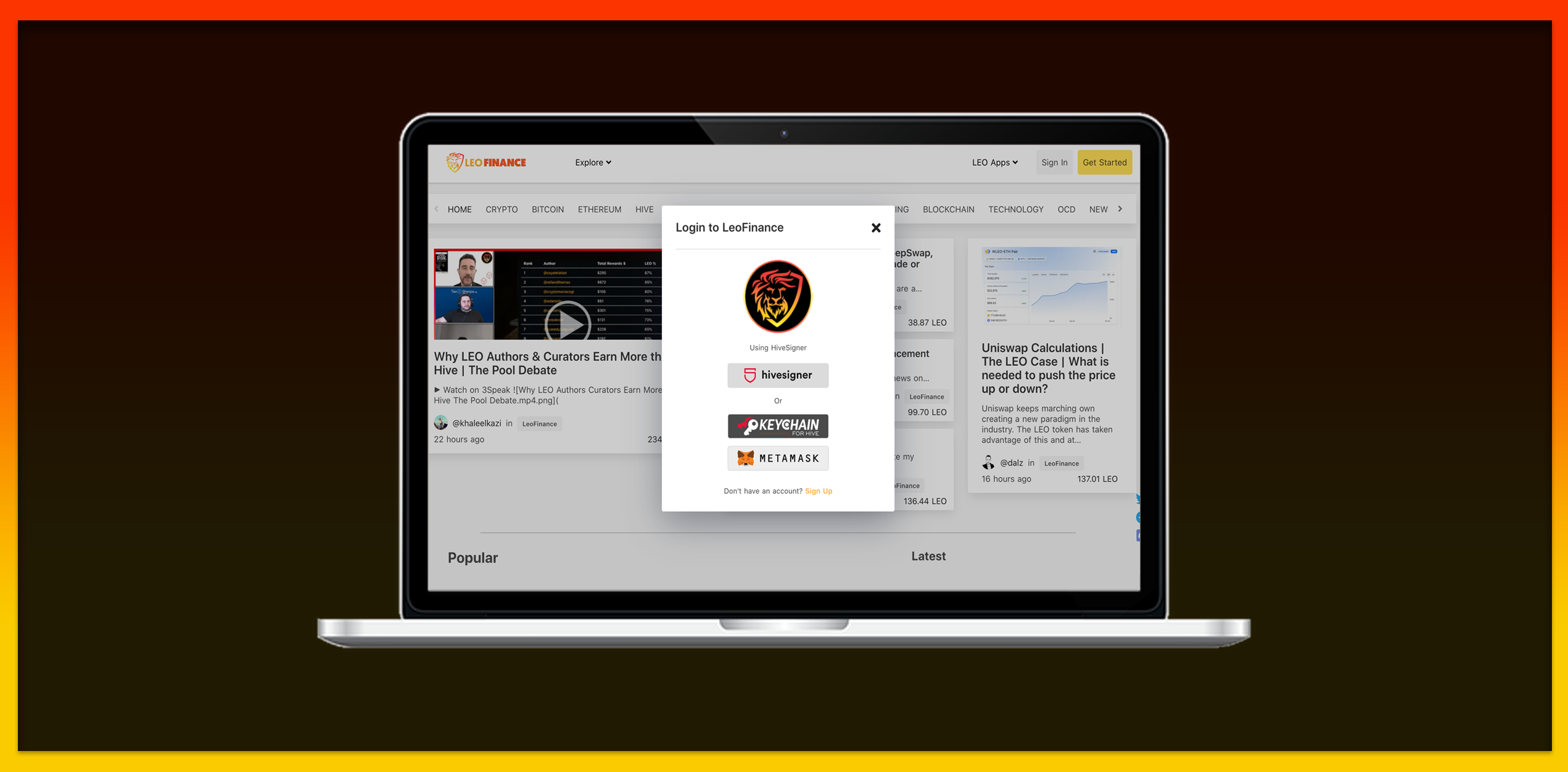 After nearly 2 months of development, we released the LeoFinance UI into open beta on September 5th of this year. 10 days ago, we moved our UI from open beta into production and released LeoFinance V1 and replaced condenser once and for all.
We've released continual updates to the LeoFinance UI since the project launched into open beta. In fact, if you read that open beta post and compare the UI then to the UI now it's almost unrecognizable. We've made a lot of changes and additions both from the original roadmap and from the community's suggestions.
We were already working on V2 even before we officially moved the beta into production. This allowed us some time to get feedback and fix major bugs while also moving forward on a new major project: LeoInfra.
LeoInfra is our latest project. It's a backend database that can handle a myriad of operations. LeoInfra will reimagine the current suite of LeoApps — LeoFinance, LeoDex, Hivestats — and will power the next generation of apps that we release over the coming years.
The first integration of LeoInfra is with the Ethereum blockchain. We've teased this idea around the community for the past week and have been doing extensive development and internal testing.
In the next 7 days, LeoInfra will be plugged-in to the production version of the LeoFinance blogging UI.
With this in mind, we're now ready to openly talk about the V2 development roadmap for the LeoFinance blogging interface. V2 is broken down into two major phases:
Phase 1: LeoInfra integration (add cross-blockchain operations to LeoFinance.io)
Phase 2: Core features and community requests
Phase 1
As I mentioned, Phase 1 is nearly ready. We're conducting internal tests and bug fixes, but the release of Phase 1 will likely be moved into production within the next 7 days.
What new features will Phase 1 bring? We'll publish a detailed post with all of the new features when Phase 1 is released into production. For now, here are some of the core additions to the UI:
The first iteration of LeoInfra allows us to integrate the Ethereum blockchain into the LeoFinance UI. In future iterations of LeoInfra, we'll also enable things like Google account signups, Twitter, etc. and of course: other blockchain integrations outside of Ethereum.
The first release of Ethereum-based integrations to the LeoFinance UI will include:
Hive Account Onboarding with Metamask
Sign In with Metamask
New WLEO Wallet UI

Wrap LEO
Unwrap LEO
Claim LEO Rewards as WLEO on Ethereum

..and more!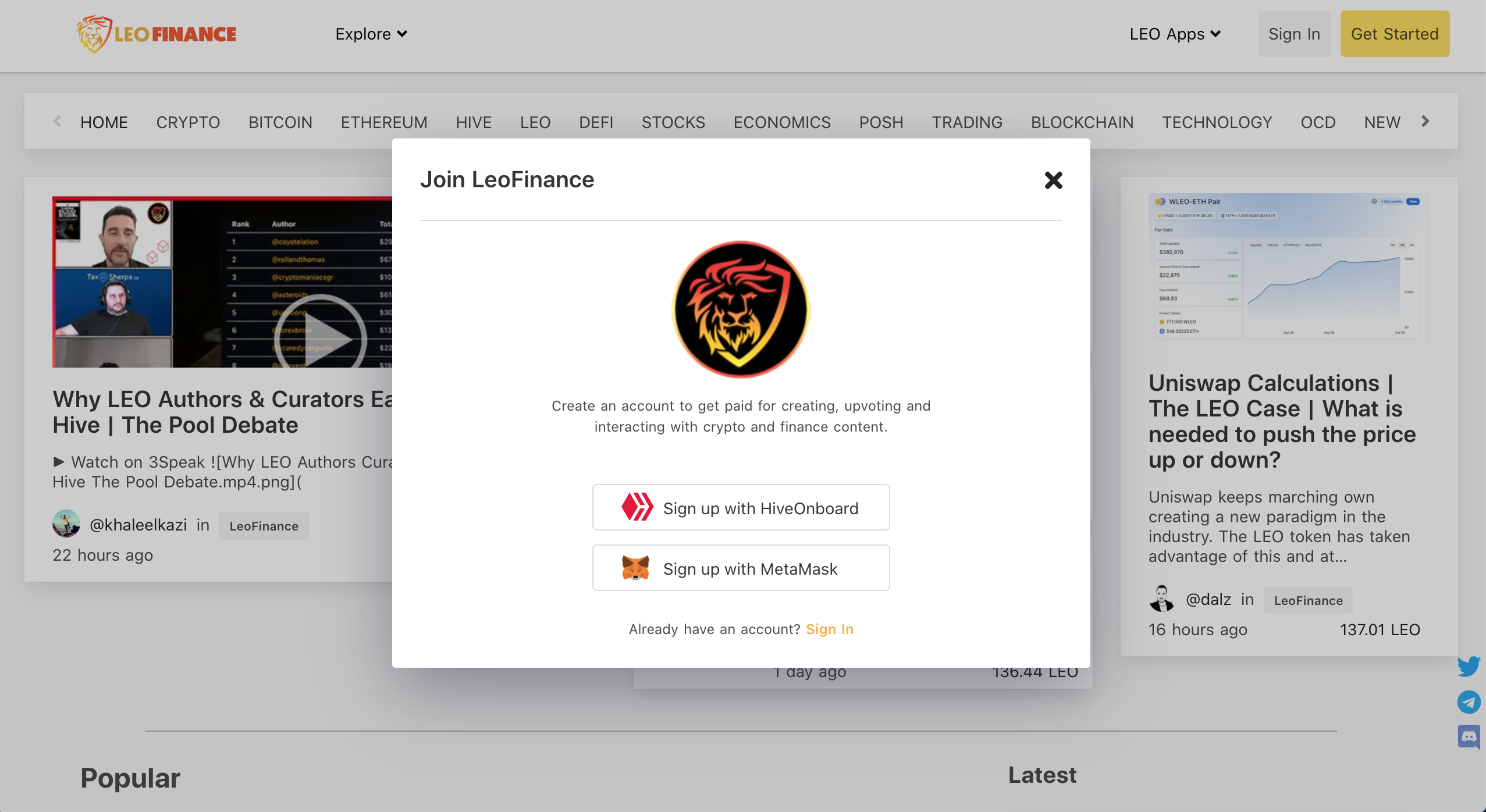 In the above screenshot, you see the new "Join LeoFinance" prompt. When a new user hits the "Get Started" button in the top right, they'll see this window with options for creating a new Hive account. In this upcoming UI release, we'll have HiveOnboard and MetaMask as Hive account creation options. In future releases, you'll also see the addition of Google/Facebook/Twitter/Other Blockchain options to this window.
In this next screenshot, you'll see a login option for Metamask. If a user has signed up previously using Metamask, this will log them in to the same Hive account that was created using LeoInfra.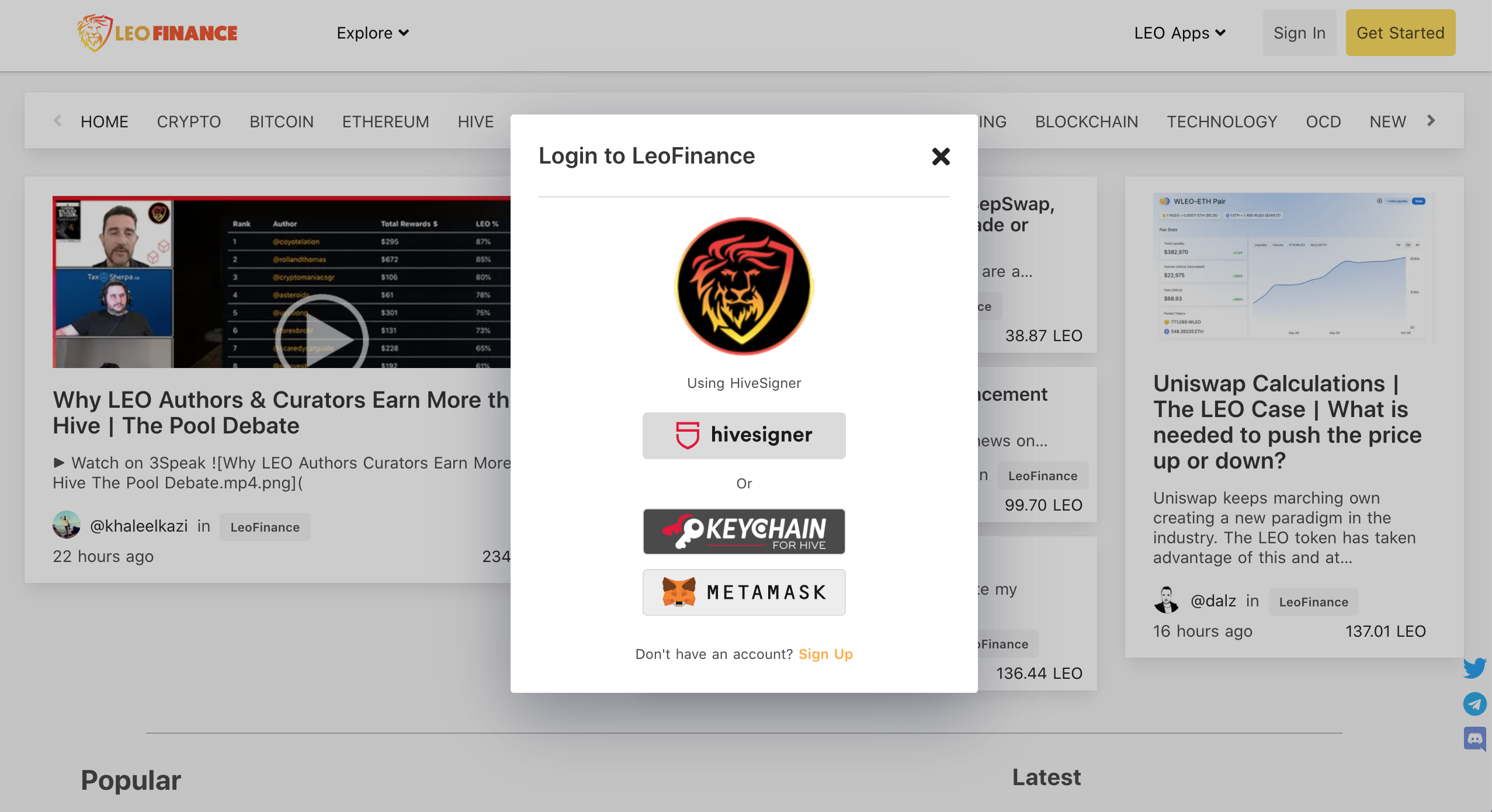 Again, I'm saving the in-depth dive into Phase 1 for the actual launch post when this moves into production. Here's a little teaser of what's coming to the Wallet UI:

We've created a divergent wallet UI experience. For Hive users, the wallet UI will be a different experience than Ethereum users. The features you see and the order in which you see them will be different because the intention is to cater to your setup (either coming from Ethereum or coming from Hive).
The Goal of Phase 1:
Following the WLEO listing on Uniswap, Coingecko, Coinmarketcap, Blockfolio (and future listings we're working on) our onboarding process has become more important than ever.
The first iteration of the LeoFinance onboarding process integrated HiveOnboard. In my opinion, we already have one of the easiest account signup dialogs on the Hive blockchain, but this is just the beginning. The goal of LeoInfra V1 is to make signing up for Hive easier than ever.
The Phase 1 release of LeoFinance V2 will prove that point. As I said, we're already conducting internal tests for the new onboarding process and I can say that it revolutionizes the Hive account onboarding process. Signing up for Hive has never been easier.
At LeoFinance, our overarching mission is to onboard new users outside of Hive. Out of the gate, our target is Ethereum blockchain users. These are users who are already familiar with crypto and blockchain and who generally fit our target audience of being financially-oriented.
Onboarding these users with our new Metamask sign up process is extremely easy and I'm excited to share the marketing campaigns and results that we have planned post-Phase 1 launch. Phase 1 is all about making it easy for Ethereum-based users to sign up to LeoFinance and start creating, engaging and earning on https://leofinance.io.
Phase 2
Now that you've seen some of the features being built in Phase 1, let's talk about the development roadmap after that release.
The development scope for the rest of LeoFinance V2 will be focused on adding more core features to the interface along with integrating community requests for certain features.
Below this post, please leave feedback about the UI. We've already received a lot of suggestions, but we're continually looking for bug reports and feature requests to add to the upcoming releases. As we finalize the roadmap for Phase 2, we'll add as many user suggestions as possible.
The Tentative Roadmap for Phase 2:
Newsletter Integration
Real-Time Gamification Leaderboard
Overhaul to the Reputation Score System
Community Support & Theme Toggling
Upgraded Payout Displays
Advanced Posting Options (Scheduling Posts, Drafts, Auto-Posting to Twitter, etc.)
Updated Topic UI When Publishing Posts
LEO Voting Power Display
Database for Actions Queue (Allows Fast User Actions Rather than Waiting for Blockchain Confirmations)
These are just the core features we're adding in Phase 2. As you probably know (if you've been watching our ongoing development), we tend to add even more outside of the main roadmap as we develop. Don't forget to leave that feedback below!
Release Schedule
The Phase 1 updates are already live on our LeoFinance Labs UI (the test version of the site) where we're conducting tests with a few users and the team. Our aim is to merge these updates into the production LeoFinance site by the end of this week/weekend.
LeoInfra is a rather complex integration. It involves a lot of backend infrastructure and data (as the name suggests). It handles a lot of important actions like account creation, posting authority, cross-blockchain interactions with Ethereum, etc. so we want to make sure everything is perfect before releasing it into production.
After Phase 1 is released to production (again, hopefully by the end of the week), we'll finalize the roadmap and start on Phase 2 developments which should take less than 1 month.
Outside of the LeoFinance core UI, we have a few other products releasing by the end of the year along with major updates to LeoDex and Hivestats - which will also integrate LeoInfra.
2020 is the most exciting year yet for LeoFinance. I can't wait to show you what's in store for the rest of this year and the future plans we already have going in to 2021.

LeoFinance is a blockchain-based social media community for Crypto & Finance content creators. Our tokenized blogging platform (https://leofinance.io) allows users and creators to engage and share content on the blockchain while earning LEO token rewards.
Follow @leofinance for official updates
Posted Using LeoFinance Beta