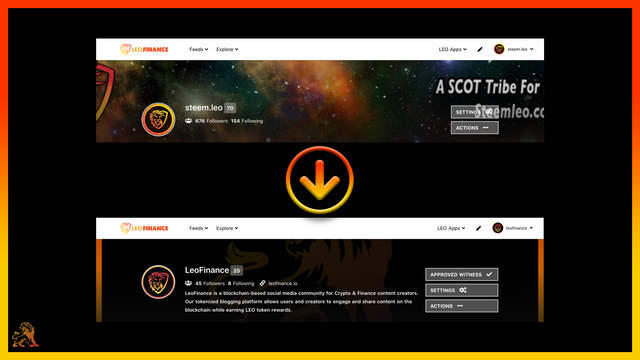 15 months ago, Steemleo was launched on the blockchain and with it came the @steem.leo account for our official updates. Since moving to Hive, we branded our project to LeoFinance and acquired the @leofinance account - where we now also run our Hive witness node.
It's been a long time coming, but we're now finally retiring the @steem.leo account as our source of official updates. From this point forward, we'll be posting all of our major updates from this account: @leofinance.
We've been working hard on two major projects for the LeoFinance community -- Our brand new interface (which we've been developing for over 2 months now) and more recently the launch of the wLEO token bridge to the Ethereum blockchain.
wLEO brings a lot of exciting prospects to the LeoFinance community as it lets our LEO token get listed on external exchanges, within external dApps and more. It also allows us to collaborate with other projects more easily which will build our audience and status in the crypto community outside of Hive. This is a key move for the future of our project as we aim to onboard new users, content creators and token HODLers.
wLEO Minted on the Testnet

The first wLEO was recently minted on the testnet. We're moving everything over to the mainnet soon and will likely have all of the tech in place to handle wLEO in the next 2 days. At launch, we'll have:
An interface to wrap/unwrap and interact with wLEO
The wLEO smart contract itself
Uniswap listing
Initial liquidity pool (LeoFinance has committed to locking a minimum of $20,000 USD on launch day)
A new landing page to describe our project both to Hive users and to non-Hive users
The official launch date is TBD - but will likely be the end of this week or early next week. We're organizing a few more key pieces including marketing materials, paid ad listings about the project, the wLEO interface, a wLEO resource page on LeoPedia and a few others.
Prepare yourselves. This launch is going to be a huge day for LeoFinance as we launch our ERC20 token bridge and take the project to new heights 🚀
Interface Updates for LeoFinance Beta
ICYMI: The new interface that we've built from the ground up just entered open beta 2 days ago. We've been working on this project for a while and are excited to open it up for testing, bug fixes and feedback.
As mentioned in the launch post, the goal of this interface was to build an experience for our users that was on par with PeakD and then iterate from there. As you use the beta, you'll see us continually adding new features that are in our roadmap and also requested features by the community as we receive ongoing feedback.
After we conduct a few rounds of open testing and feedback, we'll replace the primary interface - LeoFinance.io (condenser) with the new interface and move it from open beta to production. This process will likely take about 1-2 weeks.
Recently Added:
In the last 48 hours since the Open Beta announcement, we've added a few new features:
New Homepage
The homepage of any website should be an intuitive and valuable experience. Right off the bat, users will land on our home page and see the top navbar which shows the most popular tags in the LeoFinance community. Below that, they'll see a manually curated feed of content.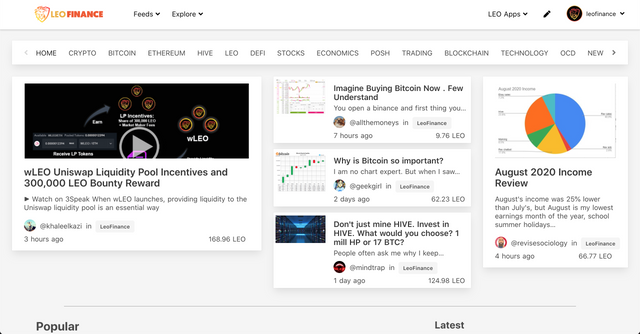 Below the manually curated feed are the Popular and Latest columns. These show the standard trending feed (content earning the most LEO upvote rewards) and latest shows the most recently published content on the site.
This is a different experience than what's out there on Hive and I find it to be a much better way to discover content. Let us know what you think in the comments below.
Upvote Details:
When you click on the number of upvotes a post has received, you'll get a new "Votes (LEO Rewards)" popup window. This shows you the list of users who upvoted a specific piece of content along wiht the LEO value of their vote, the % weight they used and the time they upvoted after the publishing date.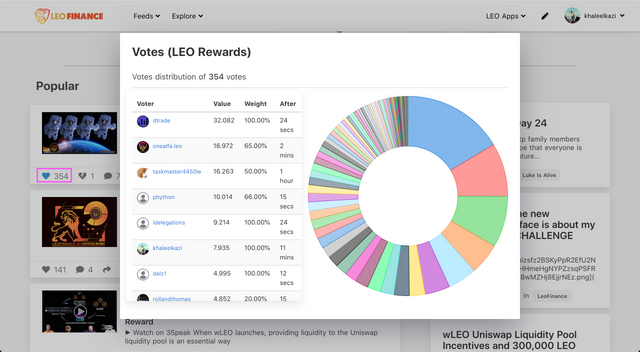 LEO Apps Menu:
We added a quick navigation menu for our other applications (LeoDex, Hivestats and LeoPedia). Soon, you'll also see the new Wrapped LEO interface make it into the apps menu.

Performance + Bug Fixes:
In the last 24 hours, a performance and bug fix release was pushed onto the site. This fixed a few issues including a bug with the icon packs for the create a post interface, improved SEO and page load speed, social card metadata and a few other key changes on the backend.

Upcoming Changes:
Most of the key features have already been added to the site. The next 2 major features that we're developing now are the Mobile Version of the interface and Dark Mode -- two of the most requested updates since the Open Beta launch.
Along with the development of these two major updates, we'll also release a major update to the Wallet UI.
We're also actively collecting bug reports in our Discord server. If you have some spare time and want to help us make the interface the best it can be before we move it into production, please test out the https://beta.leofinance.io version and then drop a bug report for any issues you find.
In Other News
Developments have been crazy lately and there are a few reports that we've fallen slightly behind on including the August Ad Report and the Leo vs. Hive author reward comparisons. Expect those reports to be released (from @leofinance 😉) this week.
We're putting together a repository of information about the LEO -> wLEO token bridge on the LeoPedia site. This resource will also be released this week and is why you've been seeing an increase in video content from the @khaleelkazi account as all the relevant podcast clips are getting added to the archives. Here's a little sneak peak: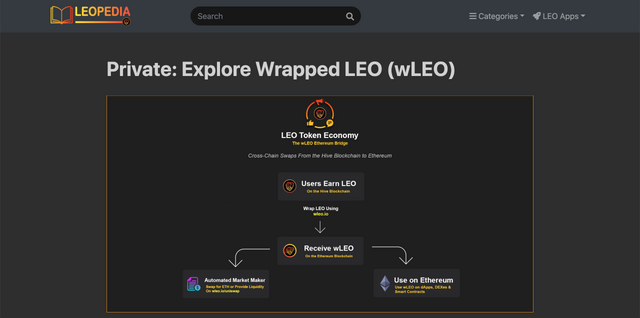 Join Our Hive Community & Earn LEO Rewards!
Earn LEO + HIVE rewards by creating crypto/finance-related content in our PeakD community or directly from our hive-based interface at https://leofinance.io.
Follow @leofinance for official updates
Posted Using LeoFinance Beta