Ethereum Outreach and Onboarding Initiative 2 | Earn 400 HIVE + 550 LEO
---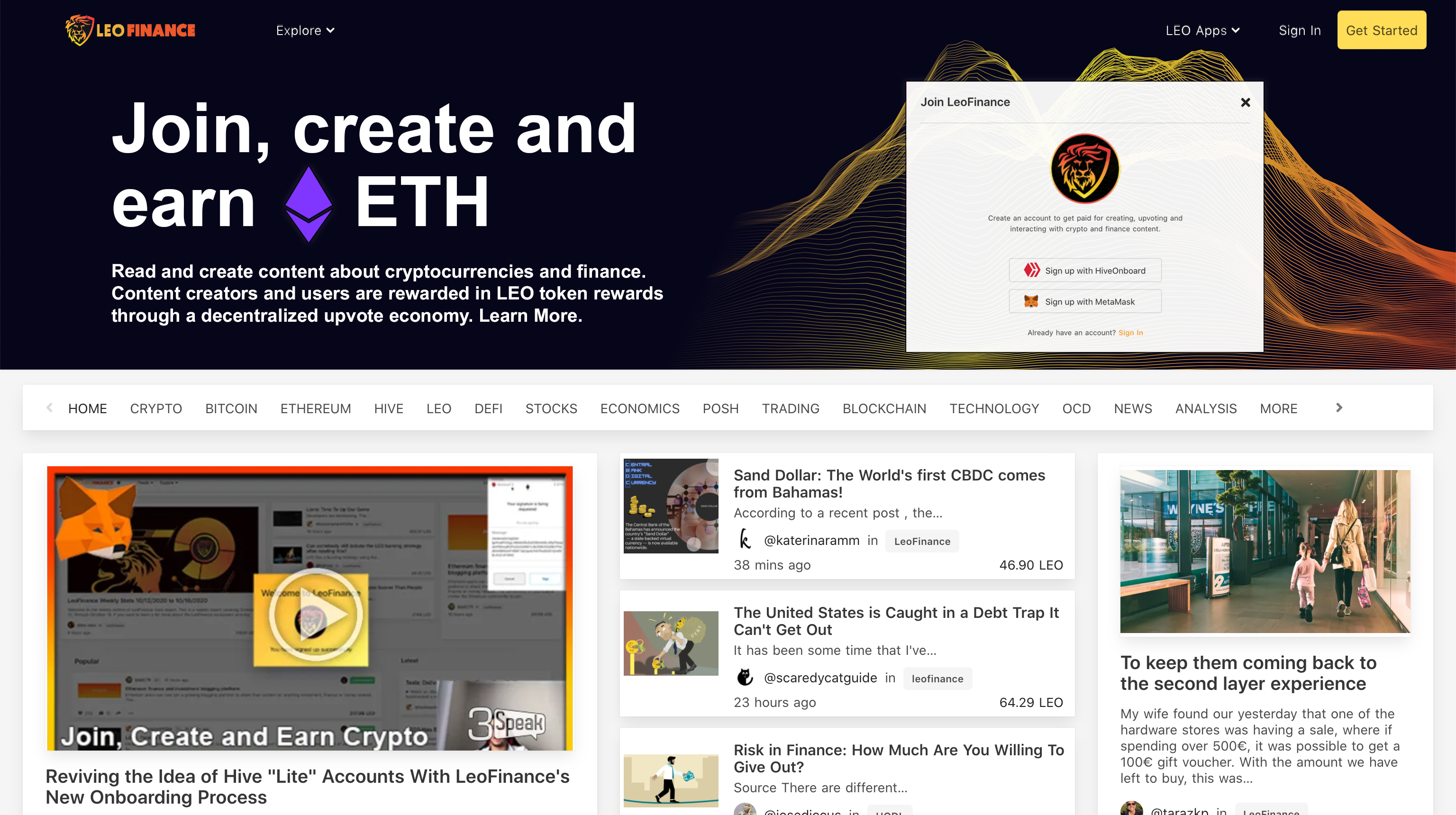 Now that we've integrated Metamask signups on leofinance.io, we're going to run Ethereum-targeted outreach initiatives each week with the goal of onboarding new authors and LeoFinance users. Last week, we ran a contest with the prompt "Join LeoFinance With Metamask and Earn ETH Rewards for Your Crypto Content".
The goal of last week's contest was to get some content out there and share it on other social media sites where ETH users live. We wanted to let them know that they could come here and earn ETH and other crypto rewards for their content creation. The winner for last week is @whatageek. With the post entry Earn Ethereum By Blogging About Finance (Seeking Writers For Online Work).
LeoFinance also has a Growth Team with ~10 members. This team works on social media outreach. The growth team is also judging the entries for these contests and each week, we'll leverage the winning entry and run extra campaigns, social outreach and paid ads with the content. @whatageek won 400 HIVE and 550 LEO for last week's contest. Congrats!


Week 2 Contest Rewards & Details:
The Rewards
@theycallmedan and @threespeak have graciously donated HIVE each week to the pool of rewards for this contest. @leofinance is also adding HIVE to this pool along with a matching amount of LEO from the bounties fund.
Community members @hitmeasap donated 50 LEO to this week's prize and @empoderat donated 100 LEO.
Total Rewards:
@leo.voter will also manually curate all of the entries with around 750k HIVE POWER and a LEO POWER trail. The runner-ups will receive the largest upvotes.
1 Winner Will Be Chosen Each Week:
How to Enter
This week, we want you to write about your favorite project in the crypto space. Most of us know about Hive and the goal is to outreach to other communities and onboard them into our community and blockchain. Please write about a non-Hive project and try to relate it to Ethereum or an ETH-based project if possible - since this is our target audience.
Requirements:
Minimum of 750 words in length
Shared on at least 2 social media platforms targeting the project and their community: For example, tagging the official project account and hashtag with a link back to your post (link to these social posts in a comment on your post - similar to #posh)
Post using the https://leofinance.io frontend
Include the #leocontest tag in your post
This week's contest idea was inspired by @jk6276 who continues to write great content about Thorchain and the RUNE cryptocurrency. These are the kind of posts that we're always looking for on LeoFinance (and especially in this contest) as his outreach initiatives to the Thorchain community and project have been extremely successful. You can also see his latest tweet getting retweeted by the official Thorchain account on twitter: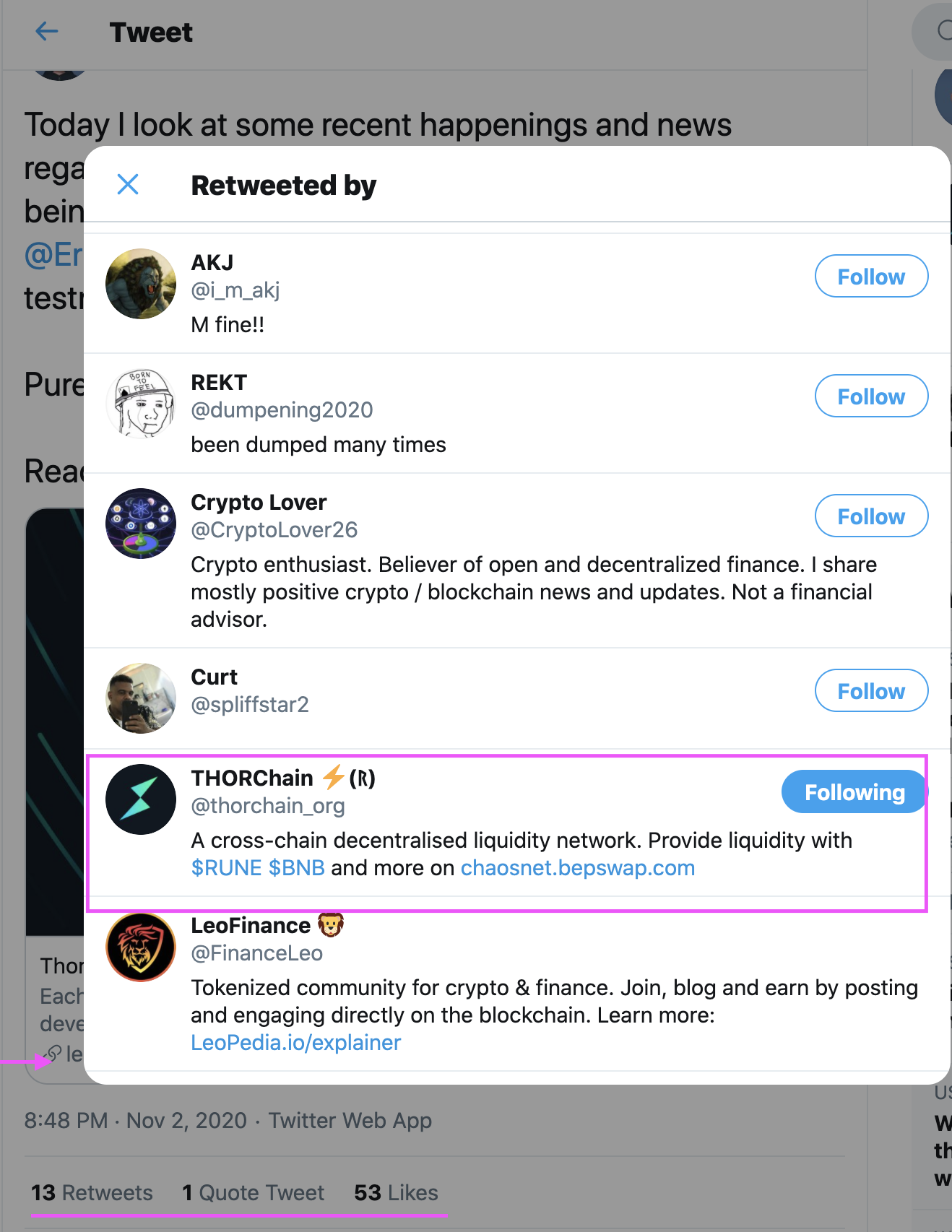 Jk6276 Tweet Example
We're all acutely aware of how awesome it is to see people talking about your favorite crypto project. Whenever you see a great post about Hive either on Hive or on another platform, you get excited. This is generally what we're trying to do with this contest - write about a Non-Hive crypto project that has your interest and then tag and target their official account and audience. Get their attention and share a great piece of content about the project they are obsessed with. This is one of the best ways to onboard new users to LeoFinance x Hive.
Questions about the contest
If you have any questions about the contest or how it works. Please drop a comment below or hop in our Discord for help.

LeoFinance is a blockchain-based social media community for Crypto & Finance content creators. Our tokenized app allows users and creators to engage and share content on the blockchain while earning cryptocurrency rewards.
Follow @leofinance for official updates
Posted Using LeoFinance Beta
---