Don't just buy crypto, Earn it. Various ways you can earn crypto
---
Hello Hive.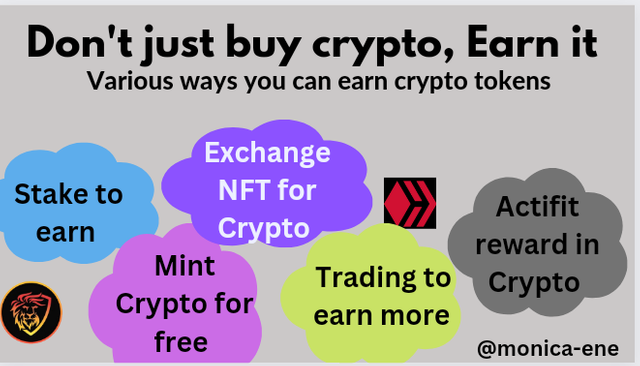 Am sure we are familiar with the various kind of investment present in the crypto space.
Minting tokens for free
There are some you get lucky to mint for free and hopefully get some gains from these free tokens.
Mostly this is when these tokens are are in development stage and they give our tokens for free prior to it launch.
Buying to trade and earn more.
It is another way you can earn crypto tokens.
And how to achieve this is simple. For those that understand trading signal.
You can day trade, margin trade and the various combination of trading in exchanges.
Buying smaller dips and selling the smaller highs as well.
Requiring utmost care and attention to understand when to buy and sell in order to pick substantial gain considering the trading fees that may eat up your gains if this is not substantial.
Buying to stake and earn more.
This is less riskier compared to the former one above.
You can simply some good tokens and stake them to earn more based on some percentage APR and a return on investment. Staking over a long duration and upholding the value of your tokens to earn more in the future.
selling/Exchanging NFTs for Crypto.
Crypto is the new world currency you can use to sell your different kind of art work, be it painting, designs, music and what have you.
The crypto space have grown so much that basisclly anything of value can be sold as NFT in excbahge for crypto tokens.
Actifit.
It is another Interesting way you can earn crypto.
Actifit rewards your daily activities in crypto tokens.
We have play to earn.
Running, walking and different activities you carry out that you get rewarded for doing such simple task.
The final and most interesting one is the blog to earn on hive. Which is a whole lot and encompassing topic you will get to hear more.
Posted Using LeoFinance Beta
---