Crypto.com Coin (CRO) - Brief and History
---
For those that are still unaware, Crypto.com Coin (CRO) had been making headlines recently. Earlier this month, on 8 Nov, CRO had introduce its own mainnet called Cronos. Within the 1st day,
✅ Mainnet Launch
✅ integrated with CRO app
✅ integrated with CRO exchange
✅ Working Bridge in Cronos
✅ Defi
What is even more crazy is about 6 days ago, CRO actually spent $700 mil to get the naming rights deal for Staples Center. Look at this amazing view from the sky.

With such insane marketing capability, it wont be a surprised that CRO tokens have been rising like mad in the prices.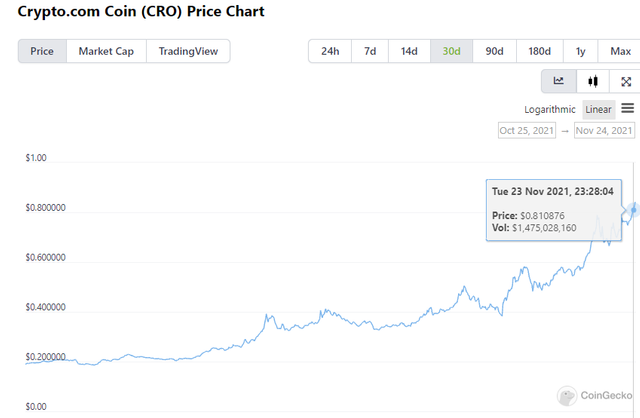 Just within this month, CRO had rose from $0.20 to currently $0.82+, and there is still no sign of stopping too.
Having been a CRO user for 3 years and watching the start of CRO, I am able to share a few interesting facts that you may not be able to find on the internet easily.
CRO also spent a huge deal to buy this current website Crypto.com.
CRO was initally known as Monaco. The token was actually MCO.
During the starting phrase, MCO tends to overpromise and under-deliver. I remember MCO said that they are working closely with Visa and is close to getting a crypto credit card! However, later it turn out to be just a debit card.
That time, MCO and Tenx are the top 2 companies to produce crypto cards. Despite having paypal support(paypal incubator), Tenx had already "closed down". While CRO had forced all the users to convert their MCO to CRO tokens.
We can see that all these years, CRO had proven themselves to be the cream of the crowd, and I wont be surprised if CRO continue to hit even $1.
Posted Using LeoFinance Beta
---