10 Free Hive/ Pokemon Cards For Sale/ Chaos Legion Presale Offer + SPS Giveaway Winners!
---
Pokemon Cards For Sale
I was reading HIVE created content yesterday when I just so happen to come across a post that was offering an undisclosed amount of Pokemon cards for sale. In that same topic is a giveaway for 10 HIVE Tokens. All one has to do to enter the 10 HIVE Giveaway is head over to the official topic and take a guess at how many Pokemon cards are being offered for sale. The seller of these Pokemon cards is @dynamicrypto and the official post is Pokemon Mystery Card Bundle 1990s to early 2000s.
SPS Giveaway Winners
A few days back I offered a giveway of 6 SPS in the topic Clove71 Birthday Bash Is Underway. The first two SPS winner was the person who kicked my butt in the Birthday Bash Tournament the other two were randomly selected readers who left a comment. Congrats to @undeadklown (Beat me in the BD Bash) / @merit.ahama and @readthisplease who have all been sent two SPS each.
Rentmoney's Chaos Legion Presale Offer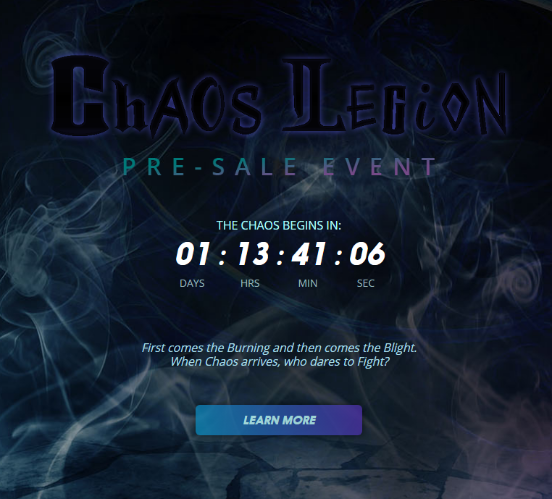 Chaos Legion Presale is less then two days away and has a tiered bonus system for packs and other goodies. One needs to purchase at least 100 CL Booster Packs before that bonus kicks in.
100 - 499 - 10% additional pack bonus
500 - 1999 - 15% additional pack bonus
2000+ - 20% additional pack bonus
I'm aiming for the 500+ pack level so that will be a 15% bonus on purchased packs. If you are interested I will pass that 15% bonus to you. For example if you plan on purchasing 50 Booster Packs you wouldn't quailify for any of the tiered bonuses for additional packs. If you were to purchase packs with my bundle you would get your 50 Packs+ 7.5 extra packs. I will round fraction of 0.5+ upwards to help offset the loss of future airdrop cards.
I will also send you one promo card for every 50 boosters purchased (just like offered from Splinterlands). The downside is you would lose out on any addition chances at future airdrops. Min purchase through me is set at 20 Chaos Legion Packs. You will need to provide me with one voucher per pack you want purchased plus the cost of the booster itself. I won't be purchasing the presale booster packs until the last days of presale so keep that in mind when making your decision. CL Booster are not openable during presale and give 300 airdrop points each.
Rentmoney CL Presale Offer Recap
20+ Boosters - 15% addition pack bonus
20 Booster Min Purchase
Must provide one voucher per purchased booster
Must provide booster cost (HBD/HIVE/DEC or SPS)
Purchase won't be made until last days of presale
If you are interested in the above we can work out the payment details closer to the end of the presale which is when I'll be making the 500+ booster purchase. Purchasing under 50 Packs from me gives you 0 chance at any airdropped/promo cards. I will send you one limited-edition promo card for every 50 booster packs purchased. That means if you purchase 50 packs through me you will get One Promo Card. If you purchase 70 packs thats still one promo card. If you purchase 100 packs thats two promo cards. Purchase 49 packs and get 0 promo cards. This offer isn't much good to anyone purchasing their own 500+ packs but I figured I try and pass on some savings to those who might be making some smaller pack purchases who might value getting more packs over a small chance at airdropped cards.
Splinterlands is an online blockchain game built on the Hive Network. It utilizes NFT's for game play. These NFT's and other in game assets are tradable and have real monetary value. Click here to play or to invest in Splinterlands. Play for free or pay $10 usd and start earning today!
Watch A Splinterlands Battle Below
https://steemmonsters.com?p=battle&id=f9525f6dc69433c5f35470817a4c862530cb3300&ref=rentmoney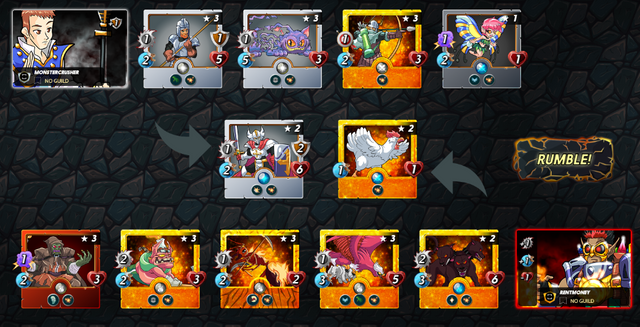 Posted Using LeoFinance Beta
---