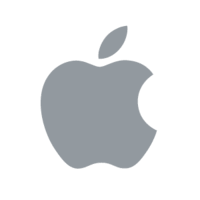 The FAANG stocks have been responsible for a majority of the growth within the stock market over the years and continue to hold up the broader market as we saw in the last several months despite COVID-19. But within the FAANG stocks, Apple is the largest holding in the S&P 500 with a 6% weighting and the largest holding in the DOW with and 10% weighting.
I use some great barometers like the Commitment of Traders (Smart Money), Wynn Resorts and Carnival (discretionary spending), Caterpillar (industrial pulse) among a few others. But over the last two years, I realized Apple is a great barometer for the US equity markets.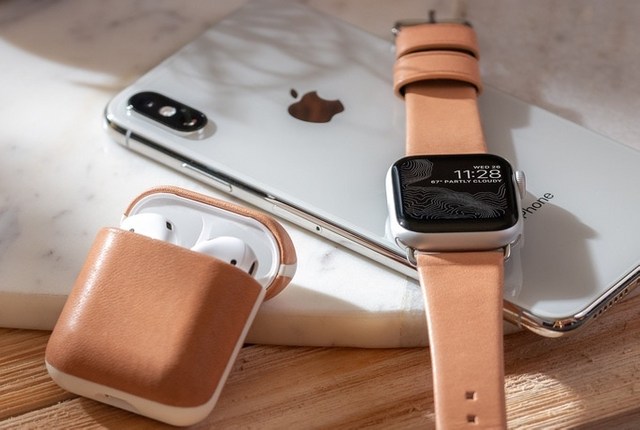 In 2018 Apple was the first company to ever hit the $1 trillion market cap milestone. Today, Apple sits at around $1.5 trillion in market cap. Now there is talk of Apple being the first $2 trillion market cap company. And Evercore ISI's analyst Amit Daryanani compelling argument is that Apple's Wearables business is expected to grow to $60 billion because of AirPods and Apple Watch and their Services business could grow to $100 billion. In addition, while other companies are cash strapped and can no longer buy back their company shares, Daryanani thinks Apple will reduce its share count by about 1 billion shares over the next four years. However, I can guarantee you, the US equity markets won't see all-time new highs, unless Apple is over $2 trillion in market cap. This means that the people / entities holding shares of Apple have a lot of indirect influence and power.
The Vanguard Group, Berkshire Hathaway, and BlackRock Fund Advisors own close to 2/3 of the outstanding shares. Insiders, Tim Cook is the second-largest individual shareholder with over 800,000 shares. But the it's Arthur Levinson, Chairman of the Board at Apple who is the single-largest individual shareholder a little over 1 million shares. But one of the largest shareholder who isn't an insider is Ryan Cohen founder of Chewy.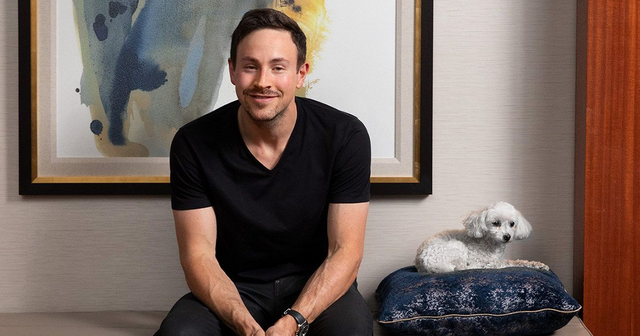 Chewy, Inc., provides pet food and treats, pet supplies and pet medications, and other pet-health products, as well as pet services for dogs, cats, fish, birds, small pets, horses, and reptiles through its chewy.com retail Website. Chewy was acquired by PetSmart in May 2017 for $3.35 billion. In June 2019, Chewy went public at a valuation of $8.7 billion.
Chewy founder Ryan Cohen tossed much of a $3.35 billion fortune into Apple and Wells Fargo stock after he sold his pet-supply company, Bloomberg Businessweek reported Friday.

The Chewy founder piled into Wells Fargo in the second half of 2017, when shares traded at roughly $54. The stock has since tumbled to roughly $31 amid regulatory scrutiny and the coronavirus pandemic.

Cohen was luckier with his Apple bet. The iPhone maker's stock has soared more than 120% over the same period and hit a new record on Friday amid a broad market rally. The Apple investment's heavier weighting offsets Cohen's Wells Fargo losses and fueled the two-stock portfolio's nearly 20% gain over the last 12 months.
Source
Since Apple started purchasing it stocks in 2013, Apple has spent $327 billion to buy back 2.5 billion shares at an average price of $131 per share. And over that same period, the buybacks continue to increase with the board authorizing seven consecutive buyback program increases:
2012: $10 billion buyback authorization
2013: $60 billion (increase of $50 billion)
2014: $90 billion (increase of $30 billion)
2015: $140 billion (increase of $50 billion)
2016: $175 billion (increase of $35 billion)
2017: $210 billion (increase of $35 billion)
2018: $310 billion (increase of $100 billion)
2019: $385 billion (increase of $75 billion)
As Apple buys back more outstanding shares, Apple get more powerful in the process, resulting in more influence on the direction of the broader equity markets. Because we are still in an uptrend, a pull back to the $330 would be a good level to go long.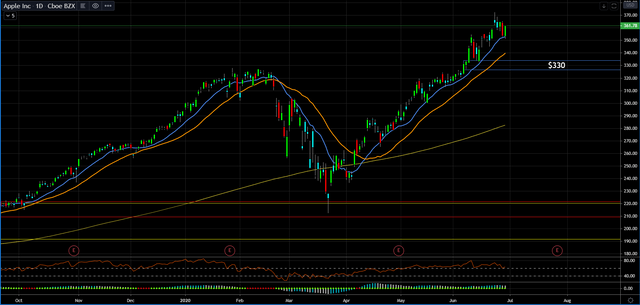 This post is my personal opinion. I'm not a financial advisor, this isn't financial advise. Do your own research before making investment decisions.

Posted Using LeoFinance