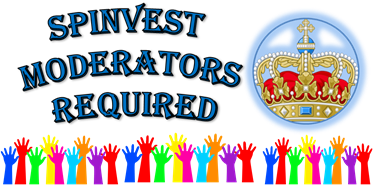 Nominations open : Monday 30 March 2020
Nominations close: Sunday 5 April 2020 at 11.59pm
---
SPInvest is a savings and investment club, currently with 35 members who have all completed and published the Partnership Agreement. The Club is moving to the next stage by electing Moderators. These are community leaders who will be involved in discussions about the Club's future direction and growth. Each Club member has been asked to nominate either themselves or another Club member to stand for election as a Moderator.
---
What do you need to do?
Read the background posts:
Time to add Moderators to SPInvest - explains the whole process.
SPInvest Moderators - talks about moderators and why they're important.
Speak to anyone you would like to nominate:
How I'm choosing my nominations - one approach to choosing moderators.
List of SPInvest Club Members - or see list below.
Add your nomination(s) in the comments:
Add the name of the Club member that you are nominating in the comments, with a sentence or two explaining why you are nominating them. You can nominate up to three Club members.
---
Voting Process and Timetable
| Date | Stage |
| --- | --- |
| Monday 30 March | Nominations invited from Club Members |
| Monday 6 April | Nomination results released. The top 10 nominees have one week to accept or decline their nomination. |
| Monday 13 April | Nominees that have accepted their nomination have one week to publish a post explaining why they would be a good moderator. Club members ask questions in the comments and get a feel for each of the club members standing. |
| Monday 20 April | The final voting post is released. Voting closes on Sunday 26 April at 11.59pm. Club members may vote for up to two members to become moderators. |
| Monday 27 April | Results are released and new moderators welcomed. Yay! |
Questions?
Get in touch with @spinvest or @shanibeer, or visit Discord.
---
Confirmed SPInvest Club Members
@bucipuci, @chrisparis, @conradsuperb, @coolguy123, @d00k13, @darkmrmystic, @elizabethbit, @empoderat, @ericburgoyne, @erikklok, @felander, @flemingfarm, @geke, @huntforsteem, @incubot, @jk6276, @jk6276.leo, @metzli, @mytechtrail, @oldmans, @partitura, @qam2112, @roger5120, @ronaldoavolino, @samsemilia7, @shanibeer, @shitsignals, @silvertop, @skylinebuds, @stayoutoftherz, @sumatranate, @taskmaster4450, @underground, @welshstacker.
---
More about SPInvest
SPInvest is a tokenized investment fund/club for all users of the STEEM blockchain. Everyone is welcome! The concept of SPinvest is to get rich slowly by using time tested methods of earning, saving and compounding long term. This lets SPInvest offer an ROI of 20% per year on SPI tokens. We encourage long term investing on and off the STEEM blockchain. We hope someday everyone will HODL some SPI tokens that can be bought directly from @spinvest or through the steem-engine or dex.steemleo exchanges. Full details about SPinvest can be found here.