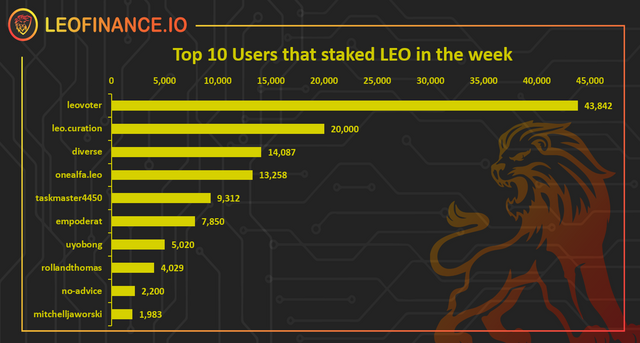 I smiled all through the moment I spotted a mention of my name an=mong the top 10 users that staked LEO over the last week in the this LeoFinance Stats. Nothing is as thrilling as making a significant contribution to a system. I owe it all to all those who have inspired me to invest in LEO tokens.
Yesterday, I published this post celebrating my successful reach of the 10k LEO stake milestone and the bulk of the tokens were staked over the last week. I never knew @Leo.stats was actually keeping the tally. @leovoter was on top of the list with a massive 43.8k LEO staked, followed by @leo.curation with 20k and @diverse with 14k. I ranked 7th with 5020 staked tokens, two steps below my chief encourager- @Taskmaster4450le.
This feat is just the beginning as I am not giving up on reaching my target 50,000 LEO stake mark in the interim. I hopefully would look forward to the 100k mark afterwards. I have seen that the leadership of the LeoFinance community is committed to delivering value and I will stop at nothing to be a part of this success. It's thrilling to see that 85% of LEO was staked over the week in analysis.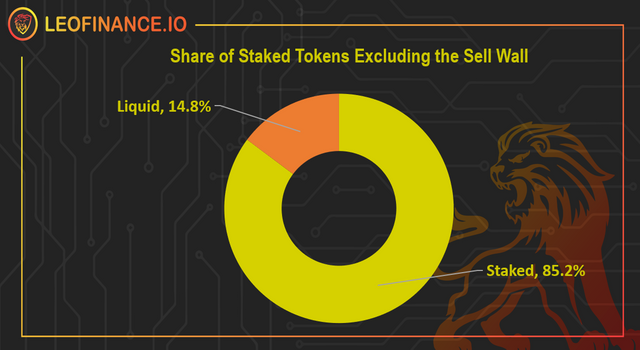 Sometimes ago, I mentioned that we may wake up to see LEO at $5, certainly, I see this happening soon and indeed, LEO would be the booster that will drive HIVE above the $1 mark as more investors join us. As the lockdown, I will start-off a promotional campaign that would bring more new users and investors to LEO from my locality. I know this would be a win-win for us all.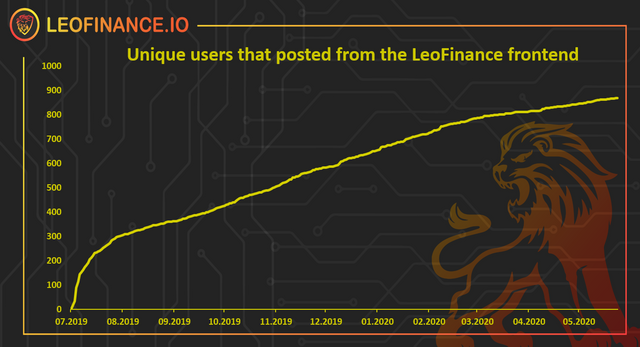 The curve above is encouraging as each week passing, new users are joining us. We must be very deliberate in spreading the news about the LeoFinance community within Hive blockchain and especially in other social media platforms.
I am achiving this update and hope to feature in the next and more. Thanks to @Taskmaster4450le, @Dtrade @Rollanthomas @forexbrokr @onealfa.leo @megavest @partitura.leo @ldelegations @trumpman2 @jk6276 and other curators who make me enjoy creating more content on #LeoFinance. They all inspire this investment each day and I am looking forward to when I will giving out double digit LEO votes to quality contents and investors on LEO in the near future.
Here's my way of giving back - read this post
I have grown standing on the shoulders of those who let me. I would also give mine for others to stand. This is how we grow the web of success. Who knows we wake to see LEO at $5 someday and that would mean a lot for all those we are able to help stock-up today.
I want to consistently curate any Hive User with less than 1000 LEO tokens staked who is ready to earn and grow his stake in LEO. The user would give a promise to keep building his stake of LEO towards the 500 LP, and 1000LP milestones respectively.
How to Enter:
Simply indicate in the comments section of this post;
State your desired LEO Power target
Be willing to post consistently on https://leofinance.io
Be willing to be staking at least 50% of your earned LEO
That's all. I am sure that if your plans are catchy enough, my LEO upline supporters may also help you grow.
Let's fun the path to our investment in LEO. Let's grow together.
It can only get better.
---
Know the LeoFinance Ecosystem
https://leofinance.io is an online community for crypto & finance content creators, powered by Hive and the LEO token economy.
---
Want to Start Earning Hive and LEO Tokens?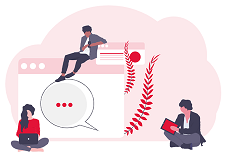 Not got an account yet? Sign up to Hive!
#LeoFinance- A Next-Generation Community for Investors

Join us On Discord --> LeoFinance Discord

Posted Using LeoFinance