The Big Announcement from LeoFinance coming - "Grow your ETH with LEO Earnings"
---
One beautiful thing that keeps me on Hive blockchain is creativity. There's never a week that passes that you won't thrill yourself with something new on this blockchain if you are an engaging user like myself. The LeoFinance community have been putting up new additions to this blockchain on weekly basis. The coming announcement would thrill you big time.

From the moment I sighted the "connect with MetaMask" clickable button in my leoFinance wallet, I knew something big is cooking. Certainly, I do not wait to be told but I could just understand following the previous updates from @LeoFinance. Even when I wasn't sure of the functionality, I had an unused MetaMask ETH address and decided to try out something, amazingly, I successfully linked my MetaMask ETH wallet to my LEO wallet on Hive blockchain.
This would be one of the biggest news around the Hive community after the 24th Hardfork. I'm pretty sure that in the coming few hours, we'll be having an update feom @LEofinance. You knpw what? That update would come with a price booster for LEO., Better to head to LeoDex to gather some LEO before the pomp comes. Here's why the pomp would be:
From now on, you can be able to claim your LEO earnings into your MetaMask wallet as an ECR20 token.
From now on, you can use your MetaMask wallet to sign into LeoFinance, create content and onteract.
From now on, ETH investors would seamlessly dive into Hive to draw earnings.
Seems like LEO would be heading towards the $0.3 mark. DOn't tell anyone yet...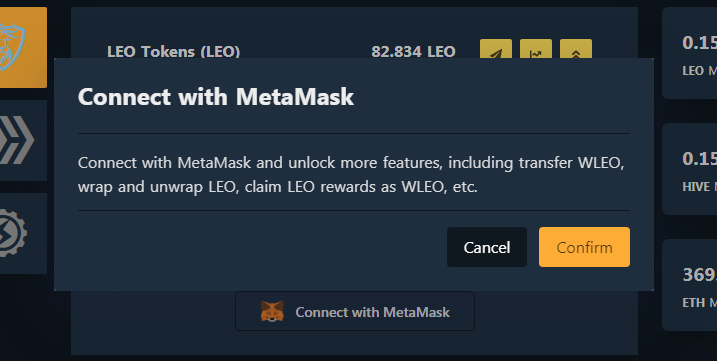 A click on the "connect with MetaMask" button pops this dialog box and in few seconds your ETH wallet gets connected to Hive. There has been a promise of LeoInfra which would serve as a bridge to link several other blockchains to Hive. Here is a good start.
Don't Get scared
Even though you got no money to buy LEO, you can earn LEO by writing original contents abut cryptocurrencies and finance. The Hive infrastructure where LeoFinance is built upon has the capacity to handle over a million users daily.
---
The more LeoFinance users we have, the merrier the LEO price...
---
You don't know how to start?
Finally,
The Big announcement we are anticipating would shoe you hoe to grow your ETH portfolio with LEO Earnings. It's indisputably that Ethereum is the fastest growing blockchain with the highest number of dapps built on it. Adding a multi-functional utility token like LEO from the Hive blockchain would be a great way to expand your ETH bank from content creation and curation. For now, this is only possible in the LeoFinance community. You can start even now.
Thank me later.
From your Hive Curapreneur, Passionate Content Creator & Community Marketer
@Uyobong.
Posted Using LeoFinance Beta
---