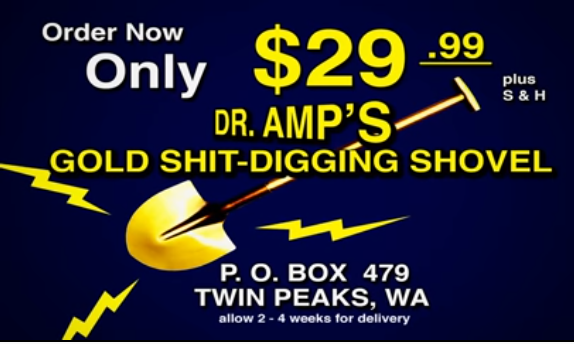 ---
Who is Dr. Amp you ask?
---
He's here to help you shovel the shit, of course.
A two minute cutscene of just a guy painting shovels?
David Lynch, you madman, you've done it again!
These are clips from Twin Peaks (season 2), the most Lynchy of all Lynch.
---
In case you didn't know,
David Lynch is a batshit visual cinema director.
His films are like a streaming consciousness of ordered chaos.
These clips stand alone and have no other context.
---
He'll always make you think:
Hey! Maybe he'll bring it all together and it will make sense.
haha, no.
---
SHOVEL YOUR WAY OUT OF THE SHIT!
This is your shiny gold shovel.
Two coats, guaranteed.
Shovel your way out of the shit,
and into the truth.
Dig yourself out of the shit.
$29.99... that's right only $29.99... plus shipping
Accept no substitutes, get yours now!
---
---
IT'S SEVEN O CLOCK, DO YOU KNOW WHERE YOUR FREEDOM IS?
.....
So, what's on your mind tonight?
I mean you know I'm gonna tell you what's on mine.
We're sinking down deep in the mud!
AND THE FUCKS ARE AT IT AGAIN!
THE SAME VAST GLOBAL CONSPIRACY
DIFFERENT DAY!
CAN'T SEE IT WITHOUT A COSMIC FLASHLIGHT!
GUESS WHAT?
I've got one! Oh Yeah. (turns on flashlight)
---
and it's beam, it penetrates the igneous rock of ignorance.
it flips that rock over,
AND THERE THEY ARE!
Exposed! Wriggling! Squirming!
Crawling on their bellies like foul maggots!
Frantically racing back to the cover of darkness they so crave.
We're coming for you! YEAH WE'RE COMING FOR YA!
Let's just see what they're cooking up today.
---
Know the ingredients.
Just read what's on the box.
Fact read between the lines.
What's lurking in that toaster waffle, those muffins, that frozen childrens treat?
POISON! DEADLY POISON! THAT'S WHAT'S THERE.
and what's waiting for you?
CANCER! LEUKEMIA! AUTO-IMMUNE DISORDER!
PULMONARY EMBOLISM! WARTS!
PSORIASIS! ECZEMA! CARDIAC ARREST!
---
WHERE ARE THE COPS WHEN WE NEED THEM!
ANOREXIA! BODY IMAGE BULL SHIT!
MICROBIAL TOXINS! BACTERIAL TOXINS.
ENVIRONMENTAL TOXINS!
OUR AIR! OUR WATER! OUR EARTH!
THE VERY SOIL ITSELF!
OUR BODIES, POISONED! POISONED!
---
drinks liquid; catches breath
yes,
huckleberry extract, and clean boiled water
from the pure artesian springs of Whitetail Peak.
---
Yeah!
FUCK THAT ACAI BERRY SHIT FROM THE AMAZON!
In the immortal words of Pete Seeger, "if I had a hammer"...
Guess what? I'VE GOT A HAMMER!
dings shovel
You much see, hear, understand, and act.
ACT NOW!
cuts to previously shown commercial.
Dr. Jacoby:
And the fucks are at it again!
Fuck you who betray the people you were elected to help!
We're sheep to these monsters, and they don't give a shit!
We grow our wool, and just when we're getting warm,
they come along with their electric clippers and shear our wool off,
and we're just naked, screaming little fucks!
No wool for us!
Freezing and hungry!
In the night. In the dark. And they don't give a shit!
Then when we get sick, the pharmaceutical companies make billions!
They own the fucking hospitals. Filled to the brim.
They own the morgues! They own the embalming fluids!
They own the mortuaries, the graveyards! These fucks!
---
Is it the government's business who we marry?
What the fuck do we care what the government thinks about who we marry?
Are we gonna invite them to the wedding?
Fuck no! Oh, they wouldn't come anyway.
They're-they're too busy fucking!
Fucking us at the grocery store! At the bank! At the gas pump!
They're feeding our children chemical shit coated in sugar!
Why don't these monsters bite into those tasty treats themselves?
'Cause they'll die in the streets! Just like us!
And then they'll bloat like a big red fucking balloon.
Stop! Stop distracting yourself with all this diverting bullshit,
and pay attention.
Save the children!
Every parent wants to save their child.
Buy yourself a shovel, dig yourself out of the shit, and get educated!
---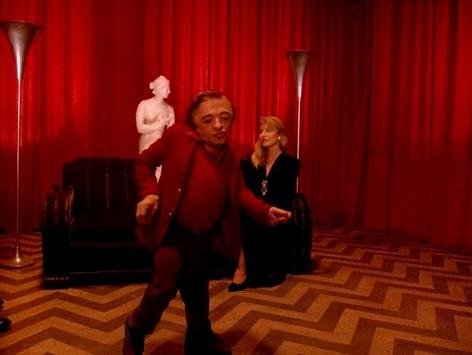 These clips are sprinkled throughout the 2nd season of Twin Peaks. They seemed quite fitting for the #informationwar community. I enjoy how Lynch is able to capture the spirit of the complete and utter distrust regarding all things establishment. I also think it's interesting that he himself (Dr. Jacoby) is selling something within the same capitalist system that he despises.
Can we trust him? After all, he's selling a metaphor that takes the form of a literal shovel; it has no practical purpose. Or does it? Fucking Lynch.
---
At it's core, Twin Peaks is about a great evil and the powers that try to keep everything in balance. Sound familiar?
---
We all have a tendency to think we have a firm grasp of what's going on around us. Unfortunately there's just too much information to parse. Greater forces will always be at work that we remain blind to.
---
Surf the data waves with great care.