Introducing Leo Backed Investments: SPInvest Getting A Little Brother
---
Hello and welcome to this SPinvest post
SPinvest is a tokenized investment fund/club for all users of social blockchains. Everyone is welcome! The concept of SPinvest is to get rich slowly by using time tested methods of earning, saving and compounding long term. This lets SPinvest offer an ROI of 20% per year on SPI tokens. We encourage long term investing on and off the blockchain. We hope someday everyone will HODL some SPI tokens that can be bought directly from @spinvest are through the hive-engine
.
---
There is no reason to recreate the wheel.
When an idea proves itself, it is best to keep using that model until it does not work anymore.
For SPInvest, and its token holders, the last 20 months proved that this model is a screaming success. A little over a year and a half ago, the SPI token was available for sale at 1 STEEM (HIVE). Since that time, the value of the assets backing the token reached an incredible 4.17.
That is more than a 4x return to all the token holders. Also, this is value, not trading price. The SPI token is backed by assets which comprise 4.17 HIVE. In other words, that is the liquidation price.
Now, we are taking this same idea to Leofinance. The LEO token is showing great value on its own and we believe that coupling the SPInvest model with this token will yield even bigger things.
For this reason, the Leo Backed Investment token will go on sale. This will allow people to buy the token directly from the @lbi-token account. All tokens will be sold for LEO and will reside on Hive-Engine/Leodex. That is where the market will be.
This will start on December 7th and go until the tokens are all sold. The question is how many tokens will be available.
SPInvest initially set out to place 1 million tokens. As with all things, over time, the sales slowed down. For this reason, the total was capped at 100K with the rest burned.
We will follow a similar pattern with LBI. The initial thought is that 100K will be the most realistic number although the possibility is being kept open for 250K. It is important to note that LEO has a much smaller circulating supply than HIVE.
Another thing that must be noted is the total number of tokens outstanding does not impact each individual token. The price per token is 1 LEO per LBI. That means 100K LEO if that is the level reached or 250K if things really go well. The later provides a lot more resources to LBI to use for curation and other investments.
Thus, the individual return, on a per token basis, is greater.
Ultimately, we are using a proven model that was extremely successful. The team also learned a lot throughout the last 20 months (like how many tokens to offer). This puts us in a better position to get this project rolling without some of the snags that befell SPInvest.
Also, we foresee this being of great benefit to the LEO token. It will take even more of the liquid supply off the market and provide yet another use case for LEO. We also seek to utilize the efforts of some of the token holders to produce outsized returns. This is what took place with SPInvest and we predict it will even be greater with LBI. After all, the LEO community already showed its resiliency and dedication.
Finally, the same premise that is the foundation for SPInvest will apply to LBI: Get Rich Slowly
The goal is to consistently keep increasing the value of the token as denominated in LEO. We do not focus upon the price in fiat terms. Of course, if one takes the pricing a step further, it is easy to figure that out. Thus, if LEO keeps appreciating in USD/EUR price, it will only compound the returns that people will receive by being a part of LBI and holding the token.
---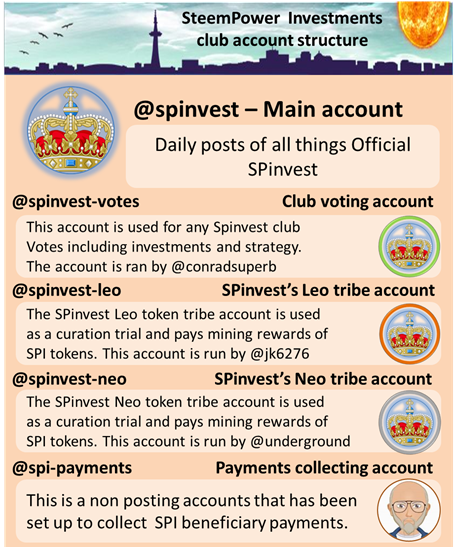 .
SPinvest's content is contributed by @silverstackeruk, @no-advice, @metzli & @taskmaster4450
Today's post comes to you from @taskmaster4450

---