It's not every day you see a chart as interesting as the current Dow Jones.
For example, the two support lines crossed paths on July 12, 2019, which around the same time the Dow hit its most recent new all-time high.
Since then the price has been stuck in a wedge, as outlined by the yellow dashed lines. Even if the price breaks up out of this smaller wedge, the price has a high chance of crashing before the year is over. And by crash I mean a very large correction. That being said, this time really is different than previous cycles because there never was a recovery after 2008, but instead the markets have been propped up with QE, tax breaks, low interest rates, excessive and dangerous lending practices, and worst of all there's no cushion left with most families in the west. Without credit (i.e. paying for today with tomorrow's equity), a majority of people in the West would be homeless and in dire poverty.
As I've said before, the Stock Market is too big to fail. Statistically we should be seeing a colossal crash coming, but without real price discovery and the Federal Reserve lining up to be an active participant in markets that traditionally they weren't involved in, it's really going to be interesting to watch this textbook chart behave in surprising ways. No doubt the consumer (and the personal debt building on top of the consumer) is the only thing standing in the way of a great depression, and the longer this gets dragged out, the more devastating things are going to be for the unprepared.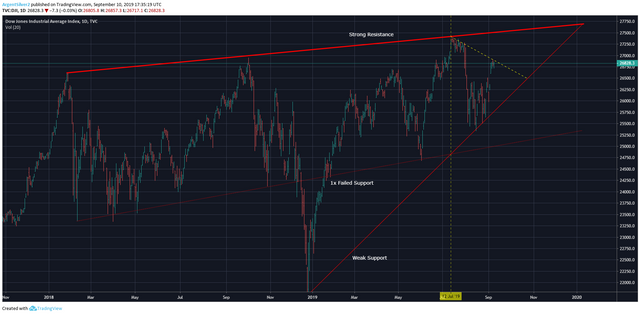 Thanks for Reading. Keep your head up.