All the talk is about the trade war. Scanning the headlines on the major financial news sites, this is what we see.
In fact, this was standard over the past 6 months. Everything is the trade war and how it is going to sink the global economy. CEOs get in television to complain about how the trade war is killing their business.
Unfortunately, this is a distraction. While we are all looking at the trade war, the major elephant in the room is completely overlooked.
The last ten years saw a world where Quantitative Easing became the norm. Central banks all over the world kept printing money...except one.
In the United States, the Fed stopped the massive printing 5 years ago. Since that time, they embarked upon tightening before reversing course. The printing machine stopped which is creating enormous problems.
We find ourselves in a situation where the world is lacking dollars. As the reserve currency, dollars are needed to maintain liquidity. This is a problem when they are absent.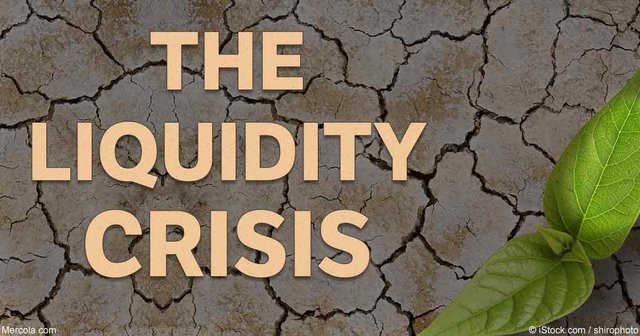 Source
China is in desperate need of dollars. Being a country of so few commodities, it has to import most of that stuff. The problem for that country is payments all have to be made in dollars. Over the past few years, the country is loading up on gold leading some to speculate they are going to start using that as payment.
The crisis started to rear its head last month in the Repo market. This market required $80 billion from the Fed pumped in to maintain liquidity. In other words, the market was freezing up.
Naturally, this is only a preview of what is to come. Investors do not trust what is taking place right now which means private money is drying up. When confidence is shaken, liquidity gets tight. This is often a result of central banks adopting a policy that worries investors.
We are seeing the speculation begin about when all of this will come home to roost. Some are believing the 4th quarter could experience a major liquidity crisis. The Federal Reserve must be aware of this possibility since it is now engaging in Quantitative Easing by adding to its balance sheet. We essentially see QE sans the name.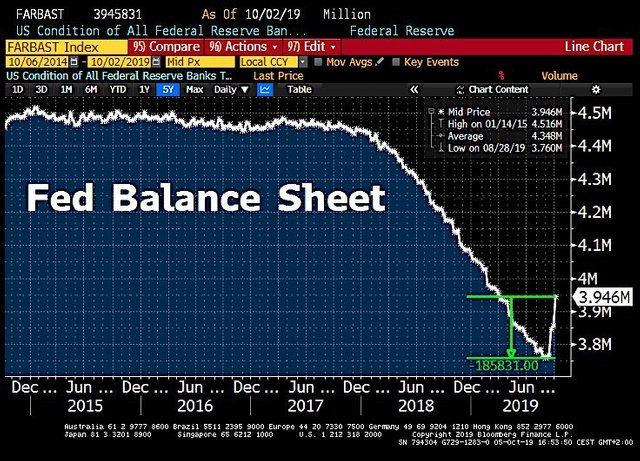 Source
If we do get a liquidity crisis, watch out. Where are people going to hide? Most markets are going to get obliterated as they will be sent into a free fall. Most assets classes, stocks, real estate, and oil, are all going to get a major trim. This is going to hurt a lot of people.
The one area that might benefit is cryptocurrency. Because of the ability to easily transact, many are finding this will be a vehicle to preserve wealth. If the USD collapses, all those holdings that are priced in that will get hurt. Ultimately, the Federal Reserve will decide that printing is the only way out of this mess.
Cryptocurrency might just be the hedge against a banker driven system that is close to collapsing. With the "bubble of everything" that resulted from all the money printing, asset prices are absurdly overvalued. If the past year is any indication, markets have stalled out.
Thus, there is only one way to go and that is down. When we start to see this process kick of, it could move very quickly. Liquidity crisis are the fastest path to collapse. People simply cannot exit markets fast enough to secure their wealth.
In the end, this might be the "push" that cryptocurrency needs to move into the mainstream.
---
If you found this article informative, please give an upvote and resteem.