CryptoLinks   is a website created by a guy with the name Nate Urbas. As the title is saying this is a source where you can find every crypto link you can ever need. It is free, there are no adds and from what I can see it's regularly updated.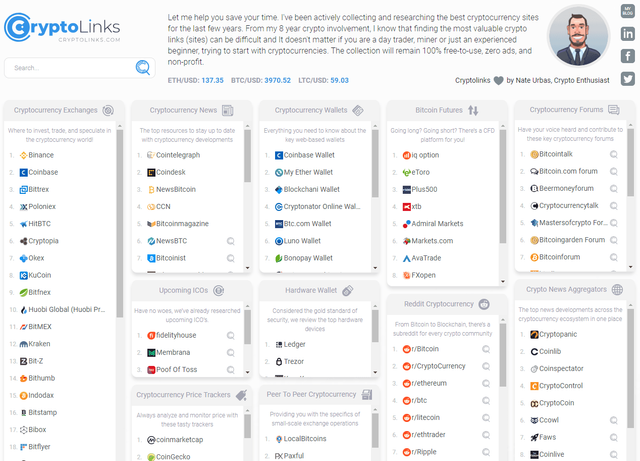 The following topics are covered:
Crypto Exchanges
Cryptocurrency News
Cryptocurrency Wallets
Upcoming ICOs
Forums
Cryptocurrency Options
Cryptolinks has a lot of valuable information for both the expert and newbie in the field of cryptocurrency. If you are a beginner, the website will guide you through all the important decisions you need to make.
Cryptolinks goes to great lengths to cover every area in the industry through in-depth research. You don't have to browse through the web getting contradicting information from various sources. The website has extensive lists of multiple topics and sites for you to visit. Cryptolinks is convenient because the site is free, you don't have to pay for any subscriptions, and they make the site user-friendly by having no ads.
I hope you guys find this useful.   
a source   www.publish0x.com