Today with 57 days to go before spring.
I don't have a particularly spectacular photo for you.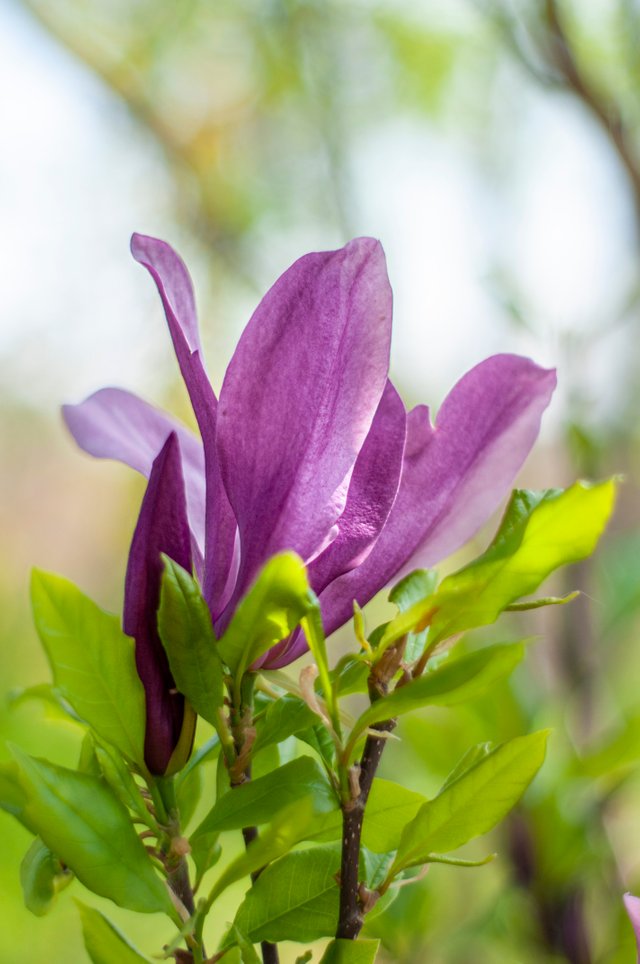 Where the MAGNOLIA grows.
But then it is a photo that really shows spring. I made this photo in 2018 of our then very young magnolia tree. The beautiful purple flowers can be seen from the end of March / beginning of April and now say for yourself, if you are greeted by this beautiful color explosion in your garden ... then you will automatically become a little happier. And you immediately get the real spring feeling!
It has so much to offer.
And apart from being particularly beautiful, this magnolia has much more to offer. The flowers, leaves and stalks are also all edible!
That's not all.
And if you thought that was all ... there is more to tell about this magnolia. Chinese medicine has known this for years, this beautiful flower also has real medicinal properties.
The bark.
The bark of the magnolia has been used in China since 100 years after Christ. The most important component is Honokiol and Magnolol, whose antioxidants are 1000 times more effective than with Vitamin E.
Natural valium.
There are studies where the Honokiol has been compared with valium. This showed that Honokiol works five times better as an anxiety-reducing agent. But without side effects, and that is very useful because people who have swallowed valium know that this is really not a pleasant way to use. Valium can even make your symptoms worse as a side effect. That could be prevented by using magnolia.
You can easily make tea from the flour and this helps with:
Unrest
Fear
Allergy
allergic diseases such as asthma or hay fever
Parietal forehead cavity inflammation
In traditional Chinese science, Magnolia flower extract has been used for centuries to remedy rhinitis, stuffy nose, sinus inflammation and associated headaches.
The taste of the magnolia is a bit of ginger with rose-like and a bit bitter. It is a very unique taste and I like it.
The Magnolia is pollinated by beetles.
A final special fact that it is worth mentioning. Magnolias are not pollinated by bees, but by beetles! So by placing a magnolia in your garden you also ensure even more life in your garden. So where most flowers attract bees, this magnolia attracts beetles. Which in turn ensures more diversity of insects in your garden, and that is always good.
Oh if it was only spring NOW, unfortunately we still have to wait 57 days according to the calendar.
I keep hoping that nature will not adhere to this and that we can enjoy a spring feeling earlier!
Posted via neoxian.city | The City of Neoxian