Yesterday I was unable to post a blog due to busy photography activities. Oh oh ... but don't worry, because today I have a new photo. Fresh from the camera.
With 54 days to go before the spring kicks off.
I can see new cautious signs of an approaching spring when I walk with the dogs.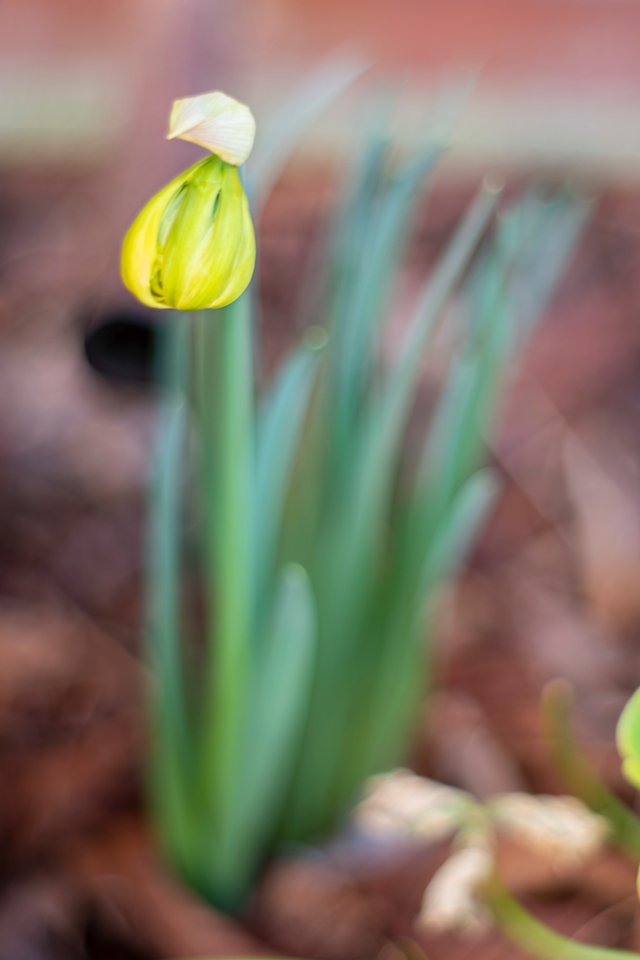 Narcissus ready to bloom.
Call it optimistic, call it early, but today on January 26 I saw this narcissus in the bud hidden among the dead leaves. And not a bit above the ground, but really ready to bloom as soon as the temperature rises a bit and the sun comes out.
And today was another day when it really felt like spring. The temperature of about 10 degrees, in combination with a radiant sun created that real spring feeling.
An immediate spring feeling.
While walking with the dogs I suddenly saw this cute little yellow fellow ... and of course I had to take a picture to show it. The cheerful yellow flower immediately gives a spring feeling. At least, I always have that when I see them. Is that also true for you?
Make a planning for the garden this year.
And on a day like this, with the real spring feeling, we immediately feel like putting the garden in order. And this year at least is on the program to start growing strawberries again. And with strawberries I remember the crazy tricks of Lexxieboy again. As soon as a strawberry could be seen, still totally green, unripened, Lexxieboy had already scored it. And of course the other dogs had seen that trick quickly enough, so that eventually we could not pick any more strawberries.
Precious memories.
Of course it was not the intention, but I often laughed at those dogs that were looking at me very naughty, enjoying the strawberry that they had picked themselves. Reason for us to just stop the 'strawberry project'. But this year we want to try again. Those beautiful red sweet fruits. Delicious!
My thoughts really wander off.
And so you see again where seeing a spring flower in the bud can lead my thoughts. Wait a little longer, 54 days and it's officially spring ... I hope for more beautiful days like today. Then the waiting feels a lot less heavy.
Posted via neoxian.city | The City of Neoxian