Today it officially takes 53 days before spring starts.
And I thought that was reason enough to post a photo that screams the word "SPRING" in every pixel for me.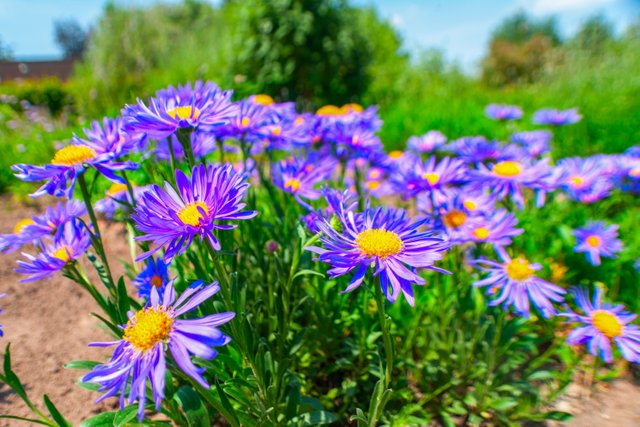 Extremely cheerful.
These flowers from the large Asters family look extremely cheerful with their blue-purple flowers and their beautiful green leaves and stems. They are exuberant bloomers and they also smell delicious.
The asters are also known to be real bee-suckers and in that respect they are already an asset to any garden.
Floriography.
But what do these asters tell us in the language of flowers? With a nice word the language of flowers is called floriography, in this way hidden messages have been conveyed for centuries, or just completely recognizable to everyone, expressing your love for another through a bunch of beautiful flowers.
Who doesn't like to get a bunch of flowers?
It's been around for centuries.
Floriography has been around for centuries, and was especially popular in England. In the past, open flirting was often taboo, and of course whatsapp did not yet exist. In nineteenth-century Victorian England, everything turned to morality ... But you could tell your secret love all sorts of things through flowers.
Flower dictionaries to tell you the hidden meanings.
Fortunately there were enough flower dictionaries at the time that contained the meanings of flowers and herbs. So you knew that yellow tulips symbolized "our love is impossible" and Gardenia's "secret love". Floriography used to be used primarily for flirting. With the current knowledge of the meaning of flowers - which we are happy to help you with - you can of course seize every opportunity to convey a message with flowers.
The meaning of Asters.
But what would you have said at the time if you had included a flower from the Aster family in your bouquet? Let's look at the meaning of that.
Probably never used an Aster to flirt.
The symbolism of the aster is not particularly exciting for young people, and the flower will probably never have been used to flirt ...
Literally the Aster says "Autumn Joy".
The Aster stands for a good old age, literally the meaning "Autumn Joy". And to make these beautiful flowers even more exciting, according to mythical stories you can burn snakes and devils away by burning the leaves.
Not exciting in terms of symbolism, still very beautiful.
Even though this flower is not that exciting in terms of symbolic meaning. Yet it is a flower that is incredibly beautiful to see and will beautify many a garden. In any case, I get cheerful when I look at it and that is reason enough to look at this photo on another gray day.
Wait another 53 days ... Oh I wish it was spring!